The most gorgeous beaches in the world are found in Greece. If you want to spend your holiday surrounded by crystal blue water while lying on some of the nicest sandy beaches in the world, Greece is the place to go. Let's have a look at the top 17 beaches to visit in Greece. Whether you visit one or all of these beaches, you will undoubtedly be left with wonderful experiences that will last a lifetime.
17 best beaches in Greece for a beach vacation
Elafonissi, Crete

Red Beach in Santorini

Mylopotas Beach, Ios

Black Beach of Santorini

Paleokastritsa, Corfu

Plaka Beach, Naxos

Koukounaries Beach, Skiathos

St Paul's Bay, Rhodes

Platys Gialos, Mykonos

Sarakiniko, Milos

Myrtos Beach

Mykonos Beaches

Porto Katsiki, Lefkada

Bataria Beach, Corfu

Golden Beach, Thassos

Navagio Beach, Zakynthos

Santorini Beaches
Elafonissi, Crete
Elafonissi Beach is located in the southwest part of Crete. It is known for its clear, blue waters, pink coral, and white sand beaches. The best thing about the water is that it's fairly shallow, and it's convenient for anyone to easily pass through a stunning lagoon to reach a mile-length island. Elafonissi is perfect for all ages with the wildflowers, the remarkable pink sands, and strange rock formations. If you want to visit Elafonissi during your Greece trip, check out Greece tour packages at Pickyourtrail for more exciting deals.
Also Read: 20 Best Experiences in Thailand
Red Beach in Santorini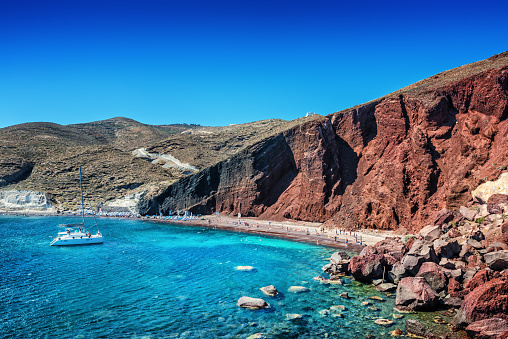 The name Red Beach says it all. It's famous for its distinct appearance, which is caused by volcanic lava and gives the rocks, pebbles, and sand their fascinating red tone. It is covered by crystal-clear water, making it unique views that cannot be found anywhere else on the planet. If you love to snorkel, this is the absolute destination to go to. Before heading to the beach, make sure you have all of your essentials with you, such as water and a few snacks, as the canteens near the parking lot are a bit overpriced.
Mylopotas Beach, Ios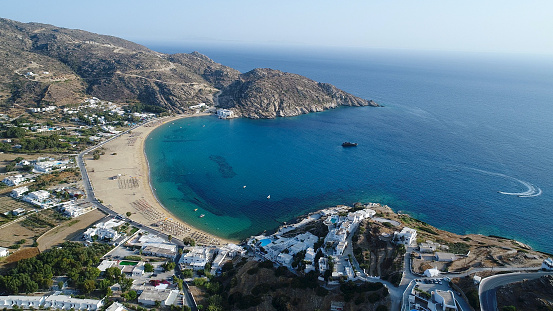 Mylopotas Ios is situated about 3 km from Ios' major village (Chora), and it is one of the island's best beaches in Greece. You must go to the beach early in the morning to fully experience its fresh, unique beauty and crystalline waves. For partygoers and adventurers, this is the Promised Land. With a variety of cafes, restaurants, and beach bars on site (including the most legendary beach parties), you'll have plenty of alternatives that suit your preferences.
Also Read:10 Romantic Restaurants to Dine at in Bali
Black Beach of Santorini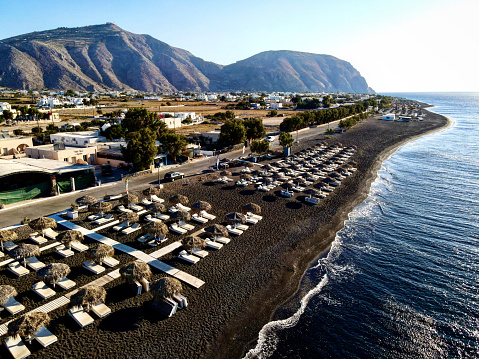 Santorini's Black Beach is also called Perissa or Perivolos Beach. It is also recognized to be one of the best beaches in Greece. The black sand, pebbles, and relaxing ambiance of Black Beach are well-known. Some of the best beach parties in the world take place here, with world-famous DJs traveling from all over the globe. So make sure you pay a visit because you will undoubtedly have a great time here.
Paleokastritsa, Corfu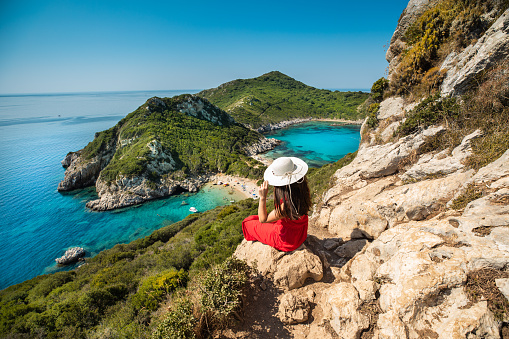 Paleokastritsa, located 23 kilometers northwest of Corfu Town, is undoubtedly the island's most famous and attractive town. Paleokastritsa means "ancient fortress," indicating the presence of the unique kind of castle atop the rocky cave where the Virgin Monastery presently exists. It has a plethora of local pubs with views of the blue water, as well as six sandy and pebbled beaches spread around the area. The beaches are surrounded by olive groves, creating a dramatic but lovely landscape.
Plaka Beach, Naxos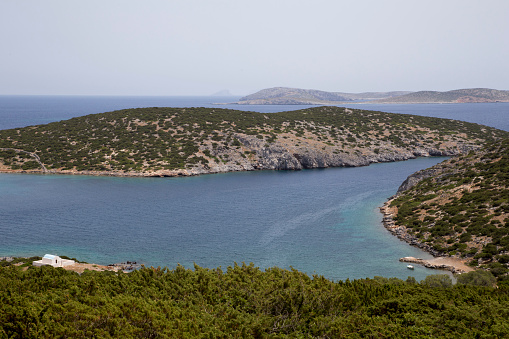 Plaka is an extension of Agia Anna's beach and is not only one of the island's most beautiful beaches, but also one of the most beautiful beaches in Greece. It is a peaceful and unending sandy beach with large flat stones in some areas and stunning crystal clear waves. Sunbeds and umbrellas are available near the beach's beginning, but most of it retains its natural beauty, with no tourist facilities to detract from it. 
Also Read: Travel Guide: Exploring Unique Places in India
Koukounaries Beach, Skiathos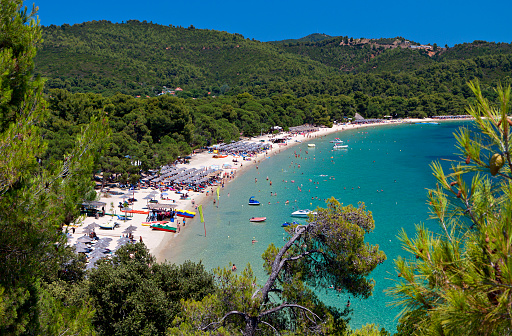 This is Skiathos' most well-known beach, and thus the busiest. It is famous for its very fine white sand. The fragrant pine tree forest that gained the place its name. Restaurants, pubs, and hotel units exist in the area surrounding the beach. For every 30 minutes, a local bus connects this beach to the capital. Along with the beach, a biotope is being developed for ecotourism with support from the municipality and the European Union.
St Paul's Bay, Rhodes
The little bay of Agios Pavlos (Saint Paul) is located 48 kilometers south of Rhodes town. According to local people, the bay was named after the gorgeous white chapel on the beach, which is dedicated to Saint Paul, who proclaimed Christianity here in 43 AD. The beach is surrounded by rocks, which allow you to plunge into the lovely blue seas. This is one of Rhodes' most stunning beach spots, and many believe it to be one of the best beaches in Greece.
Platys Gialos, Mykonos

Platis Yialos is among the island's most popular beaches, attracting thousands of visitors throughout the summer due to its golden sand and beautiful turquoise crystalline sea. It is a  pleasant long beach with loungers, umbrellas, water sports, and numerous restaurants and pubs. And also, on the beach, there are loungers with seats and tables where you can enjoy a drink. It is accessible by local bus from the capital, which departs every half-hour. 
Sarakiniko, Milos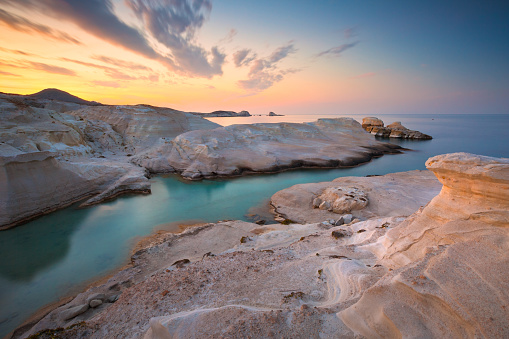 Its unique environment is breathtaking and unforgettable: long horizontal rocks bending over the sea, weathered by time and salt water, and filled with small and large hollows. The entire landscape generated by the volcanic rocks is devoid of vegetation. It is painted in a bright white that contrasts nicely with the deep blue and turquoise of the surrounding waters. This breathtaking sight provides the sensation of being on the moon's surface.
Myrtos Beach
Myrtos Beach is located on Kefalonia Island. Its remoteness along with the astounding sea views that can be seen on the way here make for a rather striking impression. The beach is tucked between two cliffs and features a semi-circular coast consisting of fine white sands and smooth pebbles. A visit here is nothing less than scenic, with the pristine water glimmering in mesmerizing shades from cobalt blue to aquamarine. Owing to its location, the beach has a somewhat untouched and wild feel to it. However, that doesn't mean that the beach doesn't have facilities. One can enjoy basic amenities like – snack bar, restrooms, and beach beds etcetera. It is worth noting that, owing to its geographical location in the westward direction, one can enjoy majestic sunsets here. Another beach that is recommended to tourists on Kefalonia Island is Skala Beach.
Also Read: Travel Guide: The Most Amazing Beaches in San Diego
Mykonos Beaches
There are quite a few beaches that one can visit in Mykonos to have a fun time. We start our list with Paradise and Super Paradise Beach. Both these beaches are known for epitomizing the party lifestyle of Mykonos Island. These beaches appeal to a younger crowd seeking a hip nightlife scene. Come summertime, the clubs on the beaches play electronic music throughout the day. If you are on the lookout for a much calmer experience, then Elia Beach is both quiet and lovely. One can dine on Mediterranean cuisine in the rather elegant Elia Beach Restaurant while admiring the pleasant view with the sounds of the ocean in the background. If you are looking to up the ante, then we suggest you head to the Principaute mykonos beach club at Panormos Beach. One can enjoy an even more upscale and pampered beachside experience here. The restaurant has an organic, seasonal Mediterranean cuisine on offer. In addition to the fantastic views and food, this exclusive beach club also features a trendy fashion boutique. 
Porto Katsiki, Lefkada
One can anticipate the splendor of the breathtaking beach ahead on the winding drive to Porto Katsiki. The beach is tucked behind limestone cliffs and access is only possible either via stairs or a taxi boat. Upon arriving here, we assure you that you'll be mesmerized by its secluded setting and mesmerizing cerulean waters. One can take their time sunbathing here as the beach features a long shoreline, so pick your spot and lounge away. One can also engage in activities like swimming, sailing, and bodyboarding if the conditions allow for it. It is worth noting that the beach is not equipped with water sports facilities, so tourists will have to bring their own equipment. And lastly, we also recommend that you take care of yourself in the water, as there is no lifeguard here. This is one drawback of this beach, as the higher crowds during the peak season call for a safety crew to be in place. 
Bataria Beach, Corfu
The Bataria Beach is concealed within a luxurious cove. One will have to travel along a small pebble shoreline to access the emerald waters here. This journey is well worth it as the waters here have a marvelous translucent quality to them. One can admire views of the Ionian Sea and also the Albanian mountains from the shoreline here. This beach has a quiet and family-friendly ambiance. Tourists travelling with children in tow will definitely appreciate the clean and calm waters. These are perfect for a bit of swimming and splashing in the days when the sunlight is harsh, causing temperatures to soar. Like many other beaches, tourists can enjoy the facilities offered by a traditional Greek taverna here. So, do drop by for some refreshments or a quick bite to eat on your day out. If you are looking for better dining or even accommodation options, then you can head to the village of Kassiopi. 
Golden Beach, Thassos
Psili Ammos or the Golden Beach is one of the highlights of the lush and mountainous Thassos Island. The white sands and the brilliant crystal clear azure-hued sea are among the most alluring aspects of this beach. Set sheltered within a cove, the waters here are exceptionally gentle and shallow. This gives it the appearance of being one giant swimming pool. The serene natural environment here features pine and olive trees all around. This beach is famous for outdoor activities like water sports, swimming, and, of course, sunbathing. 
Navagio Beach, Zakynthos
This dreamy beach is hidden by a narrow cove and enclosed by steep cliffs. As a result of that, access to this beach is only possible via an organized boat tour. Visitors can be sure to be enchanted by the dramatic setting here. One can be forgiven for thinking they are in the tropics after being misled by the fine white sands and the cerulean waters. We suggest that you check out the smuggler's ship that has crashed on the shores here as this beach is also known as the Shipwreck beach. Being the most picturesque beach in the Ionian Islands, a visit here is highly recommended. 
Santorini Beaches
While Santorini isn't known in particular for its beaches, it is in fact home to several distinctive beaches. So, we recommend that you take time out on your itinerary as these shorelines are definitely worth a visit ( or two ). The special volcanic geology of the island gives the beaches here an almost surreal quality. 
First on our list of recommendations is Red Beach. This rather aptly named beach is surrounded by cliffs of rust-toned volcanic rock. The beach in itself is rather small. During summertime, however, one can find several sunbeds and parasols here. 
Next we come to Perissa Beach. This beach amazes its visitors with a striking shoreline consisting of black sand and pebbles. Not to mention, the waters are equally dazzling with their crystalline and azure hues. Tourists can avail themselves of several facilities here, like a scuba diving centre, showers, sun beds, and much more. One can rest easy knowing that this Blue Flag beach has a lifeguard on duty during the summer seasons. After a fun day out, tourists can head to one of the several hotels, restaurants, and cafes nearby. 
This list of the top seventeen beaches to visit in Greece will make your Greece honeymoon much more enjoyable. Everything you need to know about your Greece trip is right here! Did you also know that you could personalize your trips to your interests? So grab your Greece package and make a memorable trip to the Island of Greece!