Virtual online learning classrooms are online environments with specific characteristics of traditional classrooms but in different ways. A virtual classroom setting provides human interaction, a critical component of classroom instruction that video-on-demand courses lack and badly miss. Teachers engage with students in real-time in a virtual classroom; students may ask questions and communicate with classmates in the same way they would in a traditional classroom, although through the internet.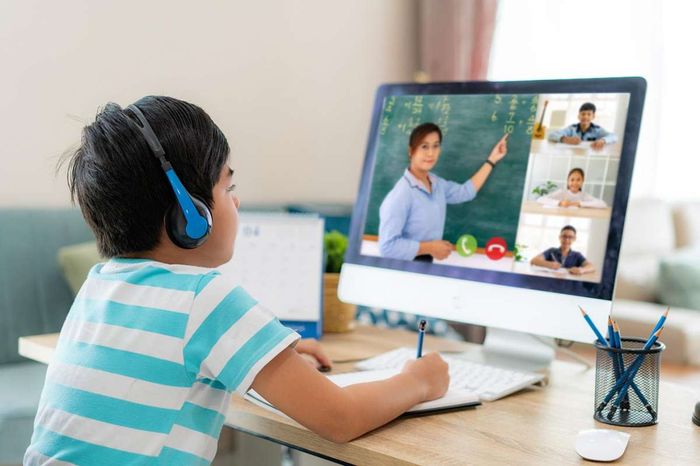 Advantages of Virtual Online Classrooms
An advantage of virtual classrooms is that they are scalable to accommodate a higher number of students. The seating setting of a traditional classroom often limits to a specific number of students. It is to ensure that students can sit comfortably and have enough space for themselves. On the other hand, virtual classrooms employ virtual meeting solutions with a greater capacity, allowing more students to attend fascinating classes simultaneously. It allows for better and excellent engagement rates, as well as making information more accessible.
Collaboration between instructor and student is possible with virtual education. Virtual learning provides a holistic experience linked with and responsive to a student's skills, needs, interests, and learning styles. Several studies prove the significance of a teacher-student relationship in terms of student engagement and, ultimately, accomplishment. In short, virtual learning is relational, and students thrive when they feel linked to their professors. Students may continue to engage with their peers, work in groups, and retain a social experience while attending school remotely.
Furthermore, seeing the face of a trusted teacher conducting a live virtual lecture may offer pupils much-needed reassurance. A virtual education paradigm provides levels of involvement, assistance, and comprehension that are comparable to face-to-face learning in a regular classroom. While most instructors and students look forward to returning to the classroom, virtual education is undoubtedly the best thing than being in a classroom in person.
Features of Virtual Online Learning
Video conferencing: utilizing the best web conferencing software to promote learner-teacher-learner contact • Digital whiteboards: allowing for real-time demonstrations and diagrams
Instant messaging: allows for written chats over low-bandwidth connections.
Participation controls: allowing students to engage in conversations, muffle their surroundings, or digitally "raise" their hands; • Sub-chats: breakout rooms to encourage cooperation among learners; and • Video recording: saving live lectures as video-on-demand for later reference.
End-to-end encryption: to ensure that only authorized learners have access to the virtual classroom.
Kinds of Virtual Classrooms
Virtual classrooms are customizable based on their intended usage. The educators can use them as an add-on to a course or as the foundation of a whole course. In any case, they are highly adaptable.
Improved virtual: The bulk of the course is completed online in this format, except for a few offline components to supplement lectures and curriculum. Face-to-face sessions with instructors or collaborative meetings with fellow learners over a crucial assignment or thesis are the most common forms of these components.
Rotation mode: Rotation is a strategy that exists in the flipped classroom technique. It entails using both virtual and offline classrooms regularly. Primary learning occurs online in many situations, with in-person encounters taking place for reinforcement and evaluation.
Entirely Online: An utterly online classroom does not need or allow for face-to-face offline interactions. These courses can be synchronous or asynchronous because they employ pre-recorded films and little live interaction via online meeting software.
The Adaptable: In this case, the virtual classroom stays open and accessible to students at their leisure. Otherwise, learning occurs in small groups, with the virtual classroom as a reference point for queries.
The Blend: As the name implies, this approach allows students to choose the best technique to obtain the most knowledge. It is a hybrid of digital education approaches that can be student-led or institutionally managed.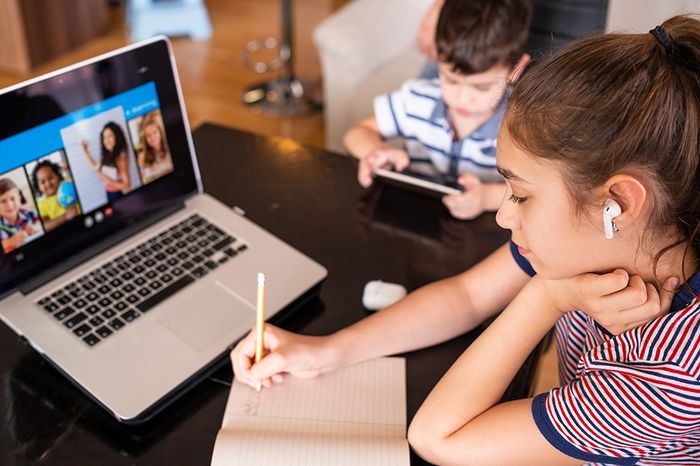 Importance of Virtual Online Learning in Revolutionizing Education
Virtual classrooms level the educational playing field by allowing students worldwide to engage in classes regardless of where they live or work. They help to augment current educational frameworks or as the primary structure for delivering information.
Virtual classrooms encourage inclusive and democratic learning while simultaneously lowering the cost of highly sought-after educational courses and certificates. And, given that traditional schools will be closing down world for the foreseeable future, virtual classrooms and online virtual meeting platforms will ensure that education continues, albeit online and at home.
Features of Digital Learning Tools of Virtual Classroom
Virtual classrooms collaborating with efficient virtual m:eeting software provide both necessary and desirable features. Some of the features of digital tools include:
Communicating in Real-time: Every virtual classroom must include messaging tools to support reduced bandwidth without sacrificing communication potential. Learners must communicate with their teachers and peers to clear minor misunderstandings that do not need video or phone conversations.
HD Video Interactions: This approach maintains the sense of human connection and guarantees that pupils pay attention to. Moreover, the educator can initiate using convenient video conferencing software for iOS and Android.
Video Stream: This function is critical in schools with hundreds of pupils from all over the world. A virtual classroom requires a sophisticated solution, such as video streaming.
Secured File Sharing: A two-way sharing mechanism is essential for virtual classrooms. It promotes the exchange of assignments, reports, and projects on a single platform inside the learning environment and allows for seamless collaboration.
Interactive Whiteboard: Digital whiteboards make it easier to share materials, mark, annotate and provide more detailed explanations. Students presenting a project or a thesis to their class or an instructor can also utilize them. Touchscreen devices are ideally suited for digital whiteboards.
Third-Party Integration: Some virtual classrooms may require additional capabilities because even the finest video conferencing software does not have everything. With seamless third-party connectivity, knowledge providers may use the current system and increase its use to benefit students.
Student Groups: A distinct student group enables bonding over academic and non-academic issues, an essential element of conventional classes. They create connection and a sense of community and serve as a meeting space for students to discuss lessons, subjects, and fascinating concepts.
Distance Learning Perspective
Because of the present global crisis and shifting educational expectations, distance learning is gaining traction. Technology is a significant element in driving and being a part of this transformation; content development and delivery strategies are becoming more nuanced, engaged, and individualized.  Virtual classrooms facilitate cross-border learning, where the learning doesn't have limits like in a traditional classroom. It is available everywhere. The virtual classroom is just another transformational tool in the armoury of a digital educator, and its popularity and use will continue to grow.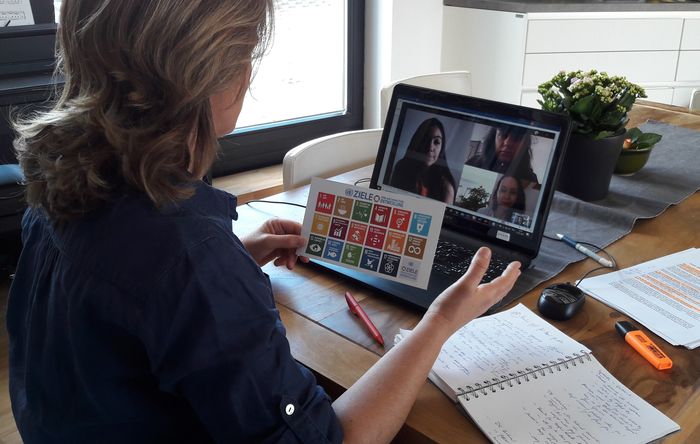 Virtual Online Learning during COVID-19 Pandemic
COVID-19 has caused global school shutdowns. It also led to more than 1.2 billion youngsters worldwide not attending school. In addition, it has led to a drastic alteration of education with the introduction of virtual online classrooms.  According to research, virtual online learning enhances information retention and takes less time, implying that the changes induced by COVID-19 are here to stay.
While nations' COVID-19 infection rates vary, more than 1.2 billion children in 186 countries are presently affected by school cancellations. For example, children up to 11 return to nurseries and schools in Denmark after they were closed on March 12, but pupils in South Korea respond to roll calls from their teachers online.
With this sudden shift in education worldwide, many are doubting if the traditional classroom will ever emerge or whether virtual online learning will continue even in the post-COVID-19 scene. Additionally, there are doubts about the influence of this sudden shift in the global education industry.
Even before COVID-19, education technology was seeing rapid development and acceptance, with edtech investments rising to US$18.66 billion in 2019. Also, the entire industry for online education is predicted to reach a total of $350 billion by the year 2025. Since the onset of the COVID-19 pandemic, there has been a substantial increase in the utilization of language applications, virtual tutoring, video conferencing tools, and online learning software.
Education sector and COVID-19
In response to increased demand, several online learning platforms, notably BYJU'S, a Bangalore-based educational technology and online tutoring corporation launched in 2011, provide free access to their services. As a result, BYJU'S is currently the world's most valuable educational tech company. It has witnessed a 200% rise in new students utilizing its product after launching free live lessons on its Think and Learn app.
Another platform, Tencent Classroom, has been widely in use since mid-February. It rose to prominence when the Chinese government ordered a quarter-billion full-time students to continue their studies using online platforms. It resulted in the most significant "online movement" in educational history, with around 730,000, or 81% K-12 students, attending lessons through the Tencent K-12 Online School in Wuhan.
Other firms are expanding their skills to create a one-stop shop for instructors and students. For example, lark, a collaboration suite from Singapore initially introduced by ByteDance as an internal tool, started offering unlimited and unrestricted video conferencing time to students and educators. Additionally, there were efficient auto-translation capabilities, a real-time co-editing facility, and smart calendar scheduling features! To do so swiftly and in a crisis, Lark increased its worldwide server infrastructure and technical skills to assure stable communication.
Edu-tech and Virtual Learning
DingTalk, Alibaba's remote learning offering, had to brace itself for a similar influx. As per its CEO Chen Hang, "the platform harnessed Alibaba Cloud recently to enable large-scale remote work. It also installed 100,000+ additional cloud servers in just two hours. It was a new record for quick capacity expansion.
Some school districts are creating novel collaborations, such as the one formed by The Los Angeles Unified School District and PBS SoCal/KCET to provide local educational broadcasts, with various channels focusing on different ages and a variety of digital choices. Virtual learning is also being powered by media companies such as the BBC. For example, Bitesize Daily, which debuted on April 20, delivers 14 weeks of curriculum-based learning for youngsters throughout the UK.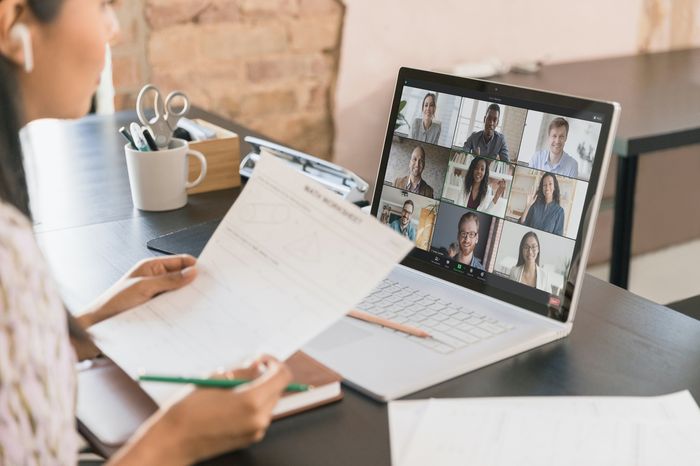 The Future of Learning
There are contrasting views on the future of learning. Some people believe that an unplanned and rapid transition to online learning will lead to a painful user experience and be detrimental to long-term growth. But, again, others believe that there will be a birth and growth of a new hybrid education model that will bring immense benefits.
Many universities have already made successful transfers. For example, Zhejiang University used "DingTalk ZJU" to get more than 5,000 courses online in just two weeks. In addition, Imperial College London began providing a course on the science of coronaviruses, which is presently the most subscribed class on Coursera for 2020.
Challenges of Virtual Online Classrooms
Virtual online classrooms have their own set of challenges for all. Some students struggle to participate in digital learning because they lack a dependable internet connection and technology. This gap exists across nations and within socioeconomic groups within countries. For example, according to OECD data, compared to 95% of students in Switzerland, Norway, and Austria who have a computer for schooling, the count is just 34% in Indonesia.
In the United States, there exists a substantial disparity between those from affluent and poor homes: whereas almost all 15-year-olds from privileged backgrounds claimed they had a computer to work on, over 25% of those from underprivileged situations did not. While some schools and governments, such as those in New South Wales, Australia, have provided digital devices to children in need, many are afraid that the epidemic will deepen the digital gap.
Is Virtual Online Learning Effective?
There is evidence that studying online can be more successful in various ways for individuals who have access to the appropriate technology. According to some studies, pupils remember 25-60% more content when studying online than only 8-10% in a classroom. It is mainly due to students' learning ability quicker online; e-learning takes 40-60% less time to study than a typical classroom environment. Students may learn at their own pace, going back and re-reading, skipping, or accelerating through ideas they see fit.
However, the efficacy of online learning differs by age group. Because children are more readily distracted, the standard view on children, especially smaller ones, is that a structured environment is necessary. There should be a stringent effort to boost the structure and move beyond replicating a traditional classroom through video capabilities to reap the full benefits of online learning. There should be a variety of collaboration tools and learning methods to offer an inclusive and personalized virtual classroom for all.
Transforming Perspective
Major global events are frequently a tipping moment for rapid innovation; the emergence of virtual online learning following COVID-19 is a prime example. While it is unclear if virtual learning will continue beyond COVID-19, it is undoubtedly a transformation that will change the face of the global education sector in the future!