For so long, I was sceptical about writing about the Amber-Heard and Johnny Depp trial details.
The complete timeline of their complete relationship needs to be understood. Mainly, to understand what actually led to the very public trial that has left the world divided. The legal proceedings, the accusations, the lies and deceit. These ultimately led to the infamous defamation trial in Virginia from 11th April 2022 to 1 st June 2022.
Johnny Depp and Amber Heard's Relationship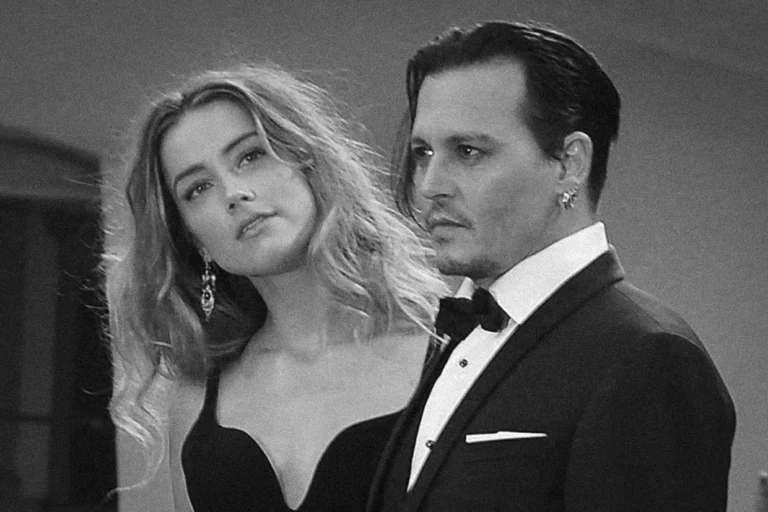 Depp had previously been in relationships with Winona Ryder (from 1989 to 1993), Kate Moss (1994 to 1998), and Vanessa Paradis (1998 to 2012). But he struck up a relationship with Heard soon after meeting her on the set of 2009's 'The Rum Diary." Meanwhile, Heard was in a relationship with photographer and painter Tasya van Ree for four years from 2008 to 2012.
In a court filing, Heard wrote that she and Depp began dating "around the end of 2011 or the start of 2012." It was also in 2012 that Depp and long-time partner Paradis publicly announced their separation after 14 years of dating. Depp had two children with Paradis: Lily-Rose (born in 1999) and John Christopher (2002).
Heard split up with partner Tasya van Ree at the same time. USA Today reported that Heard was arrested in 2009 on a charge of physically assaulting then-girlfriend van Ree at Seattle-Tacoma International Airport in Washington. The two got into a disagreement after Heard allegedly grabbed and hit van Ree's arm.
All charges were dropped, however, with van Ree herself saying that Heard was "wrongfully" accused by cops who "misinterpreted and over-sensationalized" the incident.
A Happy Time in their Relationship
People magazine reported that Depp and Heard were engaged after a picture emerged of the actress wearing an ornate engagement ring.
Depp himself seemed to confirm the engagement in a video interview with The Daily Mail, after discussing wedding planning and pointing out that he was wearing "a chick's ring" on his finger.
"It's probably a dead giveaway, isn't it? Not very subtle," Depp said.
After several years of dating, Depp and Heard married in a very private ceremony in their home in LA, with People reporting photos.
Later in 2015, Depp and Heard breached Australia's biosecurity laws after they failed to declare their dogs (Yorkshire terriers) when they arrived in the country. They released an apology video together.
The Divorce
On May 23, 2016, Heard filed for divorce from Depp. And four days later, obtained a temporary restraining order against the Oscar-nominated actor. She alleged that Depp had physically abused her during their relationship, and said it was usually while under the influence of drugs or alcohol.
She alleged that on May 21, before filing for divorce, an incident had recently taken place in which Depp threw his phone at her, leaving her with a bruised face. However, a police spokesman told People that an investigation into the domestic incident radio call found that no crime had taken place.
Depp denied these accusations and through his representatives said Heard was "attempting to secure a premature financial resolution by alleging abuse."
The Million Dollar Settlement outside the Court
Heard testified under oath at a deposition, but a settlement was eventually reached after she withdrew her request for a domestic violence restraining order. She also rescinded her spousal support request of $50,000 a month.
Depp and Heard also released a joint statement, saying: "Our relationship was intensely passionate and at times volatile, but always bound by love. Neither party has made false accusations for financial gain."
It continued: "There was never any intent of physical or emotional harm."
Heard received $7 million from the divorce but donated it to charity, according to People.
Finalizing of the Divorce
Depp and Heard's divorce was finalized a year after Heard filed. Heard kept the dogs that were at the centre of the 2015 scandal in which the couple failed to declare the animals in Australia. Meanwhile, Depp retained sole possession of all properties, including his private island in the Bahamas, as well as his collection of classic cars and motorcycles.
The Hollywood Reporter reported that a non-disparagement clause was inserted into the settlement that prevented either party from saying anything negative about the high-profile relationship and break-up.
Johnny Depp Sues Amber Heard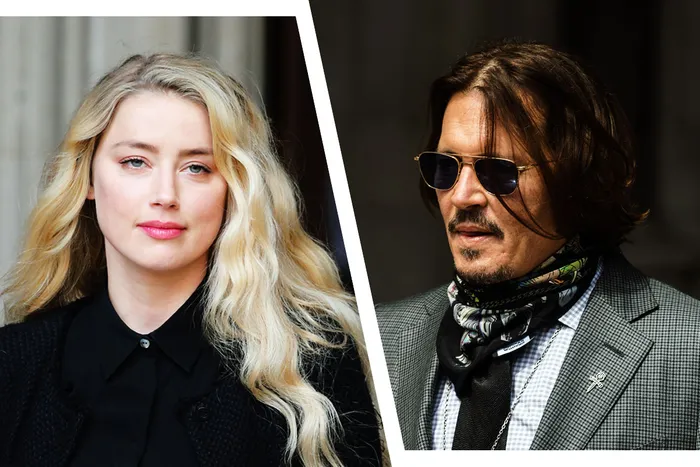 The suit said that Heard "is not a victim of domestic abuse, she is a perpetrator," and denied that Depp ever abused her. Instead, the suit said that Heard's allegations were part of an "elaborate hoax to generate positive publicity" for the actress.
Depp's lawyers said: "The op-ed depended on the central premise that Ms. Heard was a domestic abuse victim and that Mr. Depp perpetrated domestic violence against her."
In a court filing that attempted to dismiss Depp's defamation suit, Heard detailed multiple instances of alleged abuse that she said occurred during their marriage and referred to him as "the Monster," per Variety.
Heard claimed that she still had scars on her arms and feet from an incident where Depp allegedly threw her through a ping pong table and dragged her through broken glass.
The Phone-Recordings
In January 2020, phone recordings obtained by the Daily Mail were released. In these recordings, Heard admitted to "hitting" Depp.
Heard is heard saying:
"I'm sorry that I didn't … hit you across the face in a proper slap, but I was hitting you, it was not punching you. Babe, you're not punched.

"I don't know what the motion of my actual hand was, but you're fine, I did not hurt you, I did not punch you, I was hitting you."
Meanwhile, Depp said in the recording:
"I left last night. Honestly, I swear to you because I just couldn't take the idea of more physicality, more physical abuse on each other.

"Because had we continued it, it would have gotten f—ing bad. And baby, I told you this once. I'm scared to death we are a f—ing crime scene right now," Depp continued.
Heard replied: "I can't promise you I won't get physical again. God, I f—ing sometimes get so mad I lose it."
The Libel Trial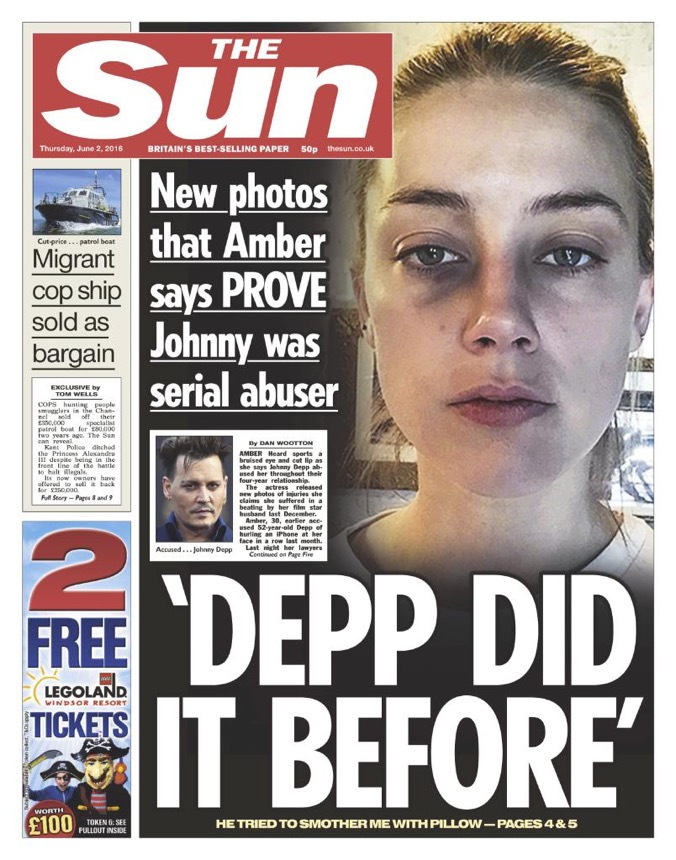 After Johnny Depp lost his high-profile libel case against the publishers of The Sun. News Group Newspapers, mainly over a 2018 article that described him as a "wife-beater," Depp sued both the publisher and The Sun's executive editor Dan Wootton for libel.
The actor announced that he has been "asked to resign" from the upcoming "Fantastic Beasts 3."
Danish actor Mads Mikkelson was officially named as Depp's replacement in November after weeks of speculation over who would take on the role.
Johnny Depp's Defense
Ryder and Paradis both provided statements in Depp's defence.
Ryder wrote: "The idea that he is an incredibly violent person is the farthest thing from the Johnny I knew and loved. I cannot wrap my head around these accusations."
Meanwhile, Paradis wrote that Heard's accusations are
"nothing like the true Johnny I have known, and from my personal experience of many years, I can say he was never violent or abusive to me."
Depp has vehemently denied the claims of abuse but was once again denied permission to appeal the court's ruling in March 2021. While in the Court of Appeal judges said the original hearing "was full and fair" and that the trial judge
"gave thorough reasons for his conclusions which have not been shown even arguably to be vitiated by any error of approach or mistake of law."
The Shocking Revelations
*Trigger Warning *( death threats)
The trial began in early July and lasted three weeks. Depp alleged that Heard defecated in his bed and punched him, which Heard denies. Depp also accused Heard of having extra-marital affairs with James Franco and Elon Musk, which Heard also denies.
Heard, meanwhile, accused Depp of physically abusing her, and has also accused him of throwing a phone at her face, which she says left her bruised. Furthermore, Heard said that Depp threatened to kill her on several occasions.
In-text messages to friends, Johnny Depp fantasized about murdering his then-wife, the actress Amber Heard. This has been largely suppressed by leading media outlets. This speaks to the sensationalization of reporting practices that infringe on the horrid details of this case and is downright unethical.

"I will fuck her burnt corpse afterwards to make sure she's dead," Depp wrote.
In other texts, he disparaged his wife's body in luridly misogynist terms.
"Mushy, pointless dangling overused floppy fish, market," he called her.
No human should refer to another human this way. It's inhumane. Where is the public outrage at these remarks?
Ruling Against Johnny Depp
Three months after the blockbuster trial began, Judge Mr Justice Nicol ruled that The Sun was correct in reporting that Depp was violent towards his ex-wife Amber Heard.
In reaching his ruling, Nicol referred to 14 separate incidents that The Sun's lawyers cited to justify calling Depp a "wife-beater."
Following the ruling, a spokesman for The Sun said:
"The Sun has stood up and campaigned for the victims of domestic abuse for over 20 years. Domestic abuse victims must never be silenced and we thank the judge for his careful consideration and thank Amber Heard for her courage in giving evidence to the court."
In a statement seen by the BBC, Heard's lawyer in the US said:
"For those of us present for the London High Court trial, this decision and judgment are not a surprise. Very soon, we will be presenting even more voluminous evidence in the US.

"We are committed to obtaining justice for Amber Heard in the US Court and defending Ms. Heard's right to free speech."
Johnny Depp has strenuously denied all claims that he was violent towards Heard.
Johnny Depp's Lawyers' Statements
In a statement published shortly after the ruling, his lawyers said: "This decision is as perverse as it is bewildering.
"Most troubling is the judge's reliance on the testimony of Amber Heard, and corresponding disregard of the mountain of counter-evidence from police officers, medical practitioners, her own former assistant, other unchallenged witnesses and an array of documentary evidence which completely undermined the allegations, point by point.

"All of this was overlooked. The judgment is so flawed that it would be ridiculous for Mr. Depp not to appeal this decision. In the meantime, we hope that in contrast to this case, the ongoing libel proceedings in America are equitable, with both parties providing full disclosure rather than one side strategically cherry-picking what evidence can and cannot be relied upon."
The Defamation Trial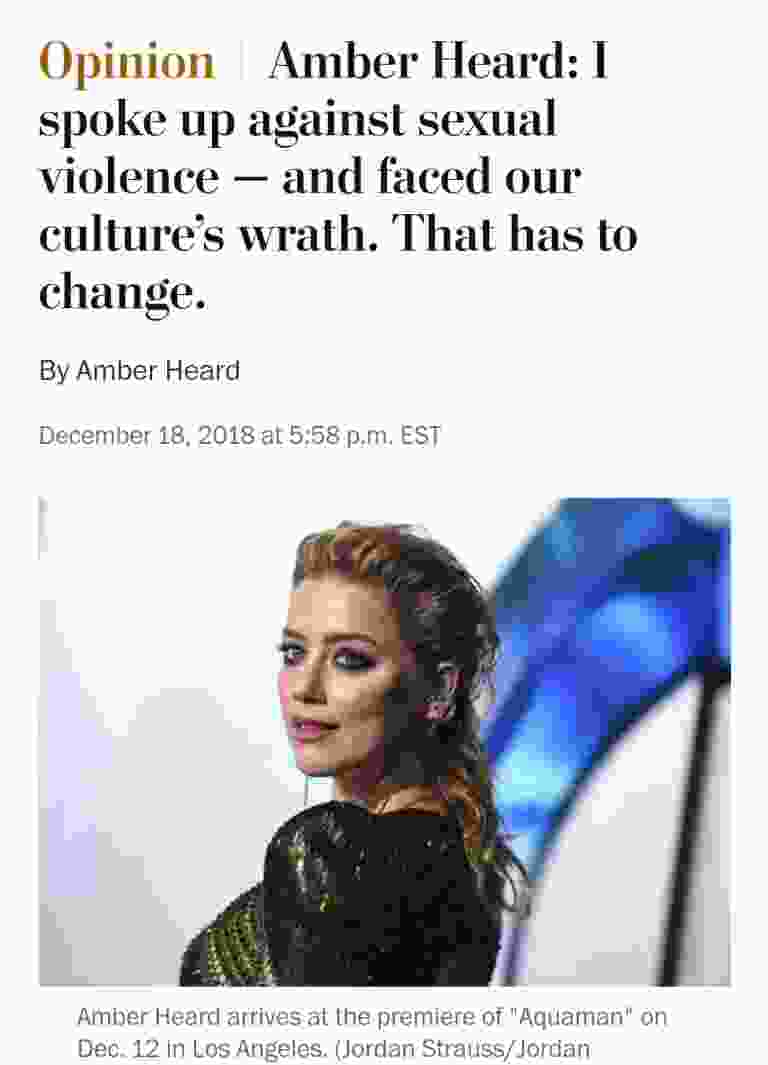 Depp has also launched a $50m case against Heard in the US over a column she penned for the Washington Post about her experience as a victim of domestic violence. While Depp is not named in Heard's piece, his legal team insists that it is strongly inferred that the article is about him. It's titled
"I spoke up against sexual violence – and faced our culture's wrath."
In the piece, the actress writes,
"Two years ago, I became a public figure representing domestic abuse."
The article does not mention Depp, but his lawyers say that the piece was about him – and was defamatory. For those 11 words, Depp sought $50m.
Johnny Depp's is Forced to Resign
Depp will no longer portray the controversial dark wizard Grindelwald in the upcoming "Fantastic Beasts" film.
In a statement posted to his Instagram on November 6, four days after the conclusion to his libel case, he wrote in a typed letter: "I wish to let you know that I have been asked to resign by Warner Bros. from my role as Grindelwald in 'Fantastic Beasts' and I have respected and agreed to that request."
He continued, "Finally, I wish to say this. The surreal judgment of the court in the UK will not change my fight to tell the truth and I confirm that I plan to appeal."
"My resolve remains strong and I intend to prove that the allegations against me are false," Depp added. "My life and career will not be defined by this moment in time."
The third film in the "Fantastic Beasts" saga had already begun production, but in a statement published shortly after Depp's, Warner Bros. confirmed his departure to Variety, in a statement.
"We thank Johnny for his work on the films to date," the studio said.
Johnny Depp's Replacement
After weeks of speculation, Danish actor Mads Mikkelson was officially named as Depp's successor.
Despite being ousted from the film and only shooting one scene since filming started on September 20 in the UK, The Hollywood Reporter claims that Depp will still receive full compensation for the next installment.
Per his "pay-or-play" contract, which states that he "be fully compensated whether or not the film is made and even if it is recast," Depp will receive an 8-figure sum for his work.
Denied Appeals
Johnny Depp and his legal team had hoped to overturn the court's ruling with an appeal but in a statement that was made public on November 25, Judge Nicol refused to grant Depp the permission to appeal against his judgment, saying: "I do not consider that the proposed grounds of appeal have a reasonable prospect of success."
The judge also ordered Depp to make an initial payment of £630,000 ($841,733) to News Group Newspapers, publisher of The Sun, to cover its legal fees. Depp still has until December 7 to apply for an appeal above Judge Nicol at the Court of Appeal.
Depp and his lawyers submitted an application to the Court of Appeals in London — the second-highest court in the land — to obtain permission to contest the High Court ruling that he assaulted his ex-wife Amber Heard.
However, the Court of Appeal judges denied Depp's application saying the original hearing "was full and fair" and that the trial judge "gave thorough reasons for his conclusions which have not been shown even arguably to be vitiated by any error of approach or mistake of law."
Not a Fair Trial
During the evidence given at the application hearing, Depp's lawyers said that they had not received a fair trial and presented "fresh evidence" that alleged Amber Heard lied about donating her full $7 million divorce settlement to charity.
Depp's lawyer Andrew Caldecott QC told the court that Heard's claim about the donation was a "calculated and manipulative lie" that "tipped the scales against Mr. Depp from the very beginning," The Guardian reported.
A representative for Heard said her camp was "pleased" but not surprised by the court's denial of Depp's application to appeal. "The evidence presented in the UK case was overwhelming and undeniable," the rep told The Guardian.
Beginning of the Defamation Lawsuit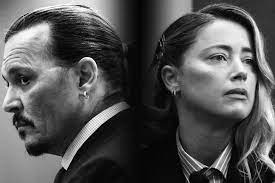 In January of 2021, Heard countersued Depp for $100 million after her motion to move the case to California was denied.
Insider's Zahra Tayeb previously reported that Tesla and SpaceX CEO Elon Musk and actor James Franco are among the high-profile celebrities due to testify during the case. Musk and Franco were dragged into the legal dispute after Depp accused Heard of having "two extra-marital affairs" with them while she was still with him, Insider previously reported.
Page Six also reported that "WandaVision" star Paul Bettany, actor Ellen Barkin, and representatives from Disney and Warner Bros will give evidence to the court. The publication also reported that new evidence will be introduced in court, including unseen police bodycam footage from an "altercation" between Depp and Heard.
Opening Statements  from Amber Heard Lawyer
In opening statements, Heard's lawyer, J. Benjamin Rottenborn, told the jury that Depp is "going to try to turn this case into a soap opera," referencing his tumultuous relationship with Heard.
Rottenborn continued that this lawsuit is centered around the question of whether Heard was exercising her First Amendment right to Free Speech by writing an op-ed for the Washington Post about her experience with domestic violence.
"The answer is very clearly yes," Rottenborn said.
At one point during the proceedings, Rottenborn read out the full op-ed, and argued that it was clear that the article wasn't meant to drudge up allegations against Depp, but to speak about an issue impacting pending legislation. Rottenborn argued that if Heard had intended to describe her relationship with Depp "believe me, the article would have looked very, very different."
"She could fill a book with those details. She would have told you about the monster, but she didn't. That wasn't the point of this article," Rottenborn said. "Because Johnny Depp brought this case, all of that is going to come out. Just know Amber Heard didn't want to unearth for the public who the real Johnny Depp is … You'll see the real Johnny Depp, behind the pirate costume."
Opening Statements from Johnny Depp's Lawyer
Depp's lawyer Benjamin Chew blasted Heard as a liar, saying in court that her accusations ruined Depp's career and alienated him from producers who once favored the movie star.
"When, like Mr. Depp, your career depends on your image and your reputation, or whether movie producers want their movie associated with you, that can be particularly harmful," Chew told the court.
"By choosing to lie about her husband for her own personal benefit, Amber Heard chose to ruin his reputation," he added.
Johnny Depp on the stand
On the stand on April 20, 2022, Depp said that Heard was the real abuser in their relationship and the change in their relationship started with her making "little digs" and "demeaning name-calling."
Depp said he felt like he was "suddenly wrong" about everything, and suffered an "endless parade of insults."
The actor added that sometimes these arguments would escalate to violence, with Heard — who he said "has a need for violence" — shoving him or throwing a glass of wine in his face. When these arguments would start, Depp said he would try to extricate himself from the situation, sometimes locking himself in the bathroom just to get away from Heard.
Depp also said his relationship with Heard — as well as what he described as her frequent verbal attacks — often contributed to his use of alcohol and drugs.
"I was more inspired by Miss Heard to reach out for a numbing agent because of the constant clashes," he said. "I had to have something to distance me and distance my heart from those verbal attacks.
Johnny Depp is Injured
Depp said the fight in which his finger was severed happened about a month after his 2015 wedding to Heard when she flew out to Australia to visit him as he filmed the fifth installment of the "Pirates of the Caribbean" franchise.
Heard arrived in Australia "very upset" about how a meeting with Depp's lawyers had been conducted, feeling that one of the lawyers she met with had been "rude and dismissive." Depp told the court that he had asked his lawyers to discuss a postnuptial agreement with Heard.
Depp said he was staying in a large house in Australia, and remembered locking himself in "at least nine bedrooms and bathrooms" that day "as she was banging on the doors and screaming obscenities and wanting to have a physical altercation."
At that point, Depp said he had been sober from drinking for some time, but noted the stress of the situation caused him to go to the bar in the house and pour himself a few shots of vodka. He continued that Heard followed him to the bar and started yelling at him for drinking again, and proceeded to throw the bottle of vodka at him. Depp said the bottle flew past his face and smashed on the ground behind him.
The Injury became Bigger
Johnny Depp said he then went back to the bar, picked up a larger bottle of vodka, and continued to pour himself another drink. He said Heard picked up the second bottle and threw it at him, and that time it made contact with his hand, slicing off his middle right finger.
"It made contact and it shattered everywhere," he said. "I honestly didn't feel the pain at first, what I felt was heat and I felt as if something were dripping down my hand. Then I looked down and realized that the tip of my finger had been severed and I was looking directly at my bones sticking out and the meaty portion of the inside of your finger."
While Depp later testified that he lied to doctors about how the tip of his right middle finger was cut off rather than telling them Heard threw a vodka bottle at him.
"I didn't want to disclose that it had been Ms. Heard that had thrown a vodka bottle at me and then took my finger off," he said. Depp  continued "I didn't want to get her in trouble. I tried to just keep things as copacetic and easy as possible for everyone. I didn't want to put her into that mix."
The Defecation in Bed
Depp later testified that Heard was responsible for fecal matter found on their shared bed after a fight in which he said he was leaving her. The actor alleged that the incident happened following a fight after a dinner party for Heard's 30th birthday on April 21, 2016.
"My initial response to that was, I laughed," Depp said, describing the reaction to seeing a photo of the feces. "It was so outside. It was so bizarre and so grotesque that I could only laugh."
According to Depp, Heard blamed the fecal incident on Pistol and Boo, her two dogs — an explanation Depp said he found ridiculous.
"She brought up the fecal matter on the bed. She tried to blame it on the dogs," Depp said. "They're teacup Yorkies. They weigh about 4 pounds each. I lived with those dogs. I picked up their funk. It was not the dogs."
The Charity Donation
Terence Dougherty, the general counsel and chief operating officer of the ACLU, testified that the organization received four donations from Heard, which totaled $1.3 million.
Only one of those payments was from Heard directly: a payment for $350,000 in August 2016. The other payments were a $100,000 check from Depp, $500,000 from a donor-advised fund at Vanguard, an investment management company, and $350,000 from a donor-advised fund at Fidelity, another investment management company.
Dougherty said the ACLU believed the $500,000 Vanguard payment was from a fund set up by Heard's former partner Elon Musk.
When Depp and Heard reached a divorce settlement in 2016, Heard announced that she would donate the entirety of her $7 million settlement to charity. She said the money would be split between two organizations: the American Civil Liberties Union and Children's Hospital Los Angeles.
*Sexual Violence* Instances
Dawn Hughes, a clinical psychologist, testified in court that Depp forced Heard into oral sex during instances of sexual violence throughout their relationship.
"When Mr. Depp was drunk or high, he'd throw her on the bed, rip off her nightgown, and try to have sex with her. There were times when he forced her to give him oral sex when he was angry," Hughes testified. "These weren't in loving moments. These were angry moments."
Hughes provided testimony in the Fairfax County Court based on 29 hours' worth of clinical interviews with Heard, as well as her review of court transcripts. Hughes said Depp displayed "obsessive jealousy" and was the true abuser in the pair's relationship.
She continued to detail one specific instance when Depp accused a woman of flirting with Heard and proceeded to take Heard into his trailer and "performed a cavity search" on her. Hughes said Depp was "ostensibly looking for drugs."
Heinous Instances
"He felt it acceptable to rip off her nightgown and stick his fingers up her vagina to look for cocaine," Hughes said. "He thought that maybe she was hiding them there."
She continued that the "most severe instances of sexual violence that Ms. Heard had to endure" was during a fight with Depp in Australia where the actor penetrated Heard with a vodka bottle.
"He grabbed a bottle that was on the bar and penetrated her with that bottle," Hughes said. "And Ms. Heard reported to me of disassociating and going outside of her body."
Hughes said Depp was beating and choking Heard and telling her that he was "going to fucking kill you" when he grabbed the bottle.
"The only thing she was thinking is: 'Oh god, I hope it's not the broken one,'" Hughes said.
Hughes later added that the incidents of sexual violence often happened when Depp was in a "drug-fueled rage."
The Trivialization of Human Suffering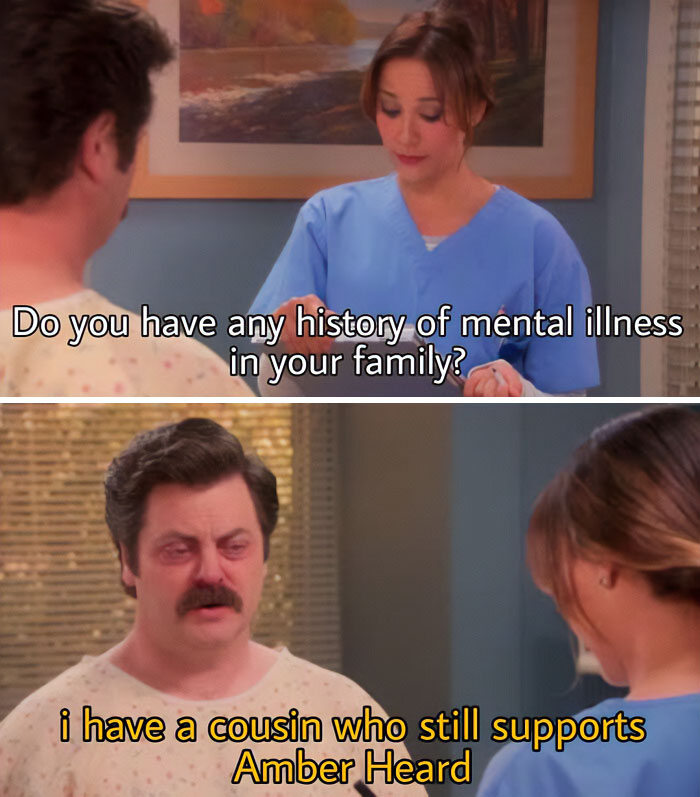 In the service of this myth, any cruelty can be justified. When Heard took the stand, she became emotional as she recounted how Depp allegedly hit her, manipulated and controlled her, surveilled her and sexually assaulted her. Afterwards, ordinary people, along with a few celebrities and even brands like Duolingo and Milani, took to social media to mock or undermine Heard. They took screenshots of her weeping face and made it a meme. Many performed mocking re-enactments of her testimony, lip-syncing along as she recounted the alleged abuse. The audio of her crying became a TikTok trend. This cruelty has now been joined in and compounded by the jury. Its could have gone beyond mocking her for telling her story. And now declared that she actually broke the law by doing so.
Disturbing Instances in Amber Heard Testimony
Amber Heard said she thought Depp was joking the first time he hit her. Heard said Depp once held one of her dogs out a moving car window while he was 'howling like an animal'. Moreover, Amber Heard said Johnny Depp hurt himself during fights by cutting his arms and putting cigarettes out on himself.
The accusations that Amber Heard had an affair with Elon Musk. But she befriended Elon Musk after Johnny Depp stood her up at the Met Gala.
Shockingly, Amber Heard testified that her sister taught Johnny Depp to snort cocaine with a tampon applicator.
Unfortunately, Amber Heard distrubingly once wrote I 'want to rip you apart, devour you and savor the taste' in a private letter to Johnny Depp.
Amber Heard said James Franco made a late-night visit to her apartment after she had a fight with Johnny Depp, this speaks to the affair allegation.
Furthermore, Johnny Depp joked about being able to punch Amber Heard in the face with no repercussion moments after their wedding, according to Heard's former friend.
Even Johnny Depp once asked his former agent to shut down a film because it featured nude scenes with Amber Heard.
Whereas a lawyer who represented Amber Heard during prenup negotiations said Johnny Depp called her a 'b—-' and tried to fire her while drunk.
Also, in the classic controlling manner, Johnny Depp said he called Warner Bros. to curb 'their worries' after Amber Heard's 'Aquaman' audition.
Retaliation against Amber Heard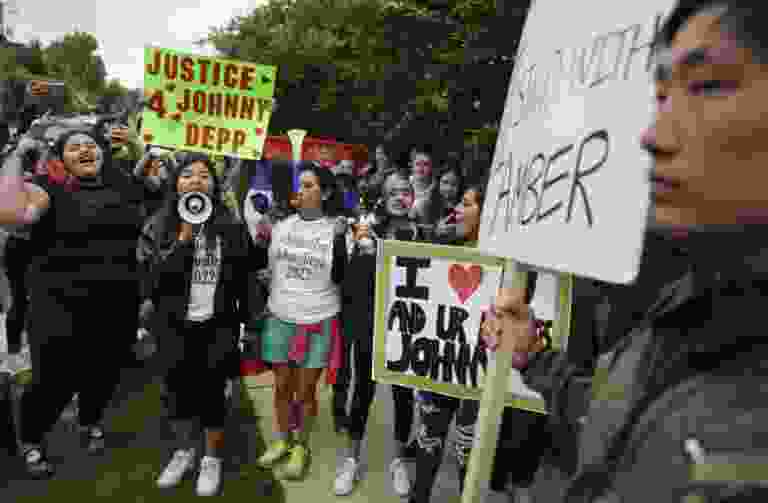 Since the publishing of her post article, Amber Heard's life has been a scene of rage and retaliation. Mainly, from Depp and his extremist fans. Lost in the scandal and spectacle of the lawsuit has been this reality. It is Heard, not Depp, who has been put on trial. And she is on trial for saying things whose truth is bearing evidence to the very fact of the lawsuit itself. Depp's frivolous and punitive suit, and the frenzy of misogynist contempt for Heard that has accompanied it.
Moreover, it has done a great deal to vindicate Amber Heard's original point. That women are given punishment for coming forward and speaking the truth to power. What happens to women who allege abuse? They get publicly pilloried, professionally blacklisted, socially ostracized, mocked endlessly on social media and sued. It is like facing down a barrel filled with wrath aimed to decimate your existence in patriarchal society.
Mainstream Media Coverage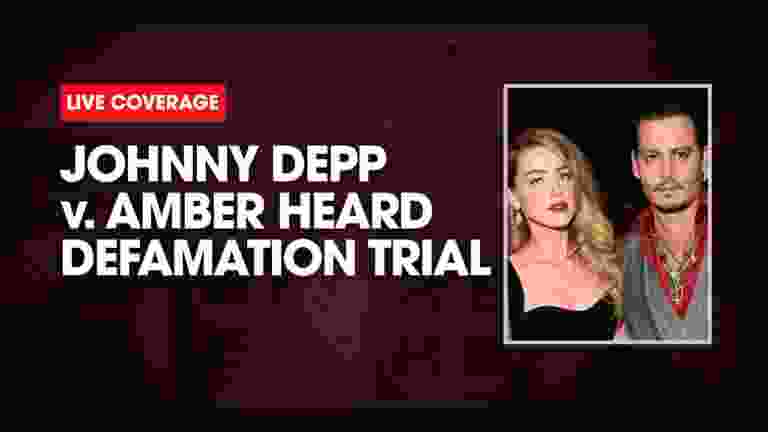 But mainstream coverage of the trial has not seemed to grasp this. Instead, there's been tremendous focus on Amber Heard's mistakes and worst moments over the course of her relationship with Depp. According to the wave of content that is online in Johnny Depp's favour. It is quite a staggering high compared to Amber Heard's side. This is a clear indicator of media bias and unethical journalistic practice. As is typical of domestic abuse victims, Heard does seem to have done things many of us would not be proud of. She fought back. Depp's outbursts and insults left Heard resentful and angry with him, and sometimes, she told him so.
Many are quick to point out that Heard is not a perfect victim. But no woman is. We are told that the lawsuit is "complicated." But the lawsuit is not complicated. It is abuse. Now, that abuse has been sanctioned by a jury. I am appalled and angry at the public humiliation of Amber Heard to this day. People have become inhumane and insensitive to the highest degree.
Television Trial
The verdict came after the trial could be seen on television. It is an extremely rare situation for a proceeding that concerns allegations of domestic violence. And which was subject to almost inescapable media coverage. Nearly all of it in favour of one litigant, even as the jury was not sequestered. The strange, illogical, and unjust ruling has the effect of sanctioning Depp's alleged abuse of Heard. And of punishing Heard for speaking about it. It will have a devastating effect on survivors, who will be silent, now, with the knowledge that they cannot speak about their violent experiences at men's hands without the threat of a ruinous libel suit. In that sense, women's speech just became a lot less free.
Maybe the persistence of this notion that Heard is somehow equally culpable for what happened to her is why people like the New York Times Michelle Goldberg have characterized the trial as "the death of Me Too". Yes, it's true. As it shows how easy it is to blame a victim and isolate her. And how easily what unfolds to her can be taken as a failure of her personal character. Rather than as part of a social pattern.
Not all women are alike, but feminism exists to let us see how we are all similarly vulnerable. Both to gender abuse and to the gender application of double standards and unjust blame. No victim is perfect. No victim should have to be. After all, if a man cannot be the abuser of an imperfect woman. Then just how perfect does a woman need to be before it becomes wrong to beat her? Beating a woman is the wrong period.
For their part, Depp's fans seem to not so much deny Depp's alleged violence against Heard. But to approve of it.
"He could have killed you," this statement is made one viral Tiktok supporting Depp, the text superimposed over photos of Heard's bruised face.

"He had every right."
The post has more than 222,200 likes. This speaks to a large pattern of behaviour on social media. Rather than looking at the nuance of the trial and the complete picture. The online audience tends to mimic each other to seek the approval of the majority.
The Backlash on the #MeToo Movement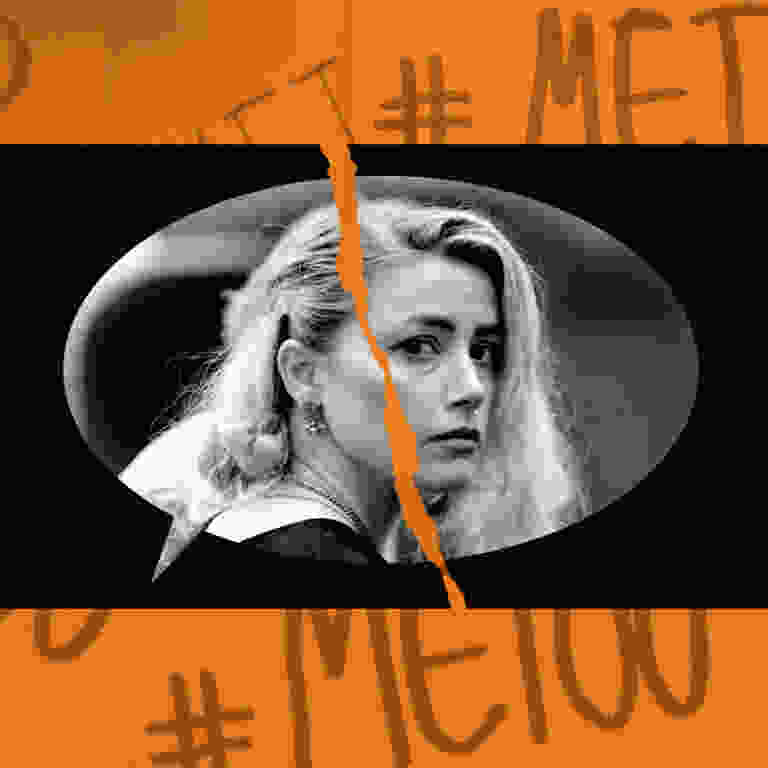 The backlash to #Me Too has long been underway. Critics of the movement painted women's efforts to end sexual violence as excessive and intemperate from the start. Worryingly, claiming #MeToo had "gone too far" before it really got underway at all. And yet the Heard trial does feel like a tipping point in our culture's response to gender violence. The forces of misogynist reaction are perhaps even stronger now. Because of having been brushed under the carpet for so long. Where once women refused, en masse, to keep men's secrets. Or to remain silent about the truth of their own lives. Now, a resurgence of sexism, virulent online harassment, and the threat of lawsuits. All aim to compel women back into silence – by force.
The Impact of the Defamation Trial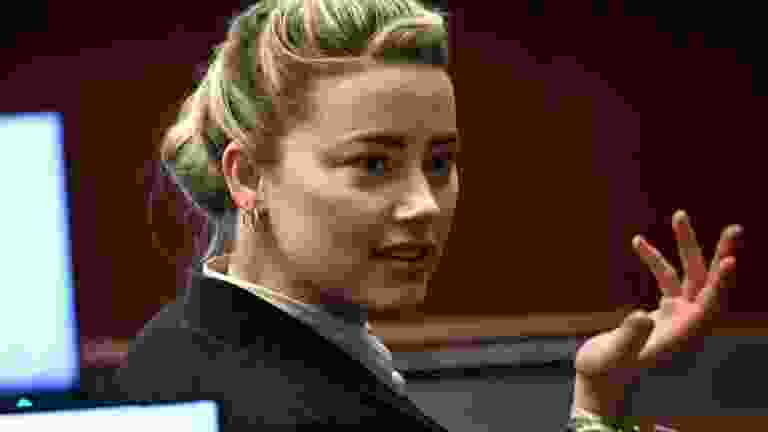 In some ways, one could see the defamation suit itself. As an extension of Depp's abuse of  Amber Heard, a way to prolong his humiliation and control over her. The only difference is that now, the legal system and the public have been actively taking part. This seems to be at least partly how Depp sees it. In 2016, as their marriage broke apart, Depp texted his friend, Christian Carino, and vowed revenge against Heard.
"She is begging for global humiliation," Depp wrote. "She is going to get it."
Believe everything or nothing. Either every single word this woman says must be true, or nothing is. Having raked for weeks through the bitter ashes of Johnny Depp's brief and frequently ugly marriage to Amber Heard, his counsel, Camille Vasquez, offered the jury hearing the mutual defamation suits only that stark, binary choice: no picking and choosing, no room for ambiguity or complexity or imperfect victims. Either Heard had endured something "truly horrific", or she was capable of saying absolutely anything. It was a false dichotomy but a ruthless strategy for chiselling away at any lingering doubts in a trial. Especially where the two sides' expert witnesses had repeatedly contradicted each other. And, seemingly, it worked.
The Jury at the Trial
On Wednesday, the jury of five men and two women reached their bleak conclusion. Mainly, ruling that the woman we all saw sobbing in the witness box. That they had lied about being a victim of domestic and sexual violence. The jurors had seen the mobile phone footage of an enraged Depp smashing his way around the kitchen. And read the texts he sent a friend about wanting to drown or burn Heard and "fuck her burnt corpse". They watched her break down, describing an alleged sexual assault. And seemingly, they believed nothing rather than everything.
A jury thought he deserved $15m. On Wednesday, the case's verdict came in, finding that Heard defamed Depp. She was acting with "malice." Especially when she described herself as a victim of domestic abuse. Bizarrely, the same jury found that one of Depp's lawyers defamed Heard. Specifically, when he made an accusation of her staging a "hoax" scene. Mainly of abuse to which police came to the couple's home.
Jurors reached a verdict after six weeks of trial testimony and less than three days of deliberation.
Media's Responsibility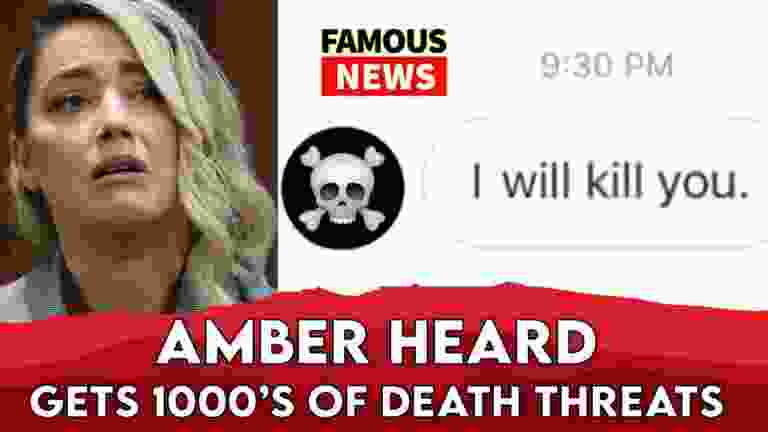 Newspapers now understand with chilling clarity the risks they are running. Mainly by naming wealthy or high-profile men as abusers. Their victims, too, will see that by coming forward they're risking not just a tidal wave of misogynistic hate. Heard said she was getting daily death threats – but potentially ruinous financial damage.
The Nuance
Amber Heard didn't name Depp in her carefully constructed Washington Post article. And insisted in court that the piece wasn't even solely about him. Although she had publicly accused him of abuse following their divorce, she also wrote that
"like many women, I had been harassed and sexually assaulted by the time I was of college age",
or in other words, before she even met him. But that didn't save her.
Johnny Depp's Victory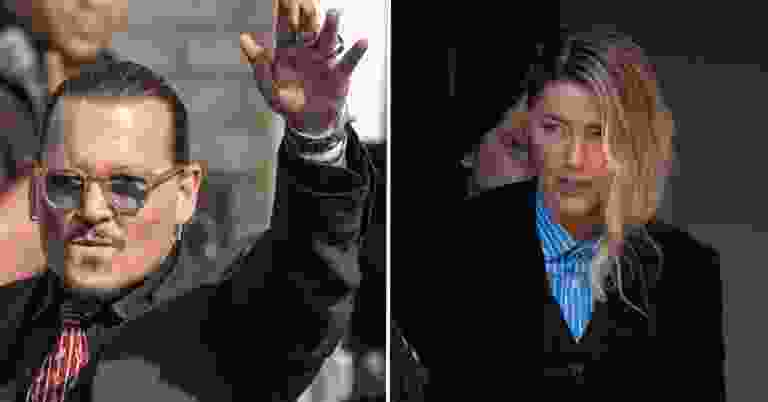 "The jury has given me my life back,"

said a victorious Depp, awarded $10.35m (£8.25m) in damages over a newspaper article in which his ex-wife called herself a

"public figure representing domestic violence", facing "the full force of our culture's wrath towards women who speak out".
Loss of Amber Heard
Heard, who lost her suit but was nonetheless awarded $2m over suggestions from her ex-husband's lawyer. That she and her friends had "roughed up" their apartment. To make it look more like a domestic crime scene, was defiant to the end. The verdict, she said,
"sets back the clock to a time when a woman who spoke up. And spoke out could be publicly shamed and humiliated. It sets back the idea that violence against women should be taken seriously."
Although only, perhaps, if we accept that dangerous premise Vasquez laid before the jury. With its clever echoes of the unsettling absolutism running through social media culture. That you either #believeallwomen, or treat the lot as liars. For those are not, and never have been, our only options.
What Women really ask of Men
All women really ask of men – and, arguably, vice versa – is the chance to be heard without prejudice. Whatever did or didn't happen between Johnny Depp and Amber Heard. Right now that modest goal seems ever more tantalisingly out of reach.
Rightfully so, as a woman, I felt terrible for the crass, rude way. Especially, the way that the tsunami of public hate went in the direction of Amber Heard. The TikTok trend mocking Amber Heard's testimony, the memes and the death threats by Johnny Depp fans. The men's violence against women and a woman becoming a villain for speaking the truth.
I don't tend to follow trials, but I do understand that there is a truth. And then there is a man's patriarchal gaze looking at a public celebrity. Listening to Laura Bates, an English feminist writer and founder of the EverdaySexism project on I-Weigh Podcast on Stitcher inspired me to write about the vitriolic misogyny that is behind villainization and mocking of Amber Heard. The most worrying aspect of this case is the impact on the #MeToo movement.
Misogyny
The trial has turned into a public orgy of misogyny. While most of the vitriol is in the nominal direction of Heard. It is hard to shake the feeling that, really, it is in the direction of all women. In particular, those of us who spoke out about gendered abuse and sexual violence during the height of the #MeToo movement. We are in a moment of virulent anti-feminist backlash.
And the modest gains made in that era are facing a retraction. Mainly with a gleeful display of victim-blaming on a massive scale. One woman is made into a symbol of a movement that many view with fear and hate. And she is bearing the hammer of punishment for that movement. In this way, Amber Heard is still in an abusive relationship. But now, it's not just with Depp, but with the whole country.
Conclusion
Heard pitches herself as an everywoman. A survivor through whose glittering Hollywood prism countless ordinary women's experiences of abuse can be seen. Her Washington Post article was chiefly arguing for the renewal. Mainly, of a key piece of domestic violence legislation to protect victims. Her legal team gave a warning to the jury for refusing to believe Heard. They would effectively be telling women everywhere that they would not place any belief in them either. If she really was lying through her teeth, it would be a terrible, terrible thing Heard had done. Not just to Johnny Depp but to all those other women; so terrible, indeed, that many women would find it almost impossible to believe she could have done it.
Sure enough, British domestic violence experts warned even before the verdict emerged. That the extraordinary vitriol heaped on Heard on social media was reawakening age-old fears in victims about coming forward. The fear of humiliation and ridicule is never far below the surface. And why wouldn't it be, when this distressing trial is being given light-hearted approach? In some quarters, it is just another light celebrity spat. Especially with live-streaming worldwide via YouTube for viewers' gawping convenience? Who do you think has been wronged and why? Discuss your thoughts below but remember to be respectful of women. As human beings before putting forth any words in the comment section.