Cultural festivals play a significant part in enabling people to celebrate their culture and identity. They include performances and exhibitions of cultural creativity, expression, and diversity that are preserved and passed on from one generation to another. They are often significant attractions for locals and tourists. Festivals offer collective and physical gatherings which have symbolic value. They provide an opportunity to experience something together as a community by engaging in culture simultaneously with others (Garcia, 2021). This article will overview some of the top cultural festivals in Scotland and their cultural significance in anthropology.
Origins of cultural festivals
The word "festival" comes from the Latin 'fiesta', meaning "a religious holiday". It was used as an adjective 'festivalis' and came into English via French, as 'festival' (Collins Language Lovers Blog, 2015).
Festivals are celebrations that preserve culture, heritage, and tradition through entertainment, community bonding, and building. These celebrations help to transfer traditions from one generation to the next (Bamboozled Productions). People celebrate festivals with others to help spread happiness and build bonds between people. This plays a significant role in structuring people's lives and identities while connecting with their backgrounds (Byjus.com).
The oldest cultural festival in the world
The world's oldest festival is Nowruz, and it has been celebrated in Iran and the Persian Diaspora for over 3,000 years, since the pre-Islamic period. The word 'Nowruz' means "New Day". This festival is one of the biggest celebrations that were celebrated in ancient Iran. It is related to the first day of spring and the Iranian and Persian New Year.
However, it continues to be celebrated today in different ways, by many different communities, such as Azerbaijan, Georgia, Russia, Turkey, Pakistan, Afghanistan, Tajikistan, Kyrgyzstan, and more. The oldest records of Nowruz trace back to the Arsacid/Parthian times (247 BC-224 AD).
Such cultural festivals evolved from feasts – celebrations with foods served only for the occasion and observing rituals. Food is an important resource and many festivals are associated with harvest time. There is a variety of longstanding festivals around the world. They attract people from various cultures across the globe. Modern cultures continue to celebrate festivals that resurrect and evolve around ancient ones. Some cultures also create completely new reasons for feasts and festivals.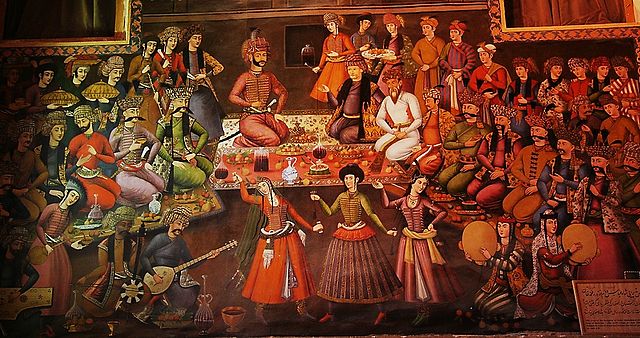 Cultural festivals in the United Kingdom
Some of the British festivals and holidays are centuries old, and others are newer events celebrating art, culture, or religion. Music festivals are very popular in the UK and date back centuries. Music festivals seem to remove any cultural barriers and judgments against people's origins. In fact, music festivals create a community with its own culture (CULTURS Magazine). It provides a new set of norms, rules, rituals, and so on. Thus, cultural festivals and carnivals are significant contemporary phenomena in societies around the world.
Festivals range from expositions of high culture to large-scale popular music festivals, through religious commemorations, neighborhood celebrations of a migrant present, to statements of alternative sexuality or national pride. In many cases, festivals are topics of discussion in the media, highlighting identity, politics, art, culture, and more. Academics point out that a festival is a cultural practice and experience that is ever-changing and complex (SOAS University of London, 2011).
Records of amateur performing arts festivals across the UK can be traced back to as early as 1872. They still continue to be the highlight of the summer calendar. Today, some of the most famous music festivals in the UK include the Glastonbury Festival, Reading & Leeds Festivals, and the Isle of Wight Festival, among many others.
Some of the early music festivals in the UK
The first recorded festival was the Workington Musical Festival in Cumbria. Workington Musical Festival is still organized to this day (The British and International Federation of Festivals). It is an annual music, speech, and drama festival that takes place every year, usually in November. It was originally started by William Griffiths of Aberavon, who purchased tinplate works near Workington in 1869. He began a band, which later evolved into a male voice choir. He then organized the first recorded festival of music in the UK. Another early festival in the UK was started thirteen years later, in 1882, and was organized by John Curwen. Curwen began the Stratford and East London Festival.
In the early 1900s, Mary Wakefield and Lady Mary Trefusis started the Federation of Festivals. In 1907, the Federation had a membership of over 70 affiliated festivals. It continues to grow to this day with festival members from the UK and abroad.
Some of the cultural festivals in the UK
Music festivals in the UK are famous around the world. But there are also other festivals that celebrate the country's history, literature, film, art, and even politics. These festivals are national, religious, and seasonal. They are used as an occasion to celebrate British traditions and to make people aware of them. They are significant in passing down cultural values and traditions through generations. They provide an insight into a community of individuals, bound by a common understanding (VickyFlipFlop, 2022).
Burns Night, Scotland (25 January)
Robert Burns was Scotland's national poet who was known in medieval Celtic culture as a storyteller, verse maker, and composer. Burns was born on the 25th of January 1759. Burn's Night is celebrated to pay tribute to the life and works of the poet. It is held annually since 1801. The tradition is to hold a special Burns Supper with friends (Visit Scotland).
The first Burns Night supper was held on 21st July 1801 at Burns Cottage in Ayrshire, the first home of Robert Burns, where he was born. It was first held by nine of Burns' friends on the fifth anniversary of his death. It was such a success that it was held again on Burns' birthday and, since then, continues to be held every year by many people in Scotland and around the world (Visit Scotland).
The supper may be formal or informal. It includes a meal, performances of Burns' work, and a speech in honor of Robert Burns (now known as the Immortal Memory). The host's speech remembers some aspects of Burns' life and poetry. It can be a small gathering with friends and family or a large formal dinner.
The tradition is to have a bagpiper greet the guests or play traditional Scottish music. The host of the supper then welcomes everyone and the guests are seated. Traditionally, the Selkirk Grace is said as a thanksgiving before meals (BBC, 2014). Selkirk Grace is in the Scots language and Burns was said to have delivered it at a dinner given by the Earl of Selkirk.
Selkirk Grace
Some hae meat an canna eat,

And some wad eat that want it;

But we hae meat, and we can eat,

And sae the Lord be thankit.
The hearty meal on Burns Night includes soup courses, such as Scotch broth, potato soup, cullen skink, or cock-a-leekie. After the starter course, haggis is brought and everyone stands up, while a bagpiper leads the way to the host's table. Haggis is a traditional Scottish meat dish that, in recent years, has sometimes been replaced with vegetarian alternatives. It is a sheep's stomach stuffed with seasoned offal, neeps (turnips), and tatties (mashed potatoes) (Visit Scotland)
 After the meal, there are desserts served, and toasts with speeches given. At the end of the evening, everyone says thanks and sings "Auld Lang Syne" by Burns, which can be loosely translated as "for the sake of old times".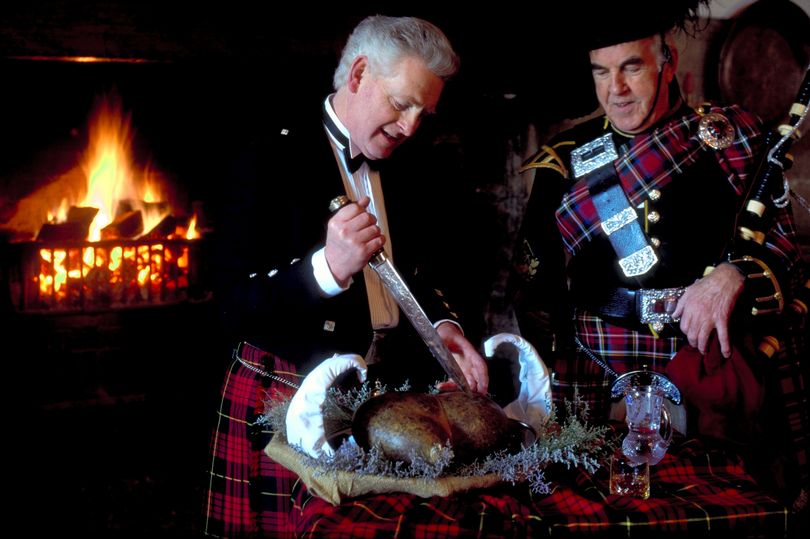 Jorvik Viking Festival, York
Jorvik Viking Festival is Europe's largest Viking festival that takes place every year in York, England. Every year, around 40,000 people from around the world come to visit Jorvik Viking Festival to experience battle re-enactments, combat performances, crafts, guided walks, music, archeological sessions, and talks.
The festival was started in 1984 by the York Archaeological Trust. The city of York has a rich Viking heritage. The city was formerly known as Jorvik and was a major outpost of the British Isles. The York Archaeological Trust has conducted excavations in the city and found the remains of some of the timber buildings of the Viking city of Jorvik. They also discovered workshops, fences, animal pens, privies, pits, wells, and durable materials, such as pottery, bones, leather, wood, and textiles. Overall, more than 40,000 objects were discovered.
Jorvik Viking Centre organizes an annual Viking Festival in the tradition of an ancient Viking festival, "Jolablot". It takes place in February and it is a weeklong festival honoring the history of the city of York and the ethnic heritage of Scandinavians who travel to participate in the festival (The Free Dictionary's Encyclopedia, 2010).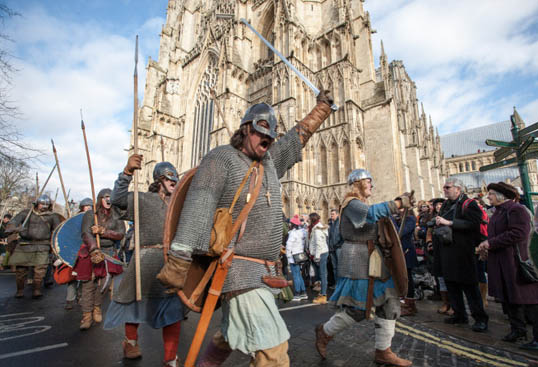 Jack in the Green Festival, Hastings
Jack in the Green Festival is a celebration of May Day. It is an English folk custom taking place at the start of summer on the 1st of May. Jack in the Green (or Jack o' the Green) is a tradition that started in the 18th century and still attracts the interest of folklorists and historians to this day.
The tradition has been studied by folklorists and is associated with the medieval church carvings of the "Green Man". In 1939, Lady Raglan wrote a piece for a Folklore journal suggesting that Jack in the Green and the Green Man are spirits of nature and fertility that date back to pre-Christianity (Sedwick, 2020). Christina Hole, the British folklorist, suggested that Jack in the Green is a representation of the summer.
The Jack in the Green is a wooden or wicker frame covered in greenery, branches, flowers, and leaves. People wear it on the upper half of their bodies and carry it in the procession of May Day. The Festival parades happen across the UK, in the cities of Bristol, Oxford, Knutsford, and more, but since 1983, the Jack in the Green procession has become a major event in Hastings, and is believed to be the best place to celebrate.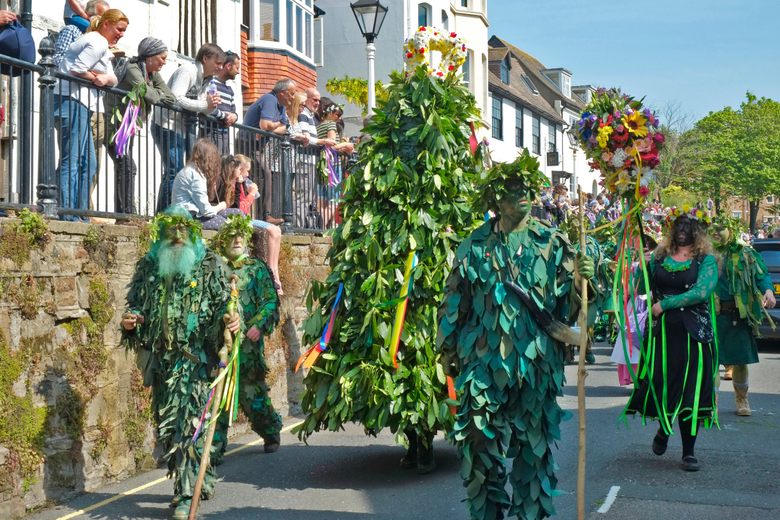 Isle of Wight Festival
The Isle of Wight Festival is a music festival that takes place each year at Seaclose Park, Newport on the Isle of Wight, England. The island is a well-known tourist attraction and one of the most beautiful places to visit in the UK. Tourists can explore heritage sites, picturesque beaches and villages, as well as animal sanctuaries. Despite being a popular place for visitors all around the year, the Isle of Wight is most popular in June, when it holds an annual Isle of Wight Festival.
The festival was originally a counterculture event held from 1968 to 1970 and featured Bob Dylan and the Band, Jimi Hendrix, The Doors, Joni Mitchell, Leonard Cohen, and much more. It is, therefore, widely acknowledged as Europe's equivalent of Woodstock. There's a strong cultural significance of the festival because music is Britain's heritage and it is constantly evolving, and the festival reflects this. The festival is for music lovers of different ages. Therefore, tickets are for various age groups, and there are family-friendly areas, as well as accommodation options for the non-campers and VIP services (isleofwightfestival.com).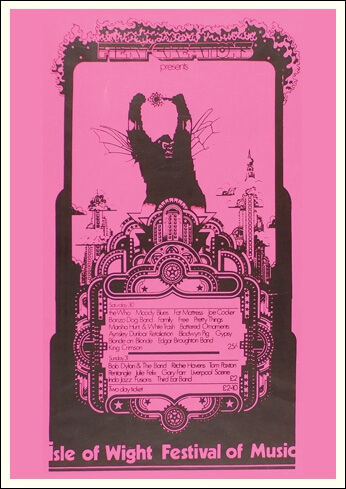 The Fringe Festival, Edinburgh
One of the most famous festivals in the UK and the biggest art festivals in the world is the Edinburgh Fringe. It showcases theater, comedy, dance, physical theater, circus, cabaret, children's shows, musicals, opera, music, spoken word, exhibitions, and more (edinburgh.org).
The Edinburgh Festival Fringe began in 1947 at the same time as the Edinburgh International Festival (a festival of the arts with an emphasis on music and drama). Originally, it was an invitation-only festival. In 1947, eight theater troupes who had not been invited to perform arrived at the Edinburg International Festival. They have arranged a space to perform and put on a show within venues on the margins of the official festival. They became popular and the next year more unofficial participants arrived to perform. This alternative scene became known as the Fringe.
At the Fringe Festivals, performers don't have to register to be welcome and put on a show. This has made the festival grow so much that there is a wide variety of shows available for everyone, with an average of more than 2,000 shows and more than 32,000 performers. The festival continues to grow and runs for three weeks every August. It still takes place at the same time as the Edinburgh International Festival (Encyclopaedia Britannica).
Cultural significance of festivals in anthropology
Cultural festivals allow people to connect with their culture, heritage, and roots. Burns Night reminds Scots of their culture and heritage and allows them to celebrate it and embrace their identity. The Isle of Wight Festival allows people of various backgrounds and origins to connect with each other through music. Meanwhile, the Jorvik Viking Festival allows people to learn about their culture through history and experience many aspects of their ancestors' lifestyles. Thus, there is no doubt that festivals are incredibly culturally significant.
Many of the festivals have been practiced for hundreds of years, and people have been able to preserve them for so long. They are culturally significant because they teach people to forget hostility and instead spread love and create an environment of cultural connection and harmony. Festivals allow communities to engage in socialization and entertainment and reinforce certain norms and values that enhance community cohesion.
References:
Bamboozled Productions. "Festivals: Historical, Cultural, Evolved". Available: bamboozledproductions.com
BBC (2014) "Robert Burns – Burns Night". Available: bbc.co.uk
The British and International Federation of Festivals (BIFF) "Workington Musical Festival". Available: federationoffestivals.org.uk
Byjus.com. "Why Do We Celebrate Festivals with Others?". Available: byjus.com
Collins Language Lovers (2015). "Etymology Corner – 'Festival'". Available: blog.collinsdictionary.com
CULTURS Magazine. "Culture and Community of Music Festivals". Available: cultursmag.com
Edinburgh.org. "Edinburgh Festival Fringe". Available: edinburgh.org
Encyclopaedia Britannica. "The Fringe". Available: britannica.com
The Free Dictionary's Encyclopedia (2010). "Jorvik Viking Festival". Available: encyclopedia2.thefreedictionary.com
Garcia, B. (2021) "Why Festivals and Special Events Matter Now More Than Ever". Available: ukri.org
isleofwightfestival.com. "History". Available: isleofwightfestival.com
Sedwick, I. (2020). "Jack-in-the-Green and the Green Man: One and the Same?". Available: icysedgwick.com
SOAS University of London (2011) "Anthropology Revisits the Festival". Available: soas.ac.uk
VickyFlipFlop (2022) "The Importance of Festivals for Society & Our Unique Cultures". Available: vickyflipfloptravels.com
Visit Scotland. "Celebrating Burns Night". Available: visitscotland.com