Colonial History and Local Indigenous Traditions
Guatemalan festivals raise the bar for Latin American celebrations by infusing both Christian and Mayan traditions with captivating art, mouth-watering food, innovative performances, and death-defying acts.
Despite the everlasting mark of the colonial era, Christian tradition does not dominate all celebrations. Located at the heart of the ancient Mayan world, Guatemala provides a rich diversity of indigenous cultures. The most dominant of such ethnic communities are the Mestizo, Maya, Xinca, and Garifuna.
Roman Catholic festivities around the country continue to include a lot of pre-Hispanic culture and religion, and women's outfits vary based on city, region, and social status. From a country where each city and town brings its own unique flare to the festive streets, here are some of Guatemala's most popular and brilliant culturally-rich festivals.
Semana Santa (Holy Week)
Running this year from April 10 to April 16 but previously occurring anytime between late March and mid-April, Semana Santa makes a particularly colorful mark on the streets of Antigua. Groups spend a full day before the festival kicks off laboriously designing elaborate alfombras. These carpets of sawdust, vegetables, fruit, and flower petals bring sparkle to the former colonial capital's bare cobbled streets and church floors.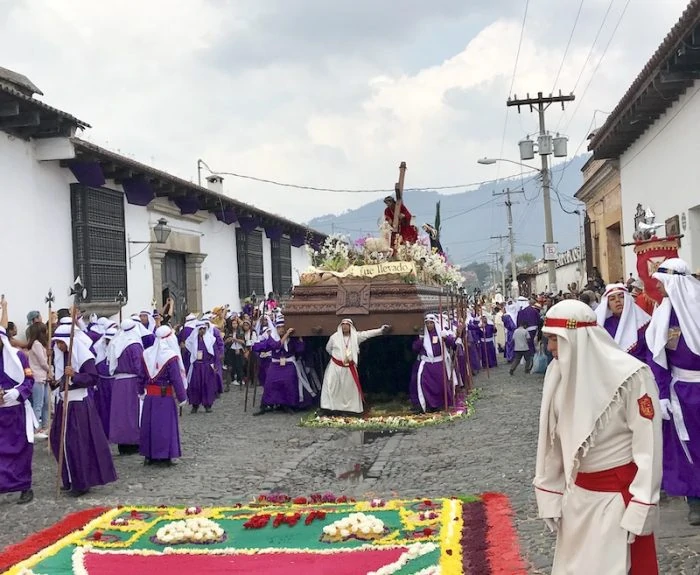 Processions of monks and nuns carry large sculptures of Mary and Jesus through the streets, spoiling the finely-decorated carpets while the air grows thick with incense. Behind them, bands toot and thunder to a solemn beat and performers dressed as Roman soldiers recite the charges laid against Jesus. Palm Sunday and Good Friday see the largest and most magnificent of these processions.
To compliment Christianity's oldest and most important festival, the city's native inhabitants don traditional outfits and hold K'iche'-language masses with ancestral prayers. Feeling peckish at the thought of crushed mangoes, pineapples, and oranges? Consider trying battered palm fronds or green beans (ejotes envueltos), the traditional salted cod dish bacalao a la vizcaina, or torrejas en miel honeyed bread during your visit to Antigua.
Festival Folklórico de Cobán (National Folkloric Festival of Cobán)
At the end of July, parades, rodeos, and traditional art expositions bring hustle and bustle to this highland municipality in Guatemala's coffee-growing region. The surrounding mountains provide an exhilarating backdrop for the Rabin Ajau competition, which attracts girls from around the country to compete for the title of the next Mayan princess.
Wearing the traditional blouse and skirt of their hometown, contestants are assessed on much more than just beauty. The winner is also determined by her spirit, grace, charm, sincerity, intelligence, historical knowledge, and devotion to Mayan values and traditions.
Queen of the coffee flower
The tradition began in 1936 as the Feria Departamental, organized by leading businessmen in Cobán's prosperous coffee industry. They selected two queens to represent both the European and Mayan population, naming them Flor de Café and India Bonita Cobanera, respectively. Forty years later, the festival expanded to include candidates from across the country and rebranded itself as Rabin Ajau.
Beyond this cultural beauty pageant, Cobán hosts a variety of folk traditions during what is considered Guatemala's most important Mayan festival. It celebrates the country's populous Q'eqchi culture and features candle displays, offerings, and traditional dance. The local dish kak'ik, a fragrant turkey stew containing chile Cobanero, will truly spice up your experience.
Fiesta de la Virgen de la Asunción (celebration of the Assumption of the Virgin)
For Guatemala City, Aug. 15 is about far more than just celebrating the local patroness. Parades, fairs, and parties unfold citywide to honor the embodiment of the Virgin Mary ascending to heaven. After an earthquake destroyed Antigua in 1773, modern-day Guatemala City was founded around the Valle de la Ermita in 1776 and named Nueva Guatemala de la Asunción. It set patron saint festivities for Aug. 15, but a different story tells that this date was chosen after a young farmer saw an image of the Virgin Mary on the waca-watana rock near his village.
Today, brotherhoods of Roman Catholic laymen, known as cofradías, carry the Virgin of Assumption's effigy and platform through the city's streets until they reach the historic centre and Catedral Metropolitana. Keeping with sixteenth- and seventeenth-century tradition, the sculpture of the Virgin Mary bears real human hair. The platform or anda depicts scenes of clouds, angels, and cherubs to show the Virgin of Assumption floating to heaven. The ceremony culminates with a serenade and mass inside the cathedral, where a lucky few snag seats inside while everyone else leaves to prepare for the real fiesta that starts afterwards.
In the nearby neighbourhood of Jocotenango, la Feria celebrations last as long as two weeks. Those who join can indulge in bingo, rodeo, target shooting, mechanical rides, and marimba music. Worth a taste are traditional delicacies like churros, plantains, fried corn tortilla garnachas, caldo de gallina (chicken soup), and pepián, a spicy chicken stew considered Guatemala's national dish. Time your visit right and you may witness firefighter parades and folkloric dances like Danza del Venado, Micos, La Conquista, and Gigantes o Cabezudos, the dance of the big-headed giants.
Día de la Independencia (independence day)
While Guatemala shares its national liberation celebration on Sept. 15 with Honduras, El Salvador, Nicaragua, and Costa Rica, the country by no means slacks on festivities. It all started in 1821, when a hopeful María Dolores Bedoya ran a lit torch through the streets of Guatemala City the day before the country achieved independence from Spain.
Today, antorchero runners relay a lit torch all the way from Guatemala City to Cartago, Costa Rica's former colonial capital. It is certainly not for the faint of heart, but short-distance runners alternatively carry torches and flags into their own towns to the sounds of shouting, whistling, and marching band music. Even schoolchildren do their part by singing songs and holding parades.
Beware of the little bull
In any case, Guatemala's independence day allows for both quality family time and spectacles of fireworks, military parades, fiestas, and fairs. Traditional music from trumpets, trombones, and drums plays persistently and tortillas are often within reaching distance. Those celebrating paint buildings and buses Guatemala's iconic blue and white, and dancers perform traditional acts like Christians and Moors and El Baile del Torito to the charm of marimba bands.
You can find a particularly spectacular independence day festival in the western highland city of Quetzaltenango. In Antigua, however, the Torito Loco, dressed as a bull, twirls through the streets with a firework-loaded frame on its back as smoke and flame erupt left and right.
Festival de Barriletes Gigantes (Day of the Dead kite festival)
For Día de los Muertos at the start of November, the towns of Santiago Sacatepéquez and Sumpango turn into packed launching grounds for kites honouring the dead. Families put months of preparation into constructing these barriletes gigantes out of paper and bamboo for their deceased loved ones.
They flock to local cemeteries on Nov. 1, when they believe the barrier between the living and dead is the thinnest. The families clean their relatives' graves and lay carnations and gladioli while children play and the bells of ice cream vendors chime. But despite the commemoration of lost loved ones, this festival remains more of a celebration than a sad remembrance.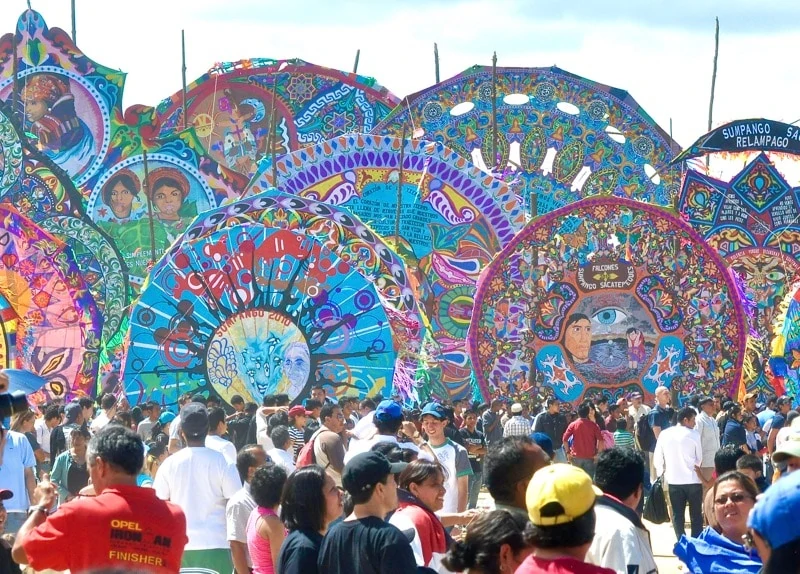 Talking to the dead
Following ancient Mayan tradition, participants release their kites into the sky to communicate with the dead in the heavens, convey peace, and deter evil spirits. Competitions assess kites by categories like best design and largest diameter, with some stretching over fifteen metres in both directions.
Great food is plentiful, including the authentically Guatemalan fiambre that throws together sausages, onions, beetroot, olives, pacaya flowers, chicken, cheese, and spices. Also for the taking are blue corn tortillas, fried chicken, Ron Zacapa Centenario white rum, grilled corn on the cob, and plátano en mole negro (plaintain in spicy chocolate sauce).
Día de Todos los Santos (All Saints' Day)
On the same day, up in the mountain municipality of Todos Santos Cuchumatán, marimba music and folkloric dance set the scene for the Skach Koyl horse race. The Carrera de las Ánimas (Race of the Souls) sees drunken horseriders attempt to complete a short circuit in or around the town.
They don local ceremonial attire, which includes straw hats with woven ribbon, red and white striped pants, and dress shirts streaked with colour and fitted with large embroidered collars. Most importantly, they consume large amounts of beer and Quetzalteca, Guatemala's national alcoholic drink, both before and during their race.
What matters is not speed and agility, but rather bravery and endurance, which some prove by riding hands-free, killing a chicken while racing, or recovering from a hard fall. The winner is the one able to stay on their horse the longest, which they do not actually receive until the morning of the race. They win a live cockerel and assume the role of El Capitán for the next set of horse riders, with races elapsing from dawn until dusk.
As tough as a conquistador
The exact origin of Skach Koyl remains lost or unclear. Locals say they continue racing to honour their fathers and grandfathers who did the same. It may correspond to the initial arrival of the Spaniards, who were perceived as strong and seemingly invincible while on their horses, and serve as a show of comparative Guatemalan strength.
Still, everyone dresses their absolute best and most colourful on this day, and men working in the U.S. and elsewhere abroad to support their families return to Guatemala just for the race. If you find yourself there early, three days of celebration precede Skach Koyl and feature well-preserved traditions of the western highland Mam Mayas. Keep an eye out for the stunning woven textile bags horse racers sling around their shoulders, but take care not to stand too close by when they race past in an inebriated state.
La Quema del Diablo (burning of the devil)
Right before the Feast of the Immaculate Conception, Dec. 7 holds the spiritual cleansing of the Christmas season. Families burn gasoline-doused effigies of the devil made from wire, papier-mâché, red Chinese paper, and household garbage.
In the historical context of the colonial era, families would lay torches and bonfires outside their homes to light the way for the passing Virgen de Concepción procession on Dec. 8. Festive bonfires in Antigua and Guatemala City became known as Luminarias de la Virgen and the municipalities have supplied them since the 1600s.
Today, the cities also burn fireworks and devil-shaped piñatas, wisely supervised by the local fire departments. Burnings usually happen around 6 pm, at which time the Immaculate Conception processions begin to the sound of brass bands and announcers listing aloud the transgressions committed by the country's politicians.
Keeping it hot and spicy
While other Guatemalan communities tend to burn tires and the like, serious fire safety concerns arise around Antigua's Barrio de Concepción in particular. If the heat works up your appetite, get your hands on bunuelos (deep-fried honey donuts), rompope spiced eggnog, and tortas with meat and crispy vegetables.
A great place to experience the festival is the Mayan municipality of Concepción, which sits in a fertile valley and owes to the Virgin Mary, its patroness. The town's Roman Catholic church, painted as white as sheep's wool, has stood the test of time despite centuries of earthquakes and contains carvings of angels, saints, and apostles on its wooden roof.
The cofradía dresses in traditional embroidered attire with rainbow-hued trousers, tunic wraps, sandals, and symbols of the Kaqchikel people. Every Dec. 8, they place wooden platforms along the church's centre aisle, which represent pagan altars used for placing candles and offerings. As well, they install a silver ceremonial candelabrum and carry an effigy of the Virgin Mary coated in money, lottery tickets, and other decorations around the town. A special dish worth trying here is pulique, a thick meat and vegetable stew.
Fiesta de Santo Tomás (festival of St. Thomas)
From Dec. 13 to Dec. 21, the K'iche' Mayan town Chichicastenango, known as Chichi, brings celebrations for its main patron saint to new heights. Here, a full week of parades, dance, and fireworks culminates with the Baile del Palo Volador (flying pole dance). Two decorated young men twirl upside down toward the ground from a thirty-metre-high pole in the square outside the Santo Tomás church. With ropes tied around their waists, it is a true test of raw strength and bravery.
Stunts aside, the festival marks the ritual Mayan request for rain and fertile land. A less physically demanding activity is the ascension of the church's eighteen steps, each one representing a month of the ancient Mayan calendar. Amid nativity displays, handmade Christian ornaments, and Posadas processions, members of cofradías dress as Spanish conquistadors and dance through the streets to music and fireworks.
Outside celebrations, Chichi has one of Guatemala's most visited markets. It materializes every Sunday and Thursday into a brilliant mix of colorful weaving, flowers, handbags, live chickens, and vegetables. Shamans burn copal on the church's steps early in the mornings, and florists and incense fill the square and market with an alluring aroma.
What can we learn from these culture-rich festivals?
Native Guatemalans may never truly be able to fill the deep colonial footprint in their country. Still, they continue to preserve ancient Mayan culture and tradition through the Festival Folklórico de Cobán, the Skach Koyl horse race, and other bright and colourful events. More generally, these festivals demonstrate that worldly Christian celebrations and diverse indigenous practices can both coexist and thrive when merged together.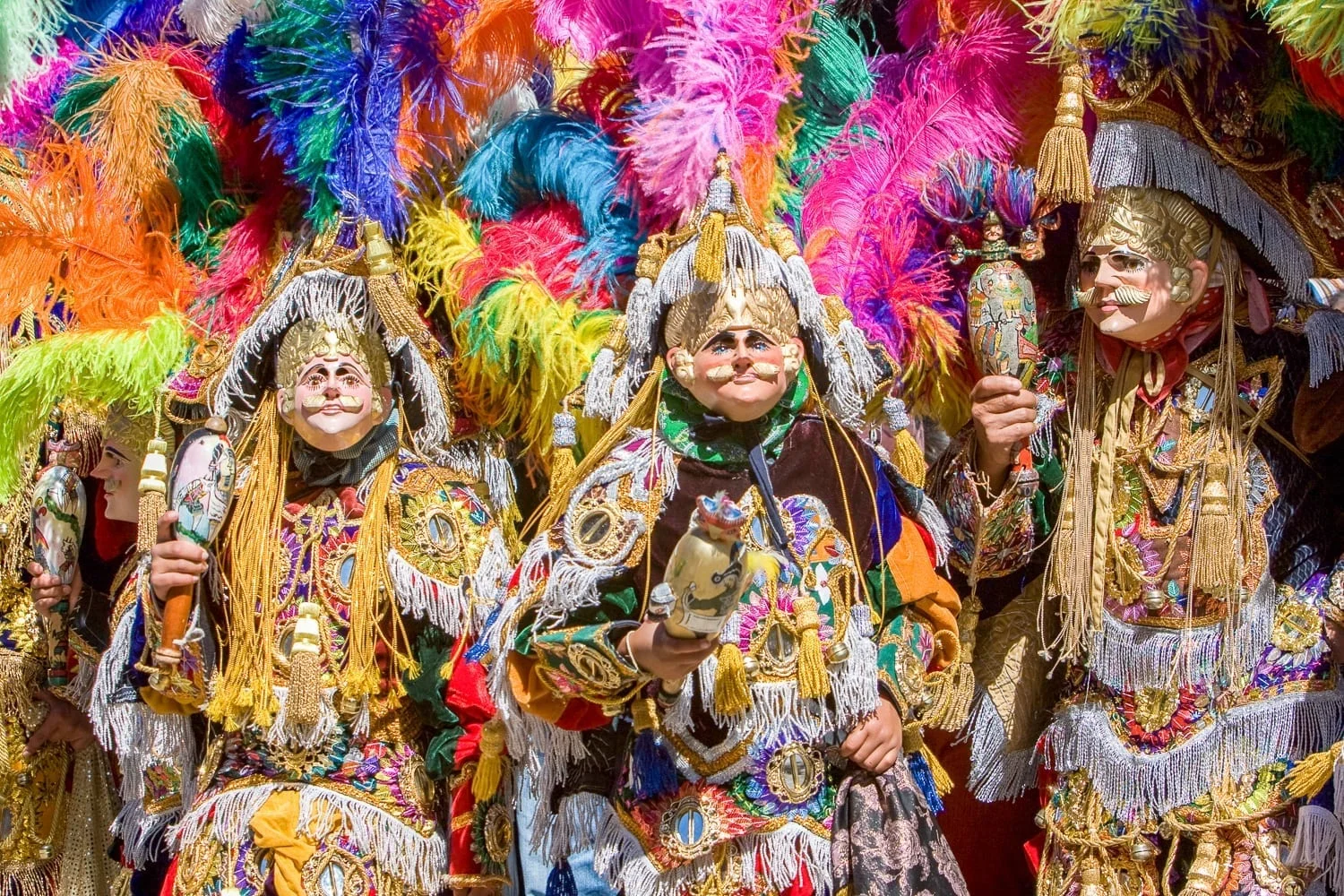 Maybe you cannot decide whether you come in search of eggnog rum, daredevil stunts, walking firework displays, or "Guatemala's Next Top Model." It really does not matter though, as you will undoubtedly find something to tickle your fancy among the country's diverse array of year-round festivals. Besides, why let perfectly good fruit go to waste on the streets of Antigua during Semana Santa?
Referenced Materials
https://jurgwidmerprobst19.medium.com/five-great-festivals-and-events-you-dont-want-to-miss-in-guatemala-j%C3%BCrg-widmer-probst-794c5d2af423
https://www.exoticca.com/ca/america/central-america/guatemala/events
https://www.atastefortravel.ca/10835-guatemala-festivals-celebrations/
https://aprende.guatemala.com/cultura-guatemalteca/tradiciones/quema-del-diablo-en-guatemala/
Skach Koyl: Mayan tradition of drunken horse racing
https://www.atastefortravel.ca/3456-dancing-with-the-devil-on-guatemalas-dia-del-diablo/