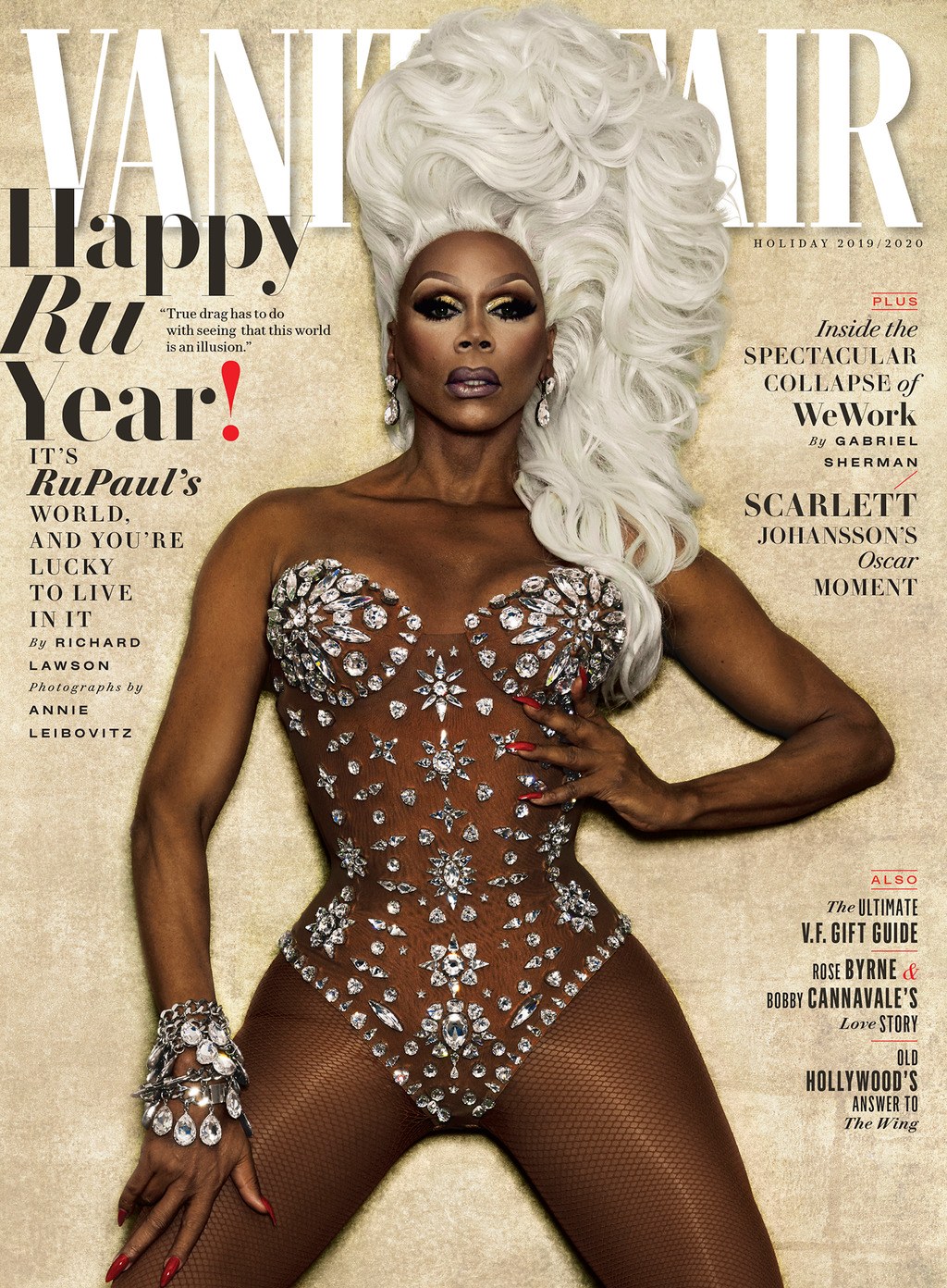 The striking, gorgeous stunner on the cover of Vanity Fair Magazine is RuPaul, aka the most iconic drag queen in the world. Additionally, she is the first professional Drag Queen to grace the publication of a major mainstream media publication. But most of you reading this are wondering what exactly a" Drag Queen" is. Let me introduce you to the colorful, vibrant, sparkly, and extravagant world of Drag.
Specifically, to understand the meaning of Drag Queen, you first need to understand the meaning of the word 'drag'. Firstly, the term Drag comes from the world of theatre. Mainly, the dresses men wore to play female characters would drag along the floor. So that is why the term Drag is typically spoken to depict a gay man dressing up in women's clothing today. But it also extends to transgender men/women and cisgender women as well. Whereas in the olden days, actors played female parts because there were no actresses around. Even though this wasn't exactly in the spirit of what we call drag today – it was a start.
However, Drag began out of necessity, although that's not to say its participants didn't enjoy it. Whereas the mainstream media has finally taken notice of the fabulous world of Drag, with the most famous television show of Drag on television. Whereas other efforts to make society embrace the world of Drag, opening the floodgates of Drag Queens and giving them the world stage platform in Rupaul's Drag Race.Most importantly, the journey to uncover the mountains of talent has just started and will slowly take over the world.

Beginning of Drag
Image Credit : Allthatsinteresting.com/history-of-drag-queens
Thanks largely to the success of RuPaul's Drag Race, the art form is now seen regularly. Mainly on mainstream TV channels, magazine covers and is the subject of multiple vlogs and podcasts.
But the story of drag goes back far further than the time the competition was on the air. Whereas this led to RuPaul Charles being a global superstar at the same time. Mainly, his fellow Drag Race judge Michelle Visage said: 'Honey, it goes back centuries'.
Significantly, Drag began out of necessity, although that's not to say its participants didn't enjoy it. Especially when Shakespearean theatre was shiny and new in the late 16th and early 17th centuries. Most importantly, the stage wasn't just a place of entertainment. But it had strong links to the church and with that came rules that only men could tread the boards. If that play you were in featured a few female roles, then it was up to a couple of the men in the cast to dress as members of the opposite sex so the story didn't suffer.
Male actors playing female characters
Moreover, actors played female parts because there were no actresses around. Even though it isn't exactly in the spirit of what we call drag today – it was a start. Whereas it soon became a way for men (often gay men, although plenty of heterosexual men wear drag as well) to express a different side of themselves. Furthermore, they were over-exaggerating feminine looks, style, and body language to create a persona. As RuPaul himself says, there is more to drag than impersonating a woman: "I don't dress like a woman; I dress like a drag queen!"
However, Drag kings, where female performers adopt an exaggerated male persona, are also popular. 
Princess Seraphina, Drag Queen

Image Source: Bustle.com/entertainment/british-drag-queens
While the fight for LGBT equality continues (it is still illegal to be LGBT in more than 70 countries), someone who seemed to enlighten all around him in 18th-century England was Princess Seraphina.
Otherwise known as gentleman's servant John Cooper, Seraphina was the country's first drag queen. In fact, she was part of John's daily life rather than an acting role.
She was a regular sight in molly houses, the equivalent of a gay bar. Even though men would be hung to death at the time if found participating in homosexual acts. Unfortunately, three people were hung to death in 1726, following a raid on a molly house. Furthermore, there are no reports of Seraphina ever being taken into custody or mistrusted. The only scandal she was embroiled in involved the theft of her clothes in 1732. And even then Seraphina appeared in court as the victim.
Julian Eltinge

Image Source: Pinterest.com
As time went on, drag became more about the individual and the queens built their own fanbases. One of the biggest stars of the earliest 20th century was Julian Eltinge. Whereas many drag queens are men in women's clothing, Eltinge (as she is known) made her convincing enough for the audience to believe that she is not a character, but a genuine actress.
Most importantly, Eltinge emerged from the world of vaudeville, known as a variety theatre in the UK, where cross-dressing was very popular. Whereas at the end of performances, he would remove his wig and reveal his gender to the crowd, often to cries of disbelief. Furthermore, it was hugely popular, spanning over 20 years, Eltinge's career was very much on an upward trajectory. Until variety acts fell out of favor in the 1930s. While there was tolerance, even celebration of drag and LGBT people in the USA during the 1920s and early '30s (known as the 'pansy craze'). Whereas American society became more reactionary in the mid-1930s, amid fears surrounding sex crime, which had a negative impact on the way the perception of Drag came into being.
After the Second World War, although homosexuality was a sin in the eyes of society as a whole – even illegal in some cases. But there were still drag acts who broke through the negativity and had successful careers. Mainly, these include Danny La Rue in the UK, who made his name in the 1950s. As well as  Dame Edna Everage, the flamboyant creation of comedian Barry Humphries, who first appeared in the 1960s.
The Ballroom Culture
Image Source: www.pinterest.com/pinterestpinwheels/ballroom-culture/
Mainly, ball culture emerged in the 1920s in and around New York City. Mainly, in the beginning, performers consisted mainly of white men putting on drag fashion shows. But fed up with the restrictive and racist ball culture, the queer black ball community made their own underground ball culture in the 1960s. Significantly, the ballroom culture, drag ball, the house-ballroom community, or the ballroom scene are the terms that you can use to understand the loving and supportive community that mostly existed underground.

This led to drag mothers becoming known as the head of their house, making them responsible for an entire drag family. Moreover, the mother's surname, their drag protégés were allowed to adopt it, or even have their stage name chosen for them by their mother.
Whereas Drag families feature heavily in the 1990 drag ball documentary Paris is Burning (which inspired Madonna's Vogue). Mainly with the House of Xtravaganza and the House of LaBeija among those featured.
Runway
Image Source: Youtube
Basically, a runway is an integral part of the ballroom scene where Drag Queens perform and entertain the children in multiple categories. Additionally, each category is formulated based on the specializations of each Drag performer, who can put their best foot forward and gag the audience by strutting their stuff on the runway.
A winner in each category stands a chance to go home with a trophy, certificate, or handsome prize money for showcasing their talent and competing. Generally, there is a panel of judges who are experts in what they do and they provide a rating based on what they see.
Impact of Mainstream Media
Image Source: Pinterest.com
Significantly, the Stonewall Riot of 1969 saw drag queens, most notably Marsha P Johnson. Marsha protested against police raids on gay bars in New York City and this led to the creation of the Gay Liberation Front.
Although the fight for acceptance and equality grew in profile over the 1970s and 1980s, Harvey Milk became the first openly gay man to be voted into public office in San Francisco in 1977.
Whereas that positive representation gradually bled through into the mainstream. Most importantly, the famed Divine, who died in 1988, appeared in many movies by the director John Waters. Mainly, it had crossover success (Divine played Edna Turnblad in the original version of Hairspray). Whereas by the early 1990s, RuPaul was on the cusp of global fame, combining a drag persona with a recording career that included a duet with Elton John.
Most importantly, in 2009, the first series of Drag Race aired. Mainly, it was a mix of challenges; costume creation, and skits. Additionally,  impersonations have made its television for a surprisingly diverse audience (Dame Judi Dench is a big fan). Mainly, with an influence on the language itself.
POSE
Image Source: Clios.com/entertainment/winner/television-streaming-key-art/pose-season-2/pose-angel
Anyone who gobbled up the US series "Pose" in one thirsty gulp will be aware of the drag balls which were born in parts of New York in the 1970s. Not only did the introduction of the Drag culture go viral in the mainstream media with this particular show on the FX network. But this show broke cultural barriers left, right, and center. Mainly, by showcasing multiple queer relationships on television.
Not only that, "Pose" has a super talented transgender director named Janet Mock in the director's seat. Most importantly, the show is running for multiple Emmys awards this year. And I am hoping they win each one as the show has had a profound effect on me. Especially, as the show had an impact on my thinking and understanding of people who exist beyond the gender binary. Mainly, the ballroom events involve owning the runway in the finest drag around to wow the judges. Moreover, the contestants can go home with a clutch of trophies and sometimes prize money.

Drag Mother
Furthermore, there was where the concept of the drag mother took hold. Although in this process, seasoned queens would take up-and-coming drag artists under their wing. Mainly, to show them how to work a stage as well as their look. Whereas they would often provide a home for youngsters who may be going through a difficult time in their lives. Moreover, not just those intending to enter the drag world.
Drag Terminology
Significantly, over the last couple of years, RuPaul's reality TV show, RuPaul's Drag Race, has become a global phenomenon. Moreover, as a result, queer slang, colloquialisms, and phrases have become increasingly a part of popular culture. Furthermore, a number of the gender-bending contestants, and RuPaul herself, have inspired memes more shareable (Cher-able) than Grumpy Cat. Of course, drag performers around the world have been using the term in their acts for decades. Especially with the 1990 documentary, Paris Is Burning, a film that explores New York's 1980s underground balls (drag pageants and queer performance spaces). Moreover, the film is given credit for first exposing larger audiences to terms like 'fierce', 'shade', 'work' (with an 'I), and 'vogue', amongst others.
But despite the language being more and more popularised, the etymologies of queer slang words aren't exactly known, and there are still people who are left scratching their heads during drag shows because they are unable to decode the linguistics.
Drag Terms Breakdown
The Drag terms have been embedded into popular culture vernacular and here is the breakdown of the same.
Drag Dictionary
The first word is Hunty | həntē|, which is a noun. Generally used to refer to a fellow artist. And it can also be used as a term of endearment to another queen. The term is the combination of the term "honey" and the c-word.
The second word is "Read "|rēd| as a verb. This term is interesting as it means to insult someone with minimal effort. Because reading is fundamental, the Drag Queens typically read to each other, taking turns.  It is like a freestyle battle that commences with " The Library is open". And if you unleash a ruthless onslaught of insults, you are reading someone to filth.
The third word in the Drag dictionary is Shade |SHād|, which is a noun and verb. It is a subtler form of reading. When someone indirectly insults you, they throw shade.
The fourth word is Sickening |sikəniŋ|, which is an adjective. Additionally, it means when someone looks so fabulous, it makes you nauseous.
The fifth word is Realness |rɪəlnəs|, which is a noun. It refers to the flawless execution of a particular impression or performance.
The next word is Werk/work |wərk|, which is a verb. It means putting in the necessary effort and using your skills to perform effectively. Whereas displaying effort and talent is so undeniable that no one can shade or read you.
The next word is Gag |gag|, which is a verb. So, it means when you are so blown away by something you are left speechless.
For the advanced learner: here are some other notable entries that will leave you gagging.
Furthermore, Fishy (adjective and noun): is generally used to refer to a queen who seems "real" in terms of femininity. It is also possible to "serve fish", meaning the queen is going for a particularly "girly" look.
Whereas the term, Booger (noun): a non-stereotypically attractive drag queen whose success tends to be a result of her stage presence as opposed to her appearance.
Moreover, a Heather (noun) is a conventionally pretty drag queen.
Instead, putting up an Extravaganza eleganza (noun) means a get-together possessing exceptionally high amounts of elegance.
Mainly, garage doors (nouns) are a means to describe the eyelids of a woman sporting a single shade of eye shadow.
Conclusion
Drag is a fascinating, complex world packed with surprises and social history. Its significance and influence surpass borders. P came across Drag on the Netflix Show " Dancing Queen". This show showcases the journey of RuPaul's Drag Queen alum " Miss Alyssa Edwards" who runs the Beyond Belief Dance Company in Texas. The show left me spellbound and opened the floodgates of Drag for me.

In 2017, Time magazine named RuPaul as one of the 100 most influential people in the world. If that's not serving up sickening realness, I don't know what is. And let me know which drag performer is your favorite or even a collection of queens that leaves you gagging.
Continue reading "The History of Drag and Its Impact on Mainstream Media & Society"