When one thinks of Portugal, the first image that most likely comes to mind is its sunny beaches, maritime exploration history, Fado music, and, of course, its capital, Lisbon. In a small town named Guimarães, a new chapter begins as a large character emerges from a variety of events and people that form the country Portugal. From ancient Celtic and later Germanic tribes to a temporary Moorish rule, we will uncover the diverse past of this mystique of a land that many recognize and love in our modern day by learning from its culture, customs, and perseverance that will be discussed in this article.
Background History
Situated in the northwestern corner of the Iberian Peninsula, the town of Guimarães serves as a symbol of character and foundation to the Portuguese people. Also known as a cradle town. With its well-preserved architecture and castles, it is one of many renowned cultural icons in present day Europe. As seen in the photo below, the Castelo do Guimarães (Castle of Guimarães) shines perfectly displayed in its impressive current state with hints of its glorious past still present in overall appearance.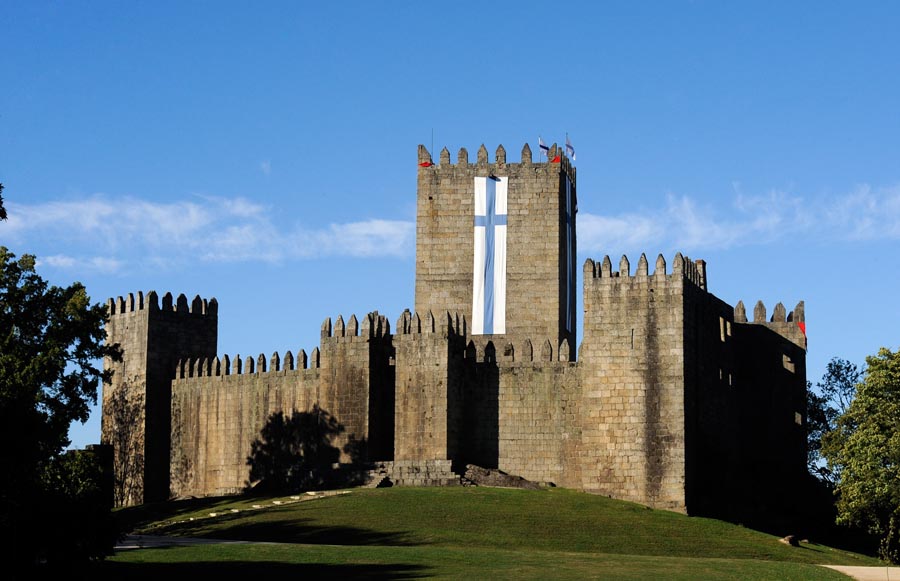 Castle Guimarães, a symbol of Portugal's humble beginnings and rich history as it was home to its first king, Afonso Henriques.
Celtic Culture
Initially, the areas originally inhabited were Celtic tribes. The Celts that lived in this location in Iberia were also related to other tribes in neighboring regions such as the Gaul (Modern Day France) and its other cousins throughout the Atlantic Ocean sphere. The people in the land became well versed in their trades when it came to farming, hunting, and even creating large warrior clans based on kinships.
Children in this civilization became greatly valued because they served as a promise of hope for carrying through with the tribes' customs, ways, ideas and overall future. They grew up learning special dances and engaged in combat training in order to gain their own sword as it symbolized their coming of age. Those who did not earn their sword would usually spend time doing rustical task like raising sheep and cattle. In time, these class of people soon became notorious to the Romans when they started to invade the country for their fierce resistance and impressive warfare skill. On that basis, the Celts in Northern Portugal were responsible for the long process of becoming entirely conquered by the Romans.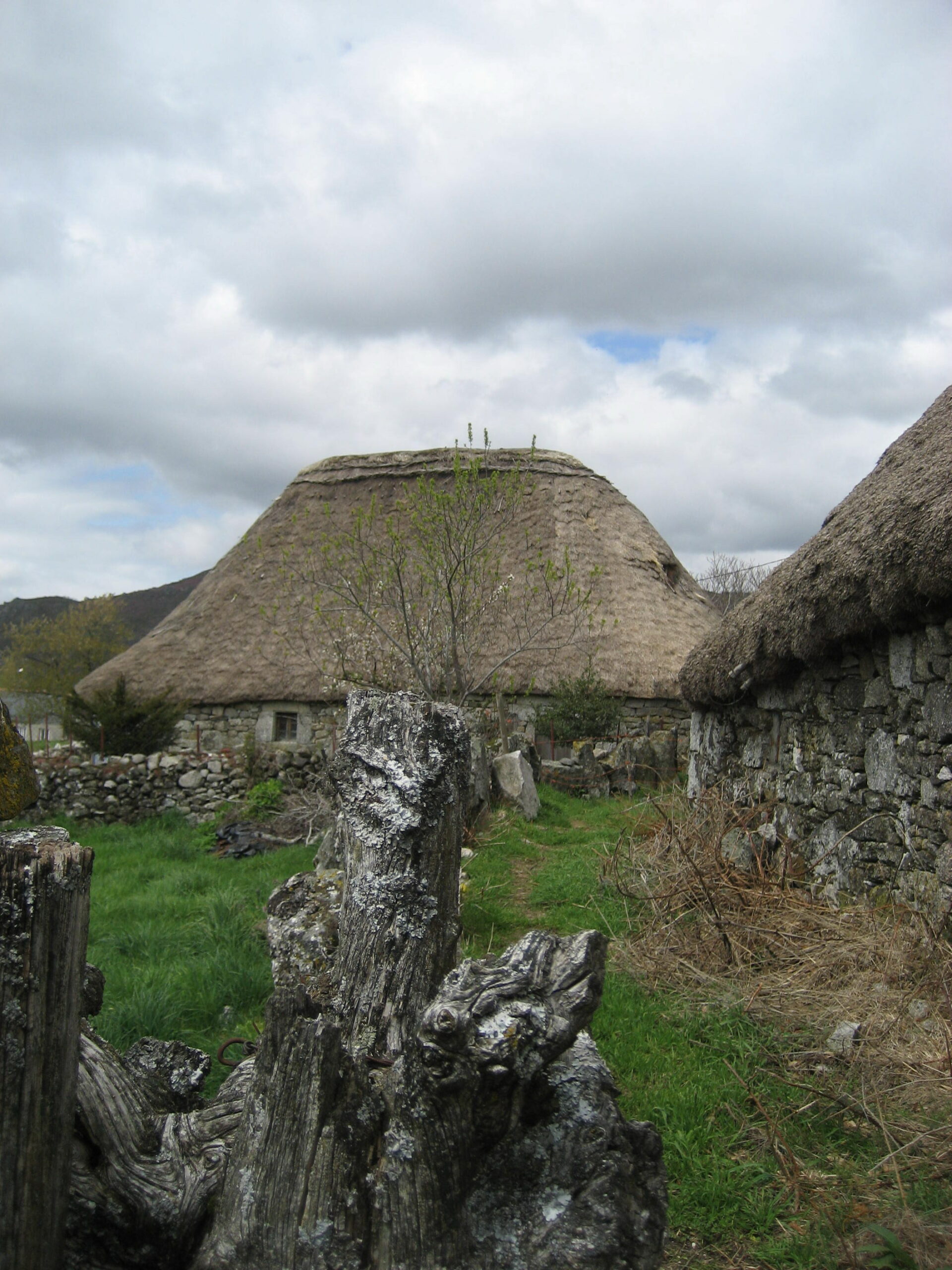 Ancient ruins by the original Celtic inhabitants in the region of Gallaecia
Germanic Tribes
As that era had ended, Germanic tribes known as the Suebi from central Europe arrived and settled in the area where they established The Kingdom of Gallaecia from the years 406- 586 AD, respectively. They were one of the first post-Roman kingdoms to become independent from the Roman empire in the Iberian Peninsula. During this age there were many migrations taking place in the territory. For example, with Britons from Britannia arriving in Gallaecia as a refuge since they were being driven out by new Anglo-Saxon invaders arriving on their shores.
Furthermore, there also came other Germanic groups that settled in the area that became known as the Vandals. They originally spoke a Germanic language that is remarkably like modern Upper and High German. As a result of these ethnic groups settling in Gallaecia, it now remains as one of the highest parts in Portugal to possess Germanic genes and the physical traits of blond, red, and more fair features in the Iberian Peninsula. With a whole new blend of people coming together in this region, they had set up the capital in the town of Braga (Guimaraes). Only to later becoming annexed into Visigothic Hispania and facing eventual separation from Spanish kingdoms as the new country came to prominence along with the Reconquista events that later occurred.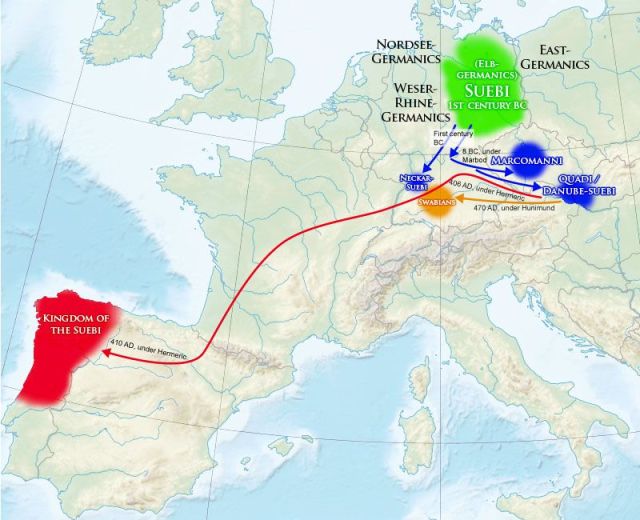 Visual representation of Germanic tribes that settled in the region of Gallecia throughout history
Linguistics
The kingdom of Gallaecia covered the regions of modern-day Northern Portugal, Galicia, Asturias, and western Castile y Leon in Spain. To add, the language that was spoken in this kingdom was known as Galician-Portuguese. It has been identified as the predecessor of modern Portuguese and Galician as they are now considered dialects of the same idiom, which is still interestingly intelligible after over seven centuries of political separation.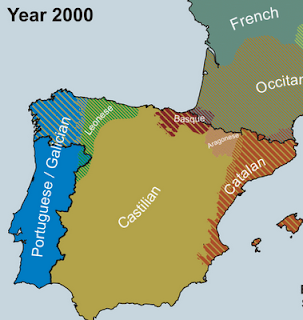 Map of Iberian Peninsula illustrating on how closely related and intelligible the languages of Galician and Portuguese are as they share borders.
Foundation
The country's first King, Afonso Henriques, called this town his home as it was his birthplace.This served as another key factor in the foundation of the country's rise and overall past. In 1128, major political and military events that would lead to the birth of a new nation took place in Guimarães. From then on, Portugal started to expand its territories southward of the country as it began to reconquer territory taken by the Moors. For this reason, on one of the old towers of the city's old wall it is written "Aqui nasceu Portugal", meaning (Portugal was born here). (Wikipedia).  In turn, the city of Guimarães began its establishment through a very strenuous process that seated its inspirations and drive for foundation.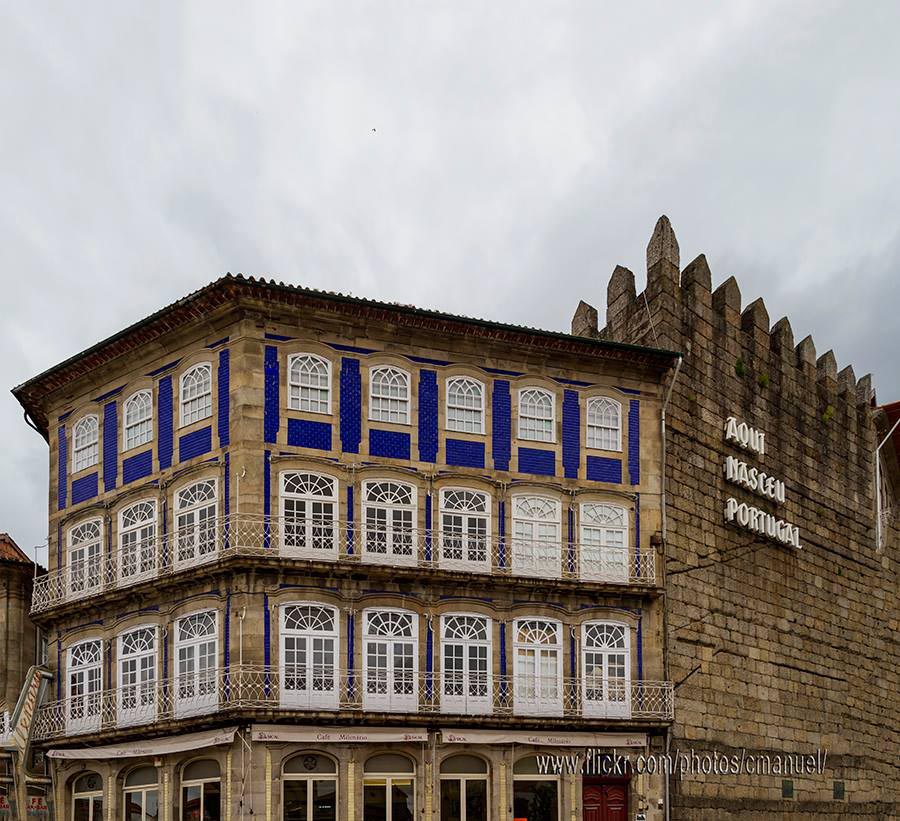 Famous wall in the city of Guimaraes with inscriptions highlighting the town's existence as the birthplace of Portugal
Architecture
In addition, to the diverse foundation of Portugal. The majority of the architecture on the streets reflects back to its medieval character. As the styles are mainly gothic. To add, the most popular and captivating squares that are found at this town are named Largo de Oliveira and Praca de Santiago. Though they are partially separated by the former council chambers building, Largo de Oliveira. That includes the Our Lady of the Olive Tree church, the Gothic arches of Salado monument and the Alberto Sampaio Museum. Another area where one can discover different styles of architecture can be located at the Largo do Toural. Which at that time, had been formally used as a livestock market outside the city's walls that perfectly displays the city's historic shifts.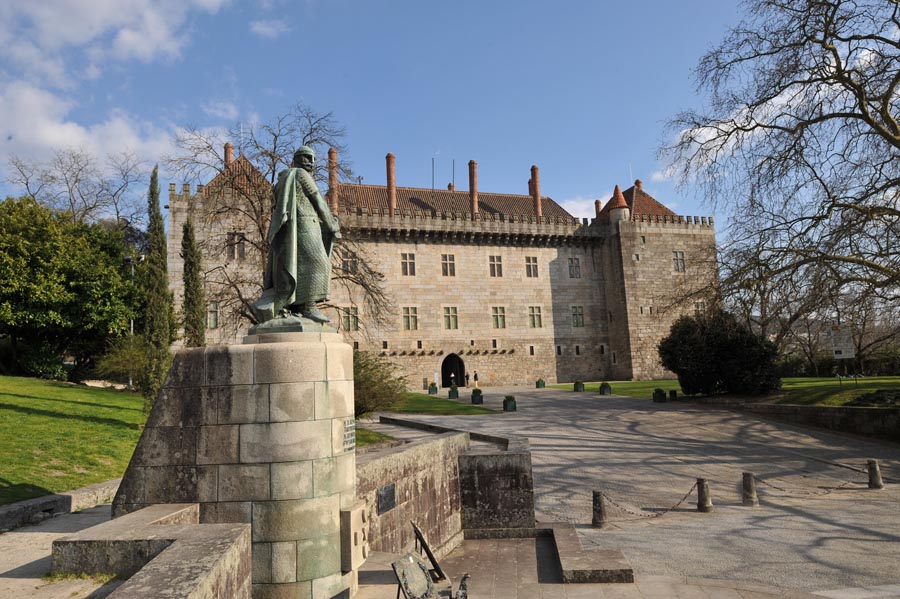 The image of the Castle of Guimaraes along with the statue of the first king, Afonso Henriques forever immortalised in his prime glory. 
Ducal Palace and Castle of Guimarães
Also, the Ducal Palace serves as an interesting sight to visit since it was created by Portugal's highest ranking noble after the monarchy had been abolished. The Duke of Braganca had the palace built in 1420. It displays a large and thick set of red brick chimneys. Which made it an impressive architectural wonder throughout its history of existence. In addition, it also boasts possession of furnishment with striking carved antique pieces, detailed tapestries, painted ceilings and stained glass, as well as exhibitions of more contemporary art including works by local artist José de Guimarães.
Lastly, the most famous attraction in this town would be The Castle of Guimarães (O Castelo do Guimarães) . The purpose to exist in the tenth century served as a defense against Norsemen arriving from the north and Moors from the south. It is also more famous for its bronze statue of Portugal's first king, Afonso Henrique, which greets visitors at the entrance. In all, Guimarães has to offer a variety of historical architectural treasures.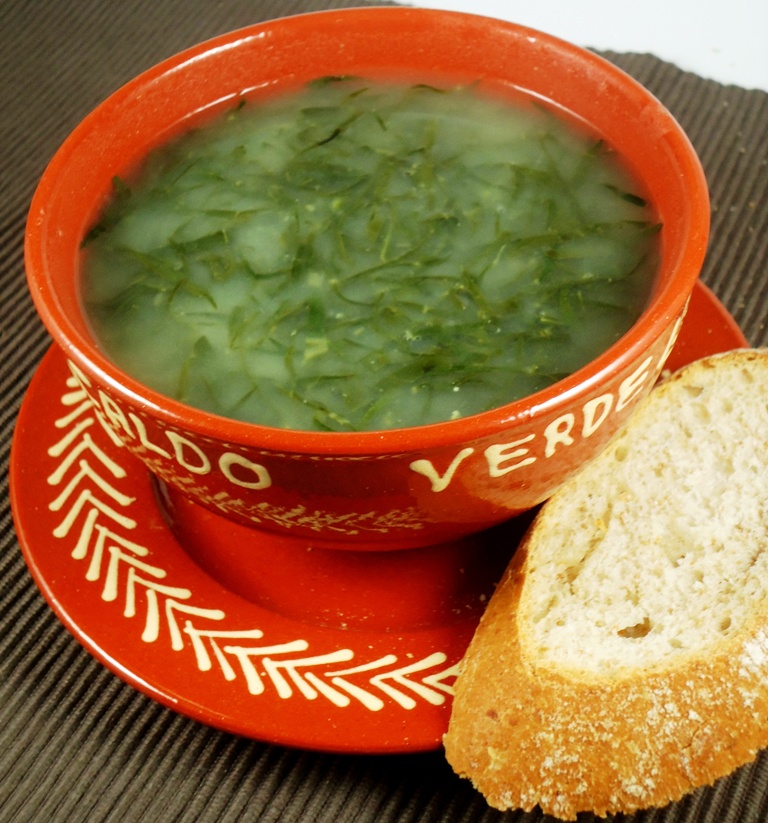 Caldo Verde: a cultural stamp to Portugal cuisine
Food Culture
Next, Guimarães consists of some original and historical traditions/delicacies that are still very present in Portuguese culture. For example, the Caldo Verde (Green Soup) originated in the province of Minho, where the dish became a widely known recipe in the country. The entree can also be found in other parts of the globe. Where Portuguese communities settled throughout the world, such as the Americas, Asia, and beyond. The soup can be typically consumed at celebrations such as weddings, birthdays, and Festa de São João do Porto (Saint John Festival of Porto).
Typically, food in northern Portugal, more specifically Guimarães, is based on farm grown products that contain strong and rich flavors. Some other products made by the inhabitants in the region are Cabrito Assado (roasted lamb), Arroz "Pica no Chão" (rice made with chicken), Rojões (slow-cooked pork beef), and the famous Bacalhau Assado (Roasted Salted Cod). Not only is there good organic food there, but Guimaraes also offers traditional Vinho Verde (Green Wine). In addition to other light and extraordinarily rich flavors.. They are freshly handled in the vineyards by farmers in town. In turn, the inhabitants of Guimarães continue to preserve its ancient culinary customs and ways in its total history as they lead example by being the foundation of the country.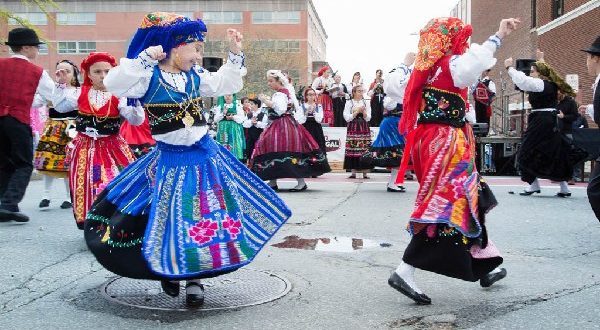 Fun example of a traditional Northern Portuguese folk dance celebrating its Celtic roots. 
Culture and Tradition throughout History
On the other hand, Guimarães also offers a tap into its Celtic roots through its music and dances. With instruments like gaitas (Bagpipes) and dances such as Vira and Chula. followed by Corridinho, Malhao, and Fandango. They are all reminiscent of Scottish, Irish, Welsh, Cornish, and Breton folk dances. Traditional dress is also still reminiscent of its shared history with its now Galician brothers. As both cultures eerily mirror each other unconsciously. With that said, there are a lot of deep-rooted traditions. Where this region still hails and beautifully emulates its origins.
Furthermore, in Guimarães a universal symbol of the country also originated in the province. It became known as the Galo de Barcelos (The Rooster of Barcelos). It consists of an entertaining background story. Concerning a dead rooster in the seventeenth century who, by some miracle, intervenes to prove the innocence of a man. Who became falsely accused of and sentenced to death. Therefore, since the story's distribution, it has become a national image to the country. As it is common to find many wooden rooster replicas sold as souvenirs throughout Portugal. In close, Guimaraes has a variety of fun and memorable customs that many will enjoy when experienced.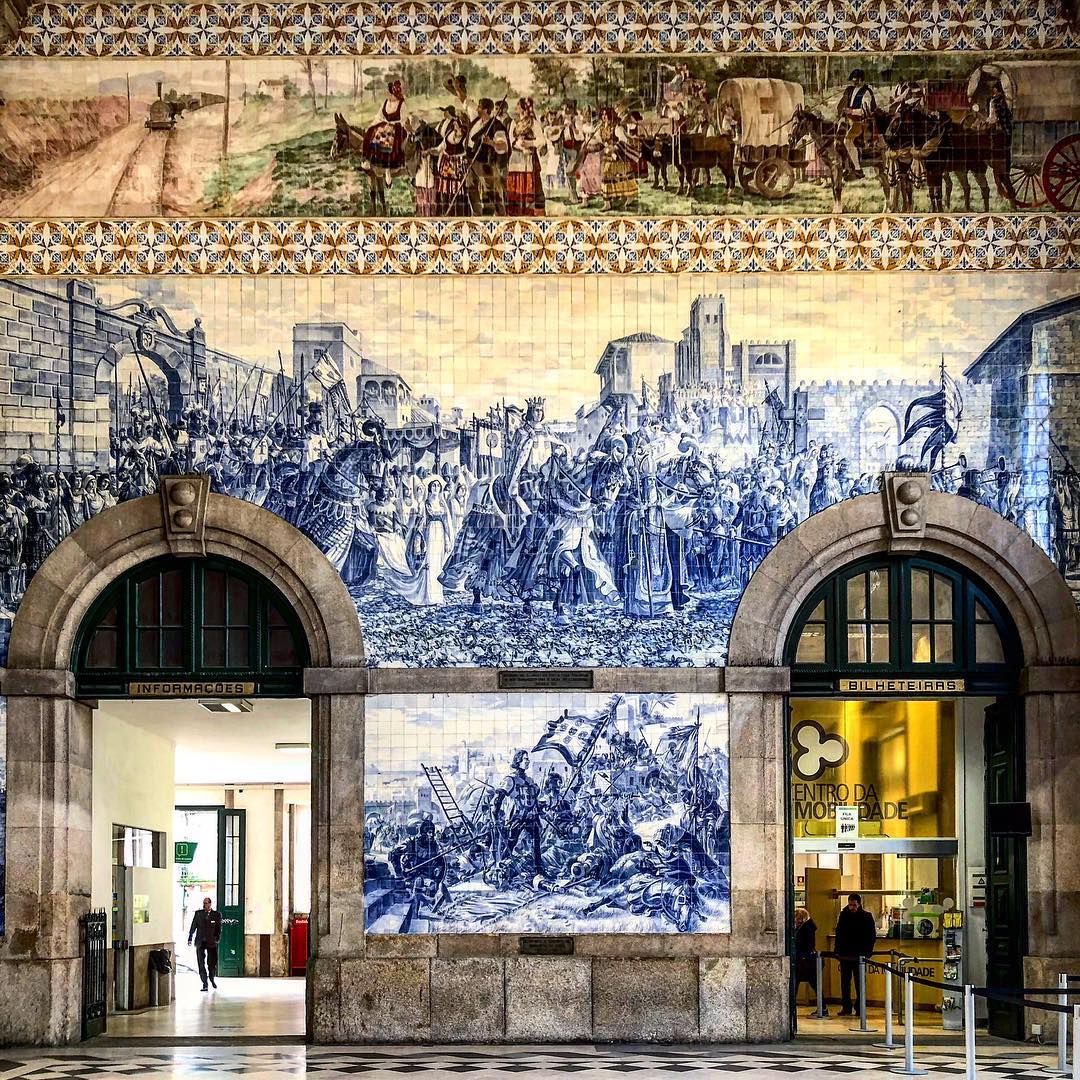 Beautiful display of an Azulejo in Northern Portugal depicting the country's rich history
Art History
Furthermore, Guimarães is a highly recommended destination to visit for anyone inquiring about a stimulating environment. Since it has to offer a bit of everything for everyone. With rich history, culture, and geographic location to offer. Many will not find themselves disappointed by the discovery of the town. To illustrate, there is a lot of visual art present throughout the space in the town square. With art museums averaging at least one per town to three or more in larger cities throughout the country. In addition, street art came easily detected in the plazas. Which later became known as "Azulejos". They are ceramic tiles that often display historical events from the country's long maritime history.
Equally, literature from the region also inspired some great pieces of work and writers. Such as "De Camoes as Portugal's" and "Os Lusiadas" by Luis Vaz de Camoes. These are poems that tell the story of famous explorer Vasco de Gama's famous sea journey to find India. Other pieces include tales reminiscent of Greek epics like Homers Odyssey and "The lliad". In northern Portugal, the oldest bookstore can also be located there. With its past dates going back to the year 1732.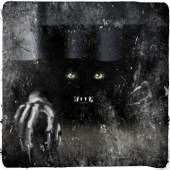 The dark and mysterious Bicho Papao awaiting to find its new victim. 
Religion and Mythology of the Past
With the foundation of Portugal's Christian kings, the Roman Catholic faith continues to be the most dominant. One instance becomes discovered. In tales through a well known and famous tale relating to the church in Portuguese mythology. When the spirit of Mary appeared to three shepherd children delivering a message about peace. Therefore, with tales like these in hand, more superstitions and mythical creature legends started to appear. Such as "The Bicho-Papão", which is a supernatural being that feeds off people's fear, but particularly enjoys young children more. It most likely served as an inspiration to author J.K Rowling. Since she implemented this mythical being into her notorious literary work of the "Harry Potter" series.
The creature is a shapeshifter that becomes one's worst nightmare.  In addition, no one truly knows what exactly it really looks like. The cryptid can be located throughout the former region of what was Gaellaecia in the Iberian Peninsula. It became mobilized nowadays as a figure and tool for parents to scare their naughty children when they misbehave in Portugal.
Moura Encatada
Next, the "Moura Encatada" evolved into existence. By becoming encountered all over the country. She can be in the forest combing her long hair where she greets the person who encounters her. To then ask them to break her curse in exchange for not collecting their souls.
Even though the curse is challenging to overcome. A person can achieve a wish once they conquer the test. She can found to be guarding castles and rivers. People applaud her with positivity as a she is a symbol of good fortune. Instead of threatening. As a result, the town of Guimarães was responsible for many of these iconic folklores and established practices. Followed by historical figures that everyone can recognize when traveling to Portugal.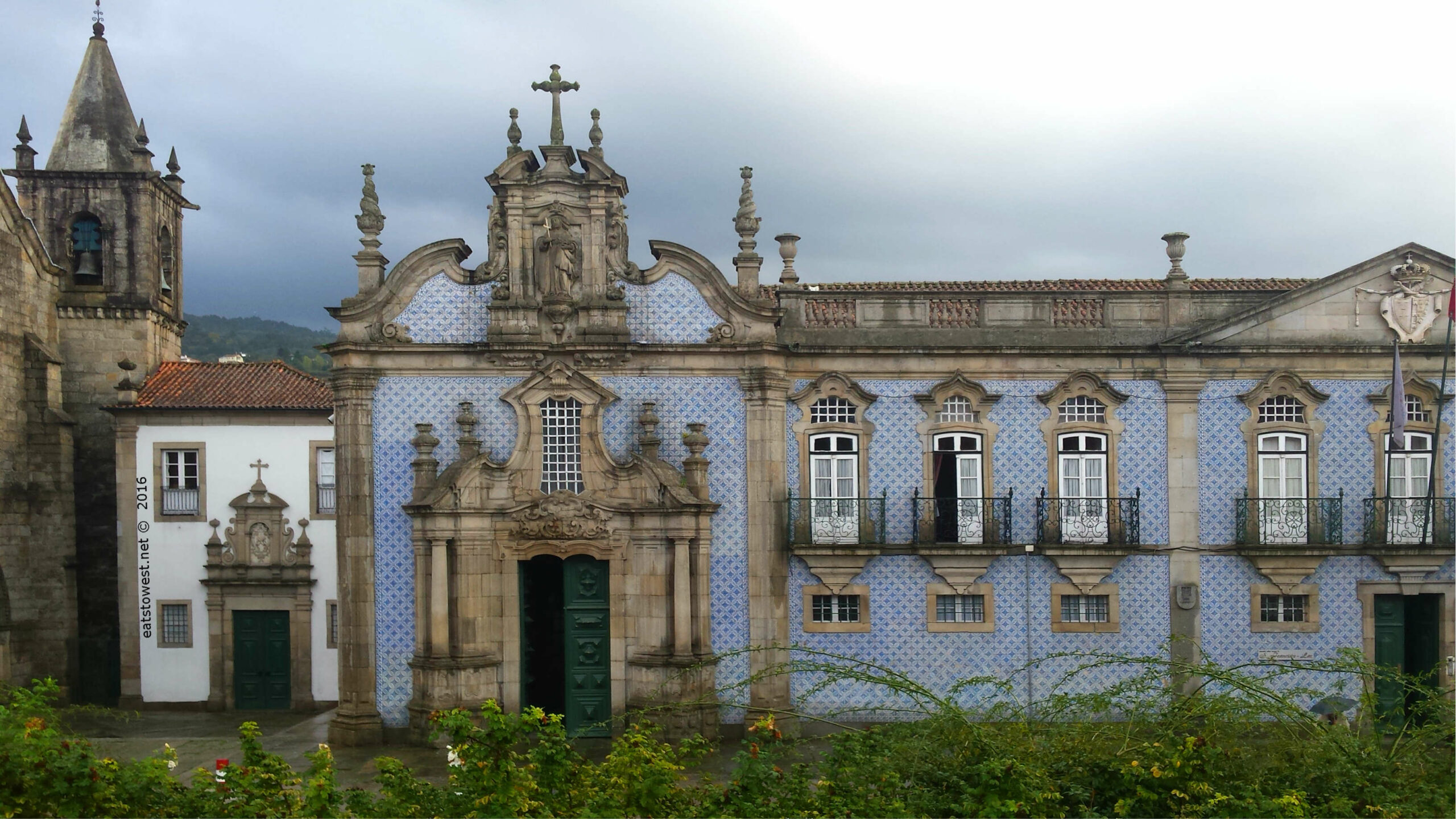 Guimarães in its gothic glory on a gloomy afternoon.
Important factors that shape a nation
In conclusion, the town of Guimarães has had its share of ups and downs that it pushed through. As it became the catalyst and genesis of the country of Portugal that we all know and love today. Despite the ancient Celtic languages that were once spoken in the area and became lost through time. The country sadly finds itself overlooked by others for its true origin from its cousins across the Atlantic.
The Celtic spirit still lives on through tradition. Its history will always be here to educate and remind many about its relationship and story to its beginnings. Even though each region in the country eventually carried through with their own individual traditions and identities. New dialects and ideas soon developed. All in all, Guimarães will always remain as an example to follow and reflect on. Since it will always provide a warm and enlightening experience for those seeking adventure.
Works Cited
Kingdom of the Suebi – Infogalactic: the planetary knowledge core
Devotion and Religious Festivals in the North of Portugal (visitportoandnorth.travel)
The Celtic people – a complete history of the Celts (englishmonarchs.co.uk)
Guimarães: A Medieval City In The North of Portugal (beportugal.com)
Traditional Portuguese Food in Guimarães and Braga | Best Bits Worldwide
Similar blogs relating to Travel and History in Portugal:
Travel Guide: Discover Charming Romania and its Mysterious Natural Ambience
Anthropology: The Global Impact of Arab Inventions and Culture