Michelle Zauner, a.ka. Japanese Breakfast (JB) was nominated for the 2022 Grammy Awards in two categories: the best new artist and the best alternative album(Jubilee).  Japanese Breakfast is an alternative /indie music band that originated in Philadelphia. I discovered this band while I was researching Jeju island and haenyeo culture. Zauner's song "Diving Woman" from their second album, Soft Sounds from Another Planet, which is devoted to haenyeo or sea women, along with her ambitious desire to connect with her Korean roots, affected me deeply. A Korean-American herself and growing up in Eugene where people didn't even know Korea is a country, she had to deal with big questions as a child, questions bigger than herself. Exploring her roots in Korean culture with an attempt to reconnect with who she is and who her mother would expect her to be, Zauner expresses this desire ambitiously in different mediums.
A multitalented creative artist and a director of her own music videos, recently, she has become a New York Times bestselling author with her memoir Crying in H Mart, which is about losing her mother to cancer. With her Korean-culture-inspired stage costumes and her amazing energy, she is a full-fledged presence on the stage. Watching Japanese Breakfast live is a treat for your eyes and ears. Michelle Zauner jumps and bounces on the stage and gongs the Korean instrument, a large jing, with her giant hammer-like soft-covered mallet with such enthusiasm and allows you to be a participant in her joy. More than that, Zauner recontextualizes love, trauma, healing, and grief in the form of music delightfully. All we have to do is feel, share and enjoy.
So, this blog will focus on Japanese Breakfast, particularly Michelle Zauner, and JB's artful works.
Japanese Breakfast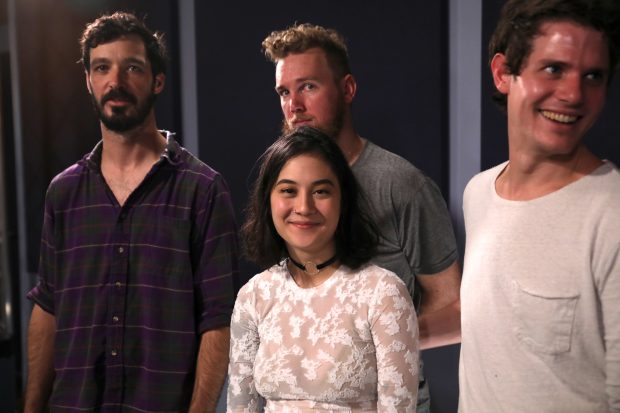 Michelle Zauner
"Being in Eugene as a teenager kind of sucks. It wasn't an incredibly diverse town, especially then." Michelle Zauner
The frontwoman of Japanese Breakfast, Michelle Zauner, was born in Seoul, South Korea. While she wasn't even 1 year old, her family moved to Oregon, Eugene. Due to people's constant questionings of "where are you really from?" at a very early age, she had to deal with identification issues and debate her lineage in her mind despite her growing apart from Korea and Korean culture.
Her relationship with music started quite early when her mom wanted her to play the piano. As she says in an interview, it was something she hated. She couldn't connect with it, which now she regrets not appreciating enough. When she was in her 15s, her relationship with music restarted, this time with a guitar. She began writing her own music. A graduate of Bryn Mawr with a degree in creative writing and filming, she formed a band: Little Big League.  Karen O from Yeah Yeah Yeahs, who is half Korean and half white, influenced Zauner with her embrace of freedom, doing anything that came to her mind.
In 2014, the sad news came. Her mother had "a rare squamous cell carcinoma, stage four, and that it had spread" that "blindsided the family," in her words. She moved back with her family to take care of her mother, suspending her musical career. It was a breaking point in her life that reconnected Zauner to her Korean roots even more than before. After her mother's death shortly after the diagnosis, she learned to thrive and compensate for this loss with her love for Korean food, as her mother taught her how to enjoy it and how to eat well.
Peter Bradley
Peter Bradley is Zauner's bandmate who plays the keyboard and guitar. He is also her husband, whom she married two weeks before her mom's death. Witnessing her mother's health deteriorate, she asked Peter to marry her because she wanted flowers, colors, and macaroons to ease the grief.  As she writes in her memoir Crying in H Mart: "Instead of mulling over blood thinners and Fentanyl, we could discuss Chiavari chairs and macarons and dress shoes. Instead of bedsores and catheters, it'd be color schemes and updos and shrimp cocktails. Something to fight for, a celebration to look forward to."
Also, Zauner wrote the song "Till Death" from Soft Sounds from Another Planet for her husband, Peter Bradley.
Craig Hendrix
The multi-instrumentalist musician Craig Hendrix is from Philadelphia and has known Michelle Zauner for quite a long time. They collaborated on many projects, including Zauner's first band: Little Big League. Hendrix is behind the drum kit and works with Zauner on the soundboard.
Japanese Breakfast albums explore Michelle Zauner's trauma in stages
In the aftermath of her mother's death, in 4 months, Zauner finishes Pscyhpomp, which is followed by Soft Sounds from Another Planet and Jubilee, respectively. These highly expressive projects allow her to navigate her pain and trauma through the language of music. As she says to NBC, "When you think about a record, it's kind of like an archive of a period of time that you're experiencing, and it surrounds certain thoughts that are already on your mind."
Psychopomp (2016)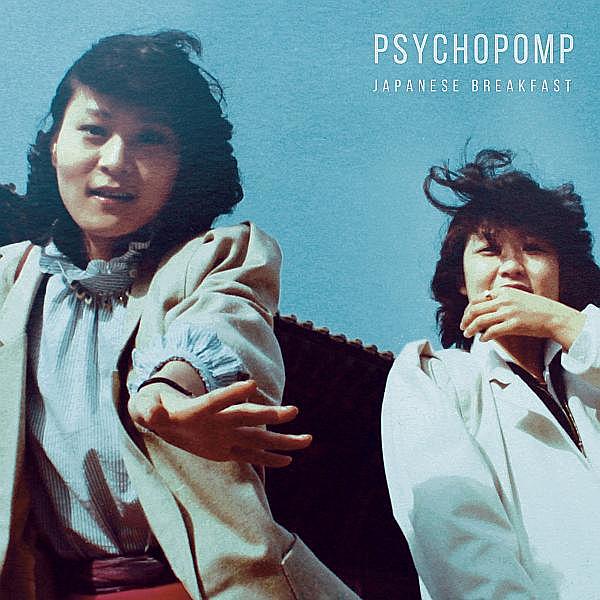 Her first album released under the name Japanese Breakfast is Psychopomp, which is about grief. It consists of 9 songs tracing her traumatic experience and funneling her emotional states freshly after her mother's death. For instance, "In Heaven," she talks about their dog, Julie, sniffing at her mother's empty room: "She just paces around all day, sniffing at your empty room / I'm trying to believe when I sleep it's really you visiting my dreams like they say that angels do." Also, in "Psychopomp," an instrumental song with no lyrics, we only hear the recording of her mother's voice:
Gwenchanta, gwenchanta
It's okay, sweetheart
Don't cry, honey
I love you
"Gwenchanta" means "it's okay" in Korean. Since Zauner wrote the songs in the aftermath of losing her mother, it was a time for her to confront this period, when her feelings were just fresh. Yet, the album is not overwhelmingly sad.
The other songs on the album:
1)In Heaven

3)Rugged Country
4)Everybody Wants to Love You
5)Psychopomp
6)Jane Cum
7)Heft
8)Moon on the Bath
9)Triple 7
Soft Sounds from Another Planet (2017)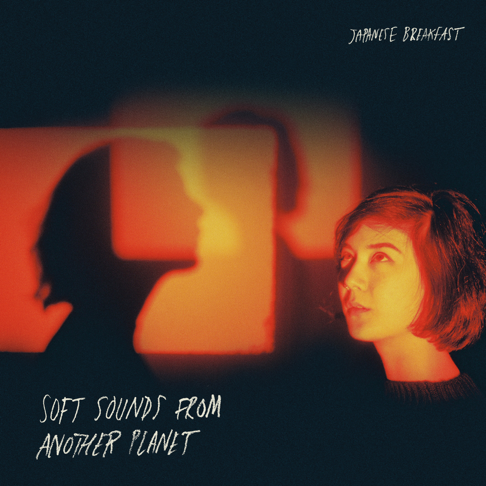 Co-produced by Zauner and Hendrix, the album features expansive sounds, enmeshing dreamlike states with reality, and the cosmic universe with earth.  It is poignant and alluring, filled with a shoegaze atmosphere, melancholy, and sci-fi narratives. For instance, "Machinist" chronicles a girl falling in love with a robot, whereas "Diving Woman" alludes to the culture of the sea women who live on Jeju Island. She reconciles with herself with the affection of her husband in "Till Death": "Sing me to sleep, soothe this insomnia/Haunted dreams, stages of grief/Repressed memories/Anger and bargaining/ Your embrace healing my wounds /Teach me to breathe, teach me to move/PTSD, anxiety, genetic disease/Thanatophobia." In short terms, each song is unique in its own way.
Tracklist
1) Diving Woman
2) Road Head

4) Planetary Ambience
5) Soft Sounds from Another Planet
6) Boyish
7) 12 Steps
8)Jimmy Fallon Big!
9) The Body Is a Blade
10) Till Death
11) This House
12)Here Come the Tubular Bells
Jubilee (2021)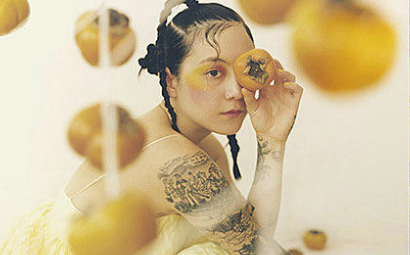 Jubilee is an album about joy, foregrounding the color yellow. As Zauner states in an interview with KEPX, she chooses yellow as a warm tone and a new sonic shift to match the jubilant character of the album that contrasts her previous albums with a darker doleful tone. One of the most amazing parts of this album is the opening track, "Paprika," which alludes to Satoshi Kon's 2006 animated film, where a surreal parade and dream world open up. The rest builds upon teenage love, "an adolescent heart skipping beats," and navigation of diverse feelings.
In her words, "They're not 10 happy songs; it's about joy in the sense that there are songs about fighting to obtain joy, preserving the joy, wrestling with mental health to feel joy. There are all these different parts of joy that I think it's about. Like anything, we all want to create this perfect narrative where I'm the poster face of grief or joy or whatever, and I think that's just not human. We feel those things at varying levels at all points throughout the day."
Tracklist
1)Paprika
2)Sweet
3)Kokomo
4)Slide Tackle
5)Posing in Bondage
6)Sit
7)Savage Good Boy
8)In Hell
9)Tactics
10)Posing for Cars
Sable (2021)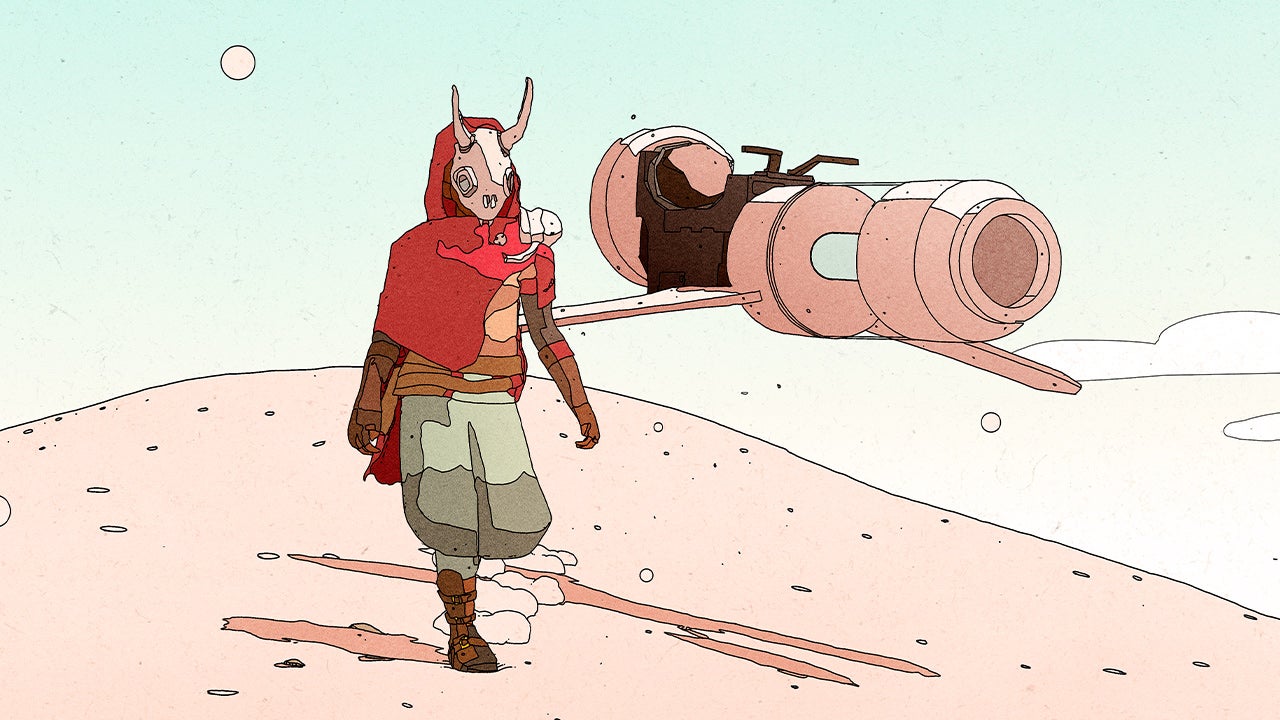 Developed by Shedworks and launched on September 23, Sable is an art and video game about a heroine named Sable who leaves her tribe to discover the world and different cultures on the dunes of the planet Midden.  In short, it is a coming-of-age story. The heroine is on a quest to find her true self as she is on the brink of a transition to adulthood. The setting accommodates sand dunes, rock formations, clouds, blue sky, an arid area full of possibilities. The heroine must complete tasks, ranging from beetle collecting to mask collecting. The masks are the key to finishing the game; they represent various identities the heroine has to choose from to wear during the rest of her life. She continues her adventures on her hoverbike, floating in the air.
The game design is rather minimalistic, visually powerful, and beautifully crafted. The creative director has an architectural background, which really shows. Completing the main story takes approximately 8 hours. Actually, it is more dependent on your motivation, whether you want to finish the game quickly or not. Unless you want to complete it, you can explore the unknowable territory, speak to others, and continue playing as much as you want.
Platforms: PC, Xbox One, Xbox Series X/S
Sable features 32 original JB songs
Michelle Zauner wrote the soundtrack of the video game Sable. The album features 32 original JB songs. During the pandemic, as she experiments with the piano again after years, she composes her own favorite song: "Better the Mask:" "I wrote 'Better the Mask' during the lockdown," says Zauner, "To pass the time, I found myself turning to the piano, practicing intently for the first time in years, and putting together what would become my favorite song I've ever written." She also shares how she experiences the period when she composed songs for Sable:
Lyrically, [Sable] was very different. So much of my work in Japanese Breakfast is very personal and rooted in specific details of my life, while Sable has nothing to do with me. I had to write lyrics that were very broad and universal and touch on what it's like to come of age or be uncertain about your future. It was really fun to learn that I don't have to excavate my own personal trauma in order to write compelling music; I can write these themes that can apply to anyone and they can be moving in a unique way.
Last but not least, as a lover of video games, she also has her own game, and you can check it out here. It takes place on a spaceship that aliens are invading, and a robot that JB meets guides her on what to do.
Crying in H Mart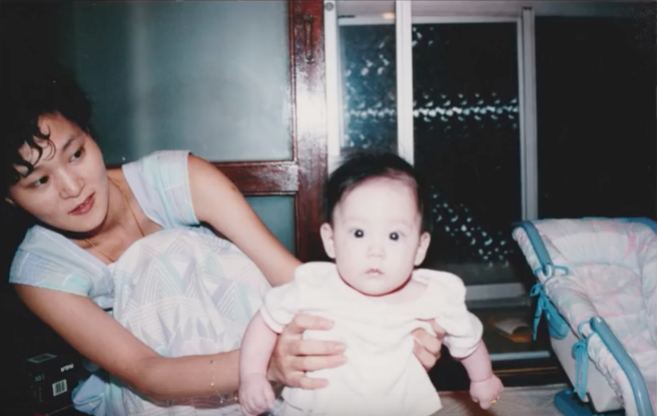 Zauner's official entry into the realm of writing probably happened in 2016 when she won Glamour's 11th essay contest with her essay titled "Love, Lost, Kimchi," based on her relationship with Korean food and its relationship connected to her mother. Then, in 2021, Crying in H Mart came out, delving into a personal trauma interlocked with Korean food and culture; it is tender, heartbreaking, and heartwarming. Crying in H Mart is a memoir by Michelle Zauner. The biggest motivation for this memoir to happen was her grief after losing her mother to cancer. "[Writing the book] was definitely a cathartic process, and I don't know if I want to do it again," she says. "But I'm glad that I did it. I'm ready to explore other things in my life."
H Mart is a "supermarket chain that specializes in Asian food. The H stands for han ah reum, a Korean phrase that roughly translates to "one arm full of groceries." That's how she starts her memoir, introducing the readers to perhaps the most sacred place for her,  the place where she gets all the ingredients she needs to buy to replicate her mom's food, a place that is full of memories. She delicately expresses how food is one of the best expressions of affection, love, and compassion. A means of family bonding. A means of saying "I love you." That's what her mom probably was the best at doing. So, Zauner aims to cook like her. Even more than that, she wants to be like her mother, perhaps through physical embodiment. It is not easy to see someone you love fading that feels alone; so she joins her:
"The little flap of belly my mother always pinched at had disappeared and my hair began to fall out in large chunks in the shower from the stress. In a perverse way, I was glad about it. My own weight loss made me feel tied to her. I wanted to embody a physical warning—that if she began to disappear, I would disappear too."
Japanese Breakfast was nominated for two Grammy awards
Japanese Breakfast was nominated for the Grammy awards in two categories: The best alternative album  (Jubilee) and the best new artist.
The 64th Annual Grammy Awards ceremony will be held in Los Angeles on January 31, 2022. The other candidates in the best new artist category are Arooj Aftab, Jimmie Allen, Baby Keem, Finneas, Glass Animals, Japanese Breakfast, The Kid Laroi, Arlo Parks, Olivia Rodrigo, and Saweetie. As for the best alternative music album, the list goes like this: Fleet Foxes – Shore; Halsey – If I Can't Have Love, I Want Power; Japanese Breakfast – Jubilee; Arlo Parks – Collapsed in Sunbeams; St. Vincent – Daddy's Home. For the whole list, you can check here.
Japanese Breakfast speaks to your soul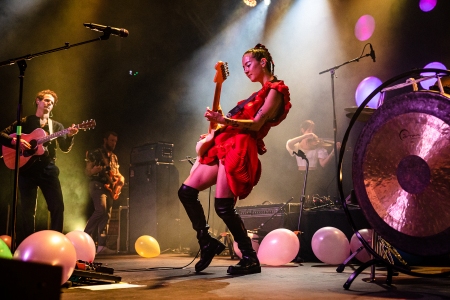 Life challenges us in many different ways. To cope with our deep-seated anxieties, fears, and traumas, we delve into art, music, and writing in its diverse forms. Michelle Zauner has the talent and compassion to do it in every way. Since their albums pack all sorts of emotions and complications in various ways, they resonate with everyone. I think Zauner proves that success doesn't depend on luck. There are certain stages to go through, especially emotionally, if you are part of something that requires a high level of creativity.