Each year during the month of June (chosen because it marks the 1969 Stonewall Rebellion that launched LGBTQIA+ Pride Day), the community celebrates #pride in multiple ways.
The gay liberation movement and activism should be commemorated even more than ever before: at a time when the rights won through so much sweat and blood are increasingly threatened, the world needs to be reminded that respecting diversity is the only way for a better future.
Several events are taking place around the world this month to recognize the influence of LGBTQIA+ people throughout history.
In addition to being a monthly celebration full of events, pride is an opportunity to peacefully demonstrate and sensitize people to current issues in the community and beyond.
Homosexual relationships are a crime in 71 countries
Did you know that being gay in a lot of places is still a crime? Some religious countries demand a law against homosexuals as a way of condemning those who do not agree with heteronormativity.
This religiosity kills, criminalizes, and detracts from the simple fact that we are who we are.
In many of these countries, even killing a homosexual is considered a heroic act.
In 2018, after decriminalizing homosexuality, India is no longer on the list of 71 countries in which having same-sex relationships is still considered a crime. In seven of them, the crime may be punished by the death penalty.
The data are from the survey "State Homophobia," carried out 15 years ago by ILGA (International Association of Lesbians, Gays, Bisexuals, Trans, and Intersex) together with 1,300 organizations around the world.  Of the 193 UN member states that are listed, 36% currently criminalize homosexuality.
The majority (32) are located in Africa. Asia comes in second, with 23 countries, followed by the Americas, with 9, and Oceania.  In 26 of these countries, crime is only applied to male relationships. There is no EU member on this list.
The penalty varies from fines and imprisonment (including life imprisonment) to the death penalty, as in Nigeria, Saudi Arabia, Iran, Yemen, Sudan, Somalia, and Iraq.
Since the investigation began in 2006, 22 countries have decriminalized homosexuality. 'The average is two countries per year,' says Lucas Ramón Mendos, Senior Research Fellow at ILGA.
"It may seem like a breakthrough, but it must highlight that progress is taking place in challenging contexts, in which many people need to risk their lives fighting to change the law.

In India, where there are 2.5 million gay people (according to the last census), it highlights the large number of people affected by the change. This is the biggest democracy in the world. This achievement is worth celebrating for the number of people involved.

The Indian Supreme Court ruling found that the previous law, created by the British in 1861 and providing for ten years imprisonment for sexual acts "against the order of nature," was "discriminatory and unconstitutional.

Although fewer than 200 people have been prosecuted under this law in a century and a half, its mere existence was already considered a problem for "justifying and encouraging situations of discrimination," says Mendos.
He gives two practical examples: people who went to the doctor to take care of their sexual health could not reveal that they had had same-sex relationships because they could be reported or abused. Gays and transsexuals are also vulnerable to threats and extortion by the police.
According to Mendos, the sentence imposed by the Indian court only deals with the criminalization of consensual same-sex acts. It does not directly impact marriage, adoption or surrogacy legislation. " This requires the promotion of new initiatives that specifically address these rights," he said.
Beginning in May 2017, the date of the most recent ILGA survey, only India decriminalizes same-sex relationships.
In Trinidad and Tobago, the law has also been declared unconstitutional, but there is still room for redress, which is why the country is still on the list. In Kenya and Botswana, legislation is reviewed by the courts, but there is still no legal penalty.
In Brazil, homosexuality was only considered a crime during the colonial period, when the country was subject to the laws of Portugal, says Toni Reis, CEO of the National LGBTQIA+ Alliance. "But we were treated as sick people until 1985", he says, referring to the year in which the Federal Council of Medicine removed "homosexuality" from the list of disorders, even before the WHO did the same, in 1990.
For Reis, the case of India can be an example for countries that still consider homosexuality a crime, many of them also inherited the rules of the British Empire.
"We congratulate the Indian Supreme Court on this 21st-century attitude," he said.
Gay people in Indonesia
An Indonesian homosexual couple was severely flogged in public in 2018. Every man received 80 lashes as punishment for being homosexual. This is not the first time that Indonesia has seen a violent crackdown on LGBTQIA+ people. In 2017, another couple was whipped 85 times for engaging in gay sexual intercourse and Aceh authorities described the case as isolated.
In front of a crowd of 1,000 people gathered in Aceh province, the couple was whipped. Another group of 15 accused of disobeying local laws were also flogged. Consuming alcohol and showing affection in public are some of the prohibitions that led the 15 people to the whip. The couple were arrested in a beauty salon and delivered to the police at the beginning of 2018. Outside a mosque, hooded people beat the convicts.
The crowd was euphoric. According to CNN, some people were screaming for the couple to be beaten harder. Among the audience that also took photos, there were not only people from Aceh: groups of tourists from Malaysia participated in the chorus calling for stricter punishment.
While not all territories in the country criminalize homosexuality, Indonesia has no legislation that guarantees the protection of LGBTQIA+ people. In Aceh, where the gay couple were beaten, homosexuality is criminalized and punishable by sharia law. Indonesian tradition does not recognize same-sex couples and does not legitimize same-sex couples' families.
The future has come to a standstill in Iran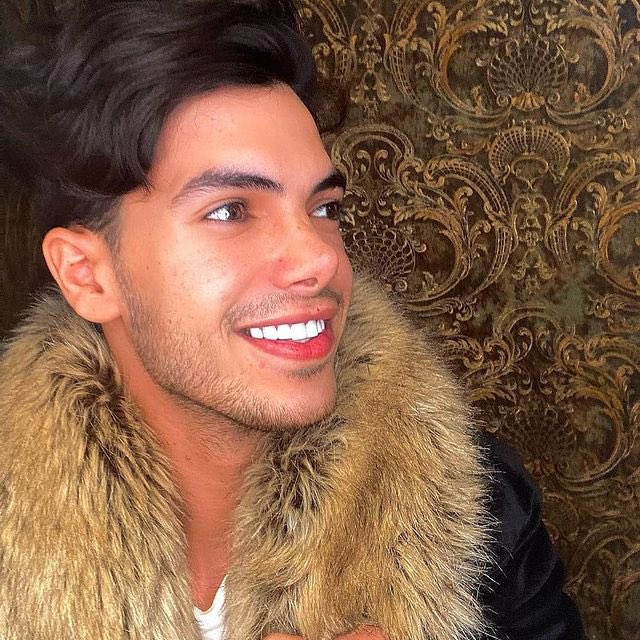 Alireza Fazeli-Monfared's future was brutally disrupted on May 4 (2021) when members of his family allegedly murdered him because of his sexual orientation, according to his partner, and 6Rang, an LGBTQIA+ rights group.
The 20-year-old Iranian hoped to leave the country, where he felt choked by the restrictions imposed by the Iranian regime on homosexuality. He dreamed of modeling or becoming a make-up artist, said his partner Aghil Abiat to CNN.
In long phone calls and video messages with Abiat, who is a refugee in Turkey after being expelled from Iran, Fazeli-Monfared described the experiences he hoped to have and the life he wanted to build.
But on May 4, Fazeli-Monfared was killed, possibly after his family found out he was gay through a military service exemption card that arrived by post.
Abiat said the mother of Fazeli-Monfared confirmed his death to him, but she did not answer calls from CNN or messages to a telephone number provided by Abiat.
The couple met about six months ago on a public social media channel for members of Iran's LGBTQIA+ community in search of support, Abiat reports. They had begun talking and exchanging video messages. `
"Our communication was wonderful. The two of us were honest with each other. Alireza had so many expectations and was honest about it as well, however, rising family pressure and Iran's draconian laws against homosexuality make homosexual relationships a potential capital offence in the background. He was always under pressure. He bit his nails, so he didn't have any left", Abiat said.
Iran is among 68 countries where homosexual relationships between consenting adults are criminalized, according to Human Rights Watch (HRW). The LGBTQIA+ community is one of the most marginalized in Iran and faces different levels of discrimination and hate.
The most obvious is, according to the law, but there is also a lot of homophobia in society, depending on where one is and the demography to which one belongs. "Family can sometimes be the most dangerous place," says Tar Sepehri Far, an Iranian researcher with HRW.
Just days before the alleged murder, Fazeli-Monfared had been informed about the arrival of his military service card.
Fazeli-Monfared also indicated to his partner that he believed the envelope had been opened and resealed.
The couple shrugged, attributing this to paranoia. "We talked about it, but we did nothing. We thought it was right in our heads", said Abiat. But the document exempted Fazeli-Monfared from military service by reason of his sexuality, which may have led his family to discover his sexual orientation.
Military exempt cards have become a weapon against the LGBTQIA+ community, according to 6Rang.
These exemption cards are issued by the Islamic Revolutionary Guard. Alireza got one saying he was homosexual, which is allowed under the military exemption laws. Unfortunately, in Alireza's case, that selection took his life,' he said. 
Iran exempts homosexuals from mandatory military service on the basis of a medical category for mental illness. "The idea is that they are not fit for duty due to their sexual orientation," said Sepehri Far.
The card indicating the exemption or completion of military service is critical to the operation of Iranian society and is necessary even for basic things like obtaining passports.
But the exception is also "a confirmation of your sexual orientation in a society where your sexual orientation is criminalized," said the HRW researcher.
The last time Fazeli-Monfared and Abiat spoke, on May 2, Fazeli-Monfared said he would go to a store to buy a new phone and then buy a train ticket from Ahvaz, his hometown in southwest Iran, to the capital Tehran to get a Covid-19 test to travel to Turkey.
On May 4th, Abiat started to worry. Fazeli-Monfared's phone was offline. When he phoned, nobody answered. When he read the reports about his partner's murder, he never believed it. A friend also called to share the news, but Abiat didn't believe him.
Finally, on May 6, he called Fazeli-Monfared's mother and called her Mama Ali.
They had previously met by video conference. "She knew me like a friend, only a friend," he said. In the text and voice messages to his partner's mother, then to his aunt, Abiat discovered the terrible situation of his partner.
The legal status of homosexuality across the globe
The example of Alireza shows that our society must evolve towards a collective struggle. There is no point in fighting for freedom, which has not yet been achieved for all of us.
As a gay man free to be who I am, I can't imagine the pain, sadness, and loneliness of gays who are still forced and encouraged to fake a heteronormativity that doesn't exist.
I am happy for the achievements of the LGBTQIA+ community; however, I am concerned to know that we are not pressuring or boycotting these countries, which treat gays with death sentences.
We need to celebrate accomplishments, but we also need to use our voice for those who have no one to stand up for them.
Asylum for those who are members of our community is not always possible, sometimes because of financial and legal obstacles in certain countries.
Turkey is one of the only Islamic countries where gays do not receive a death sentence, yet religious extremism still influences a wave of homophobia in the country.
The very few organizations that fight for the freedom of gays in Islamic countries, alone cannot fight legal clashes against authorities armed with retrograde and highly dangerous laws.
Although Mozambique decriminalized homosexuality and bisexuality in 2015, several parts of the African continent still vehemently condemn same-sex relationships, and anything related to the LGBTQIA+ community.
Protestantism in Africa is increasing daily, so LGBTQIA organizations are living on the margins of clandestinity.
There is a need for pressure on human rights organizations, political authorities engaged in the cause of the LGBTQIA community, so that we have the right to life.
The right to choose must exist, no matter which religion you wish to profess.