The best mountain bikes of today are genuinely intelligent machines, and only the most skilled riders will be able to push them to their limits. So whether you're seeking to purchase your first mountain bike or update your existing ride, we have a solution for you.
With so many amazing bikes on the market this year, naming the finest mountain bike to buy right now is an extremely challenging process.
Trek Slash 8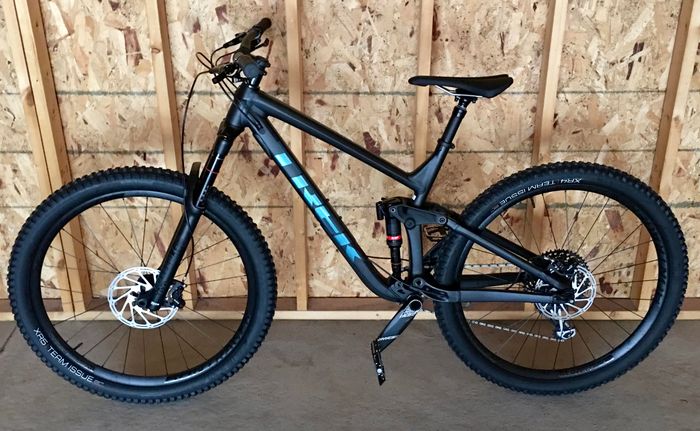 The Trek Slash 8 2022 is currently at the top of our best mountain bike list. Compared to its predecessor, this bike features just a few small changes, but given that the 2021 model won a slew of prizes, there's little incentive to modify such a winning recipe. The Slash's long-travel suspension combo includes a 170mm RockShox Lyrik Select+ shock teamed with a RockShox Super Deluxe Ultimate 160mm shock. In addition, it has a revised air spring and proprietary Thru Shaft damper that provides unbelievable amounts of grip and superb control over even the most difficult downhill.
The powertrain consists of an SRAM X1 Eagle DUB crank, a GX Eagle shifter, a derailleur, and a 10-52 12-speed cassette. The bike has SRAM Code R brakes, with a 200mm front rotor and a 180mm rear rotor for tremendous stopping power. In addition, it boasts Boost hubs front and rear, as you'd expect from a bike of this calibre, as well as a 35mm stem and 820mm bars for ultimate control and increased rigidity. Finally, if you ride in slick weather frequently, you might want to swap out the Bontrager XR4 and XR5 tyre mix for something with a little more bite.
The Trek Slash 8 is capable enough for the enduro circuit and will let you ride even the most difficult terrain with greater speed and confidence than anything you've likely ridden before. While it may have a somewhat high price tag compared to its competitors, the component combination here is still excellent value.
Nukeproof Mega 275 Alloy Comp
The Nukeproof Mega has been around for ten years in various guises, and the 2021 model is its fourth iteration. Both the carbon and aluminium-framed variants of the bike reflect some of the design team's favourite characteristics of the Mega throughout the years, resulting in a bike that will appear recognisable to Mega fans while still being the most competent and exciting to ride yet.
The newly built frame tries to keep the saddle in the best position when climbing – despite variations in bike length as the swingarm travels through its journey – among the numerous modifications from the Mk 3 version. The seat tube is also shorter, allowing the Mega to use longer dropper posts that gets the saddle out of the way during descent.
Other changes include enhanced suspension, the usage of SRAM's new Universal Derailleur Hanger, Enduro Race pivot bearings, and, for the first time, a 750ml water bottle slot in the frame. The Mega is also available in 29-inch and Pro models for those with bigger pockets.
Voodoo Bizango Pro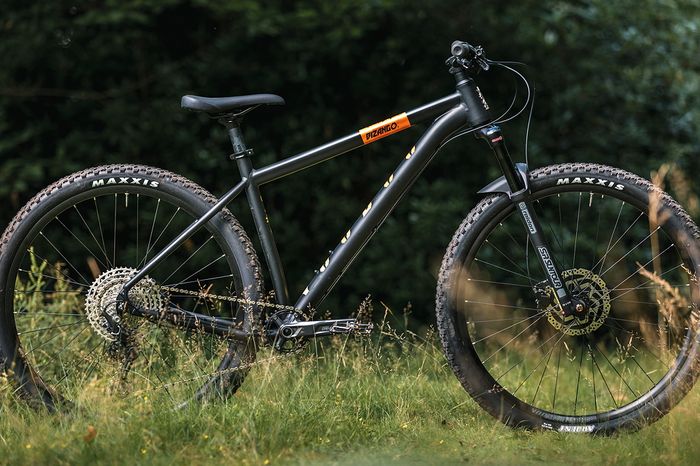 Voodoo's Bizango was one of the first entry-level motorcycles that delivered far more than its price tag. However, times have changed, and costs have grown along with them. So rather than reducing the quality of componentry to keep the price low, Voodoo has created several lower-priced versions while elevating the Bizango to the top of its hardtail line.
Voodoo has gone one step farther for 2022. In addition to the basic Bizango (RRP £750), it has also released the Bizango Pro (RRP £925), one of the greatest hardtail mountain bikes on the market. The Pro has a slew of significant enhancements. The most prominent feature is a 130mm travel RockShox 35 Gold Air fork Shimano MT410 hydraulic disc brakes. The 29-inch wheels are also outfitted with a superb Maxxis tyre combination of a 2.3″ High Roller II upfront and a 2.25″ Rekon at the back.
Finally, the Pro receives a Boost-width bolt-through axle at the rear, which further stiffens the back end – though both models use a through-axle on their forks. The Voodoo Bizango Pro climbs well, is a lot of fun to ride, and can take on some fairly difficult trails. If you have the money, the modifications over the regular Bizango are worth it – albeit that bike is also wonderful.
Calibre Triple B
The Triple B is the younger, more competent sister of the well-regarded Bossnut, still available as the upgraded Bossnut Evo. Yes, it is £398 more expensive than the original, but it is money well spent because you receive a slew of enhancements. The Reba RL fork on the Triple B has 10mm greater travel and better damping than the Recon RL on its lesser stablemate. In addition to the bolt-through axle on the fork, you also get one on the rear for increased back end rigidity. The Triple B also has a 125mm Tranz X dropper post, which is a remarkable bargain for a full-suspension bike at this price.
The simple suspension is simple to set up and use, making it an excellent introductory full-suspension bike. The ride is perfectly balanced and can take anything red and black graded trails to throw at you, while the slack head tube angle, wide bars, and short stem provide enough confidence control over steep, rooty parts.
Canyon Spectral CF 7.0
The Canyon Spectral CF 7.0 stands as an entry-level carbon-framed model. It features a RockShox Pike fork, a RockShox Super Deluxe RCT shock, SRAM GX Eagle 1×12 gearing with a 10-50 cassette and strong SRAM Guide R brakes. The bike rides on DT Swiss M 1900 wheels with wide rims and Maxxis' triple compound Minion DHII 2.4 tyres. As a result, this mountain bike can tackle whatever trail you throw at it. It's also exceptionally well-balanced, moving quickly and efficiently even when the tracks are pointing upwards.
Norco Sight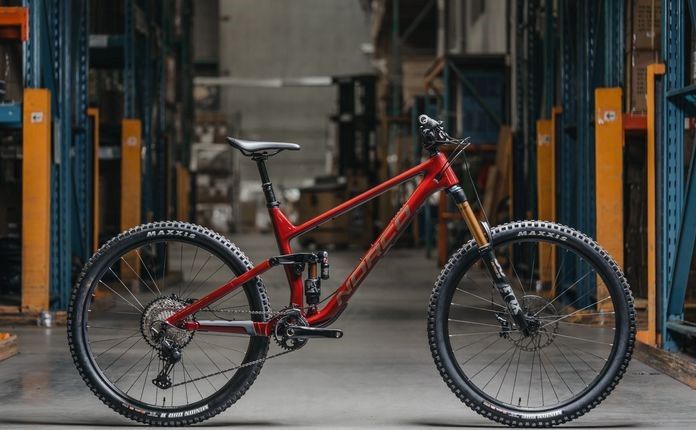 A Canadian bike manufacturer, Norco has revamped its well-known Sightline for 2020. The seven-model lineup (four carbon-framed bikes and four aluminium-framed bikes) was designed to provide optimal weight distribution and grip in all conditions. However, with individuals arriving in diverse shapes and sizes, obtaining a perfectly balanced ride may appear to be a difficult order. Norco has also developed its Ride Aligned set-up software to assist it in achieving its goal.
The Sight A3 and A3 W (female-specific variant) we've chosen here are the cheapest aluminium versions in the lineup. Still, they nevertheless provide the balanced and competent ride of their costlier stablemates while offering the best value for money. Everything from the SRAM Eagle 12-speed gearing to the wide 29mm WTB rims with 2.5in Maxxis Minion DHF tyres is extremely competent and up to date. Moreover, these bikes can handle just about everything, thanks to a RockShox combination of a 160mm Yari fork up front and a 150mm Deluxe Select R shock in the back.
Whyte 905
With its long, low, slack, and extraordinarily well-dialled frame geometry, the Whyte 905 is a hardtail that can handle it all, whether you're looking for a bike to rip on more forgiving trails or one to tumble down steep, nasty runs. The 905 rides on wide-rimmed, Boost width WTB ST 135 rims that are shod with an ultra-grippy, triple compound Maxxis High Roller II 2.8 tyre up front and a quicker rolling Maxxis Recon 2.8 tyre up back. These extra-large wheels and tyres allow you to severely tear through practically any sort of terrain, letting you achieve true warp speeds in the process.
The SRAM Guide T brakes improve over last year's levels, and the 1×12 SRAM NX Eagle drivetrain that offers versatile gear range. One of the greatest hardtail mountain bikes available today.
Merida One-Sixty 800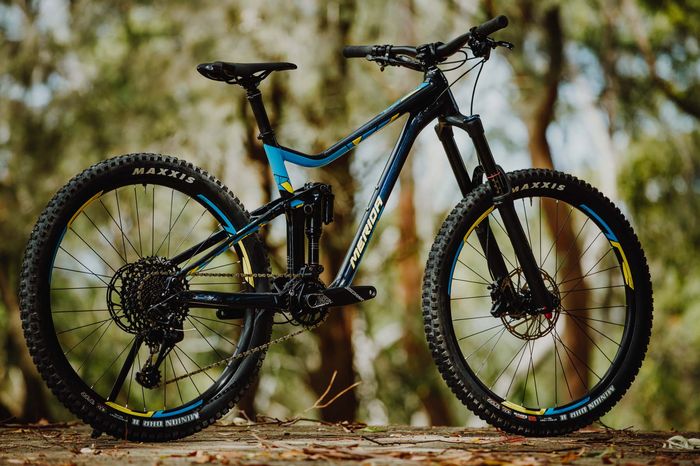 The Merida EOne-Sixty 800 is based on the company's conventionally powered enduro bike of the same name. The bike's competent character, with 160mm of travel and a long, low frame shape, is enhanced by including a Shimano Steps 8000 motor.
The Steps motor has a power output of 250W and three modes of riding assistance: Eco, Trail, and Boost. The 500Wh Shimano Steps battery's range varies depending on the terrain and amount of help used, but you can expect a couple of hours out of it unless you intend on hammering up Alpine slopes in Boost mode.
The EOne-Sixty 800 can take you everywhere and is a lot of fun to ride no matter where you wind up. Despite the additional motor weight and batteries, the bike remains lively and enjoyable to ride. With its Boost width wheels and 2.8 Maxxis DHRII tyres, you'll always have plenty of traction and grip to keep you in complete control.
Scott Spark 940
The Spark is an XC World Cup-winning model that is as popular with non-racers as with racers. This broad appeal stems from the Spark's extremely competent character, making it as suitable for extended rides on typical trails as short, rapid bursts on the race track. Despite having just 120mm of travel, the Fox fork and shock are smooth and dependable, and the strong frame and 29in Synchros/Formula wheels on fast-rolling Maxxis Rekon 2.4 tyres let you hit some significant speeds.
The well-equipped groupset combines SRAM and Shimano with a GX Eagle 1×12 drivetrain and SLX M7000 brakes. The Spark is quick and well-balanced on XC circuits and non-lethal trails, but it's also a lot of fun on steep, swooping descents.
Whyte E-150 S 29ER V2
Whyte, a British bike company, has been responsible for some truly amazing conventionally powered mountain bikes over the years, so it's no surprise that when it comes to e-MTBs, its powered bikes are just as beautifully put together. The e-150 S boasts a super-low centre of gravity to help bike handling, thanks to a Bosch Performance Line CX Gen 4 motor that has been gently rotated to sit as low as possible in the frame. A 650Wh Bosch Powertube battery is contained in the large downtube and, while difficult to remove and can be chargeable. However, charging the battery while it's on the bike is considerably easier if you have the room.
A 150mm ZEB fork and 140mm Deluxe Select+ shock from RockShox provide sensitive yet competent suspension. At the same time, the 29-inch wheels are shod with a super-gnarly, double compound, 2.5″ Maxxis Assegai WT up front and a double compound, 2.4″ Maxxis Minion DHR on the rear for outstanding all-condition traction. The transmission is a 12-speed SRAM GX Eagle, and the brakes have been upgraded to SRAM Guide REs with a massive 220mm rotor in front and a 200mm rotor in back this year.
Despite having mid-range suspension, the Whyte e-150 is so elegant, well-balanced, and well-designed that it can tackle almost any trail you throw at it. Point it back uphill, and the strong motor will have you ready for another plunge in no time – something you'll want to do over and over.
How to Select the Perfect Mountain Bike
All models on our list of the best mountain bikes include a dropper post. These let you adjust the height of your saddle to fit the conditions as you ride. It is accomplished using a handlebar remote, eliminating the need to stop pedalling and dismount each time you wish to alter the saddle height.
On climbs, maintain your saddle high for optimum pedal efficiency, then lower it out of the way to allow you to assume the most effective body posture when it's time to descent.
Many mountain bikes now have wider 'Boost' hubs (110x15mm front, 146x112mm rear) that increase wheel, fork, and back end rigidity and ride predictability.
If you have a limitless quantity of money, you can buy a bike that has the finest of everything. However, for the rest of us to concentrate on the qualities, we require the most. The primary factors to consider are bike weight, suspension, brakes, gears, and materials. Cheaper bikes are often constructed with heavier frames and components, making them more difficult to peddle uphill and more difficult to manoeuvre on the trail.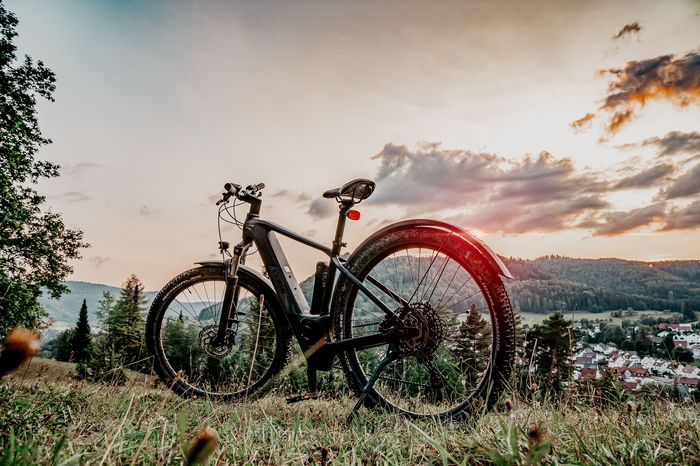 Suspension is essential if you want to keep your teeth in your mouth and use your knees in the future. Full suspension is essential for downhill riding but is less important for pootling around the woods. Front suspension will be enough in this situation.
The most current 12-speed gear systems include a single front ring and a cassette with a range of 10 to 50 teeth at the back of the bike. It provides the same, if not greater, gearing range as earlier multi-ringed systems. Another significant advantage is that it eliminates the need for a front derailleur, front shifter, and other rings, making you mountain bike lighter and easier to maintain overall.
Top Rated Mountain Bikes on Amazon
Dynacraft 26″ Men's Silver Canyon Dual Suspension Mountain Bike
Mongoose Status 2.2 Mens and Womens Mountain Bike, 26-Inch Wheels, 21-Speed Shifters, Aluminum Frame, Front Suspension,a Black/Red
Huffy Hardtail Mountain Bike, Stone Mountain 26 inch, 21-Speed, Lightweight, Dark Blue
Outroad 26 Inch Folding Mountain Bike, 21 Speed Full Suspension High-Carbon Steel MTB Foldable Bicycle, Dual Disc Brake Non-Slip Folding Bikes for Adults/Men/Women, Black
Schwinn High Timber AL Youth/Adult Mountain Bike, Aluminum Frame, 24-Inch Wheels, 21-Speed, Red
Schwinn Bonafide Mens Mountain Bike, Front Suspension, 24-Speed, 29-Inch Wheels, 17-Inch Aluminum Frame, Matte Black/Red
Dynacraft 26″ Slick Rock Trails Bike
Mongoose Impasse Mens Mountain Bike, 29-Inch Wheels, Aluminum Frame, Twist Shifters, 21-Speed Rear Deraileur, Front and Rear Disc Brakes, Silver
Fat Tire Bikes for Men 26 Inch,Fat Tire Mountain Bike for Women 21Speed Full Suspension Dual Disc Brake Adult Big Tire Bike Trail Bikes All Terrain Mountain Winter Snow Bike,21 Speed
VELOWAVE Electric Bike Adults 750W BAFANG Motor 48V 15Ah Removable Larger Battery 26" Fat Tire Ebike 28MPH Snow Beach Mountain E-Bike Shimano 7-Speed UL Certified Black/Gray
Conclusion
Before purchasing a mountain bike, consider what you intend to do with it and how serious you intend to be about it. Are you going to embark on leisurely woodland trail rides, lengthy cross-country rides, or downhill descents? Each of these groups necessitates the use of a particular bike. Determine your budget after that, and you'll be able to choose your ideal bike! This way, you'll be certain to wind up with the greatest mountain bike for your needs!