A once great medieval fortress, Pamplona has become an icon in Navarrese history. Known for its unique and ancient Basque heritage, there are lots of things to explore in this compelling city.
This week, we uncover the deepest facets of the beginnings and attractions of the town that followed its creation. Followed by further separating itself from other towns in the northern regions of the Iberian Peninsula.
Background history of a compelling icon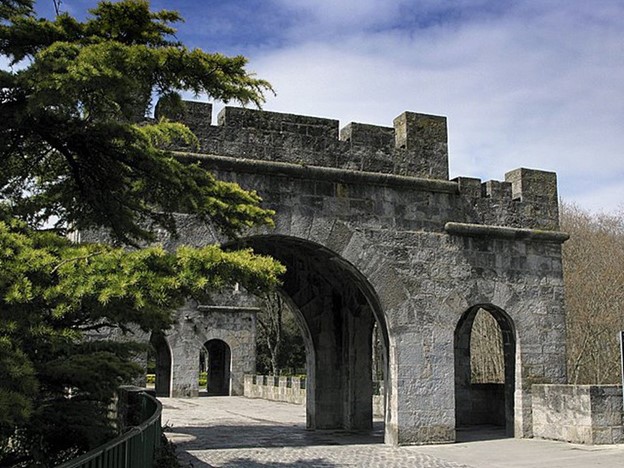 The kingdom of Navarra traces its beginnings to the year 824. The first king, Iñigo Arista emerges.
The state became a recognized kingdom by outsiders in neighboring regions like Castille, Aragon, Portugal, and Granada. While Moors from the southern regions of the Peninsula gained political control of those provinces, Navarra obtained more privileges.
Meaning that at one point the Moorish forces came to a compromise with the Basque's in Navarra. These actions resulted in letting them keep their territory in exchange for praise for the Moor's successes.
With these events that took place, the kingdom of Navarra came to rise. The capital city of Pamplona becomes known as one of the oldest Basque towns.
There is evidence as there are ruins of dividing walls present throughout the town. For centuries, even before Pamplona became a capital hub for inhabitants, the area was seen as a haven.
Since the newly found kingdom was autonomous, there were greater chances to make advances to the civilization in the territory. The only issue that arose with the growth of the city was that some rival individuals began to target the new kingdom.
Middle and Late Ages in Pamplona
As the medieval era dawned in Pamplona, its first cathedral became built and consecrated. The town had seemed much more stabilized as a strong foundation arose.
For example, in 1425, the divided districts of Navararreria, Saint Sernin, and Saint Nicholas became unified. No longer needing walls, the town of Pamplona extended agricultural resources and political power.
This later aided in the making of the medieval stronghold of the north. Not too long after that, in 1490, the printing press comes into effect in Pamplona.
Pamplona's medieval and late periods became marred by a huge wave of formations. Due to establishing a proper reign free from outside forces, the town gained independence for some centuries.
The region entered a period of independence to express growth in the arts, heritage, and political prowess.
Early Modern History of Navarra
Moreover, in the sixteenth century, Pamplona found itself under tribulations temporarily. In 1512, the city of Pamplona, Navarre became part of the kingdom of Castille.
Leaving former Basque leaders no choice but to annex themselves with the predominant kingdoms around them. From there, the Castilian language became introduced in the region.
To this day, Castilian remains the predominant language, outnumbering the initial one. The original tongue of Basque is still spoken in the northernmost parts of the region.
Regardless of the native Basque language being lowered in numbers, the unique tongue prevails. Next, in 1881, the infamous Hotel La Perla arose to prominence in Pamplona.
This later plays a large role in the town's modern formation as a cultural icon.
Basque Culture in Pamplona
The Basque culture in Pamplona, Navarra remains a predominant aspect of the region. The town has become considered to be one of the oldest and second-largest municipalities in the Greater Basque region.
The town holds steadfast to its highly valued traditions. For example, with the addition of the Basque language becoming endangered, many inhabitants hold anyone who speaks it in high regard.
Next, there are also language immersion schools throughout Pamplona and other Basque territories that educate young students by interacting in Basque. On the other hand, the city holds more diversity and freedom linguistically in contrast to the main Basque country areas.
In addition, part of that reason could also add to Pamplona becoming a popular town among other non-speaking Basque individuals. All in all, the culture is celebrated as there are many festivals present that reflect on its origins.
Festivals in Pamplona, Navarra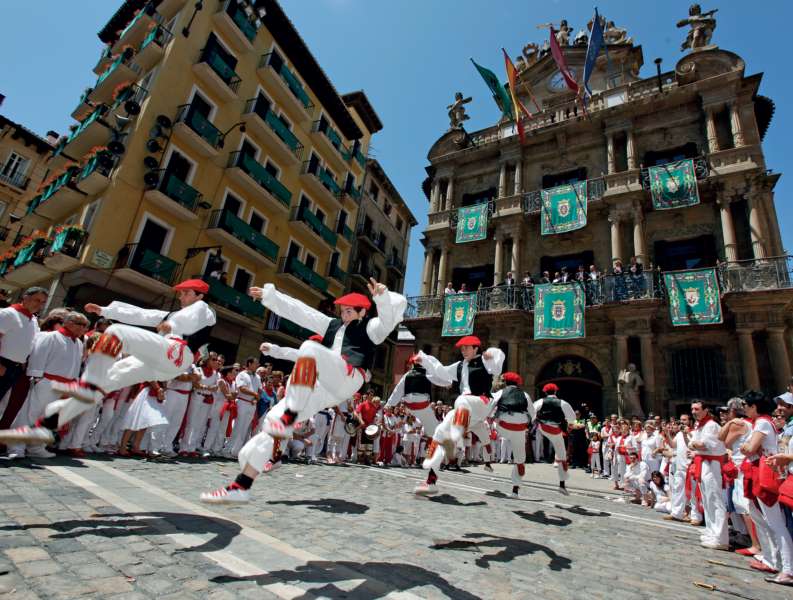 When it comes to celebrations in the compelling town of Pamplona, many events highlight its cultural significance.
Here we will expand on some beautiful aspects that emulate the character and heart of the town.
San Fermin (Running of the Bulls)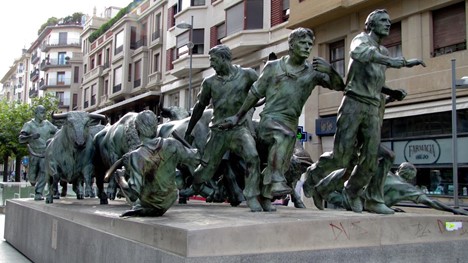 To begin, the festival takes place between July 3rd-14th
Second, it has become the most renowned and anticipated festival in the city of Pamplona, Navarra.
Third, the festival attracts the highest number of tourists throughout Europe and the world.
Next, the event becomes held in honor of co-patron Saint Fermin.
Moreover, the celebration begins with setting off fireworks named Chupinazo (Txupinazo in Basque) and ends with a song named Pobre de mí.
Lastly, individuals who set off the Fireworks are chosen by the mayor of the town. With examples like local football players or other figures from Pamplona.
Semana Santa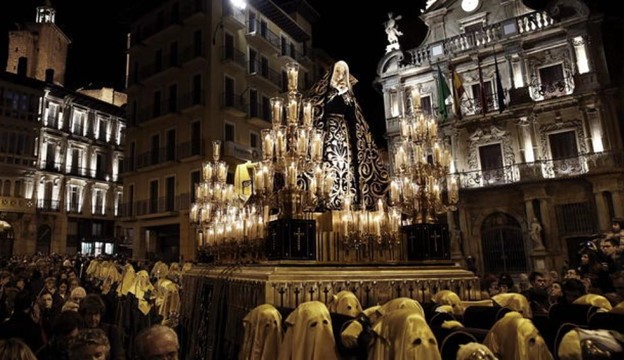 First, it is recognized as a weeklong festival that occurs each spring a week before Easter.
Commemorating the rebirth of Christ and sometimes other figures related to him like his gospels.
Special parade with uniforms that cover the faces of the participating patrons.
Statues and vigils are lighted with idols like the Virgin Mary and Christ.
In addition, the festival has become prominent throughout all of Spain.
Also considered a religious holiday throughout the country and the town of Pamplona.
Origins date back to the Middle Ages and Baroque periods.
Emulates brotherhoods and fraternities within the Catholic church.
Los Gigantes (The Giant Kings Statues)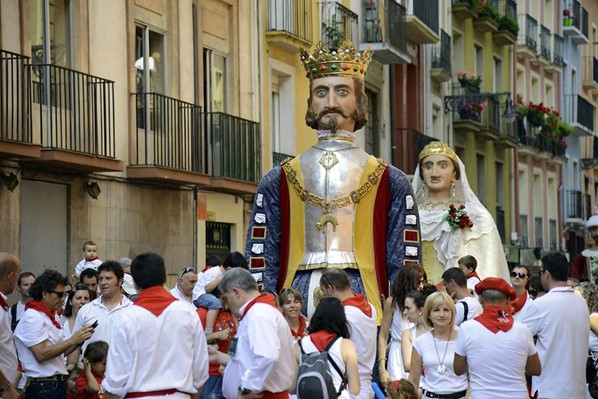 Another compelling reflection of Pamplona's rich culture and history.
It is also connected with the San Fermin Festival.
Each figure represents a pair of kings and queens from the global continents of the world. Being Europe, The Americas, Asia, and Africa.
The giants are presented with a variety of dance styles, such as Waltz, Polka, and Jota.
Mainly a family-friendly attraction for young children, but the performances remain very entertaining and mesmerizing to watch.
A real compelling attraction in Pamplona, Navarra, where pastime becomes highlighted!
Santa Agueda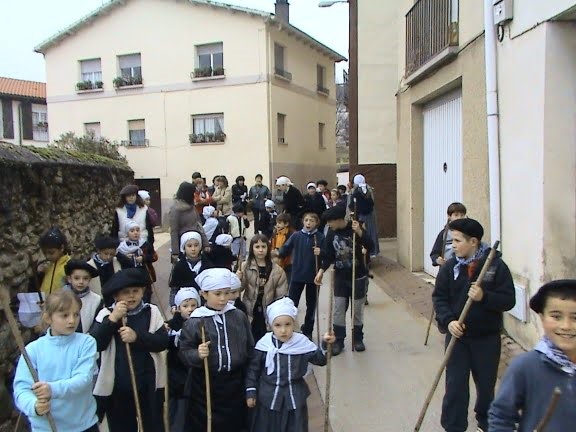 Youths parade the streets of Pamplona paying homage to Saint Águeda by playing and singing traditional Basque songs and instruments. Such as accordions and makilas (Canes)
A very interactive, educational, and mainly exciting event that locals enjoy.

It takes place on February 4th.
Festival Punto de Vista (Pamplona Film Festival)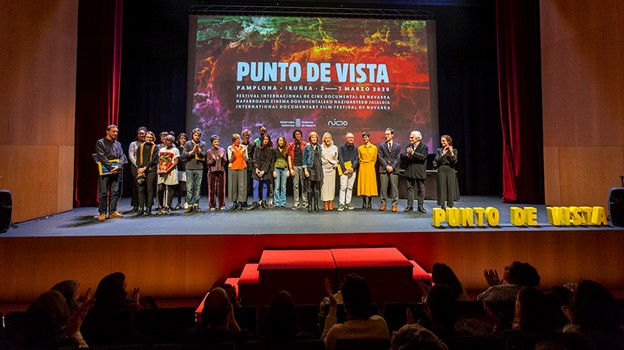 The festival takes place every winter in February.
Next, the most recent festival to date since it originates back to 1998.
Third, the festival has become similar but less popular than neighboring Gipuzkoa's San Sebastian film festival.
Host and features international films from Europe, like Poland's The Lure (2014)
Notable Sights and Figures from Pamplona, Navarra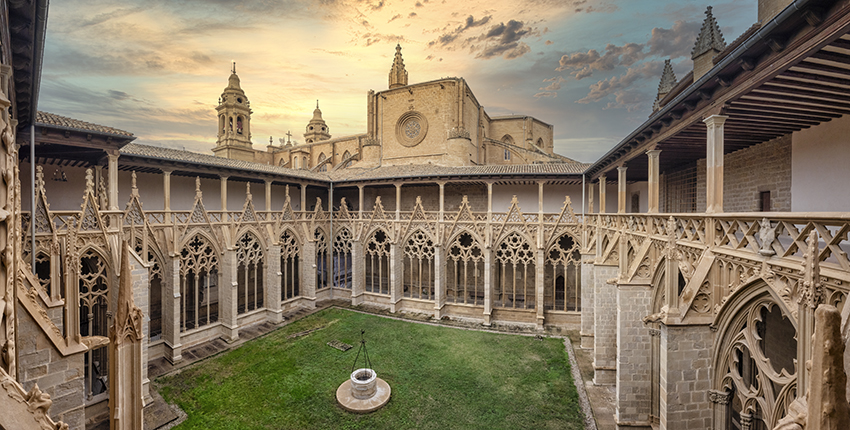 Pamplona is full of notable and compelling sights. That continues to attract visitors to this underrated city in the north of Spain.
Here we will delve more in-depth into certain locations and modern figures that represent Pamplona, Navarra.
Fernando Llorente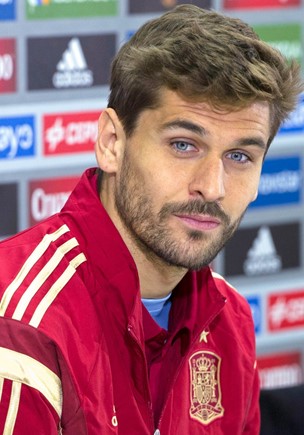 Football stars are native to the region.
Well respected in his career and internationally, as he has been a leading figure in Navarrese football since 2008.
Fernando speaks English, Italian, and Spanish.
A real compelling modern figure.
Asier Iturriaga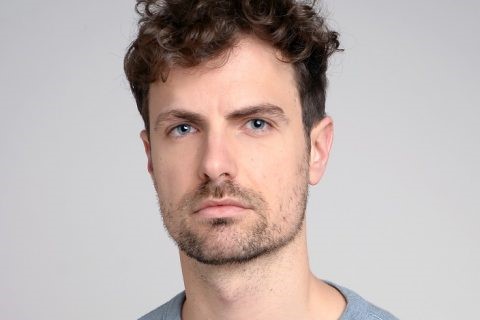 Charismatic actor in Pamplona, Navarra, and the rest of Spain
Flexible as he stars in local theater productions in Pamplona.

Asier speaks Basque, Spanish, and Aragonese (A dialect from the neighboring region Aragon)
An underrated representation of Pamplona, Navarra's artistic talent.
Cesar Azpilicueta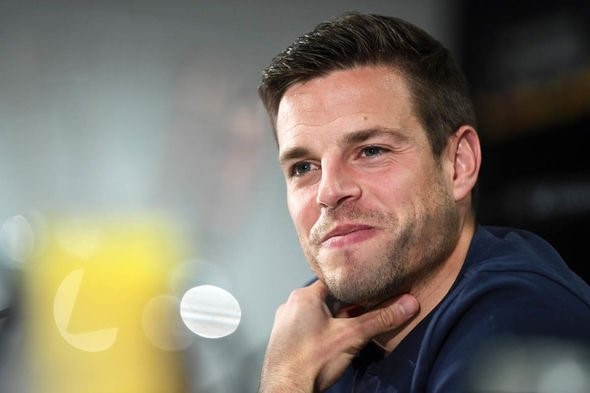 Football icon in Europe and Pamplona, Navarra
Cesar is Trilingual as he speaks English and French in addition to his native Spanish.
Professionally flexible as he currently studies for Business in a German University.
Currently, the most celebrated footballer in Navarrese history after Fernando Llorente.
Iñigo Etayo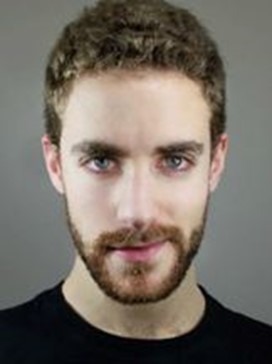 An actor and screenwriter from Pamplona, Navarra.
Famous for his theatrical productions in the capital of Madrid.
Speaks English, Basque, and Spanish.
Upcoming talented genius in Spanish cinemas/art world
Gran Hotel La Perla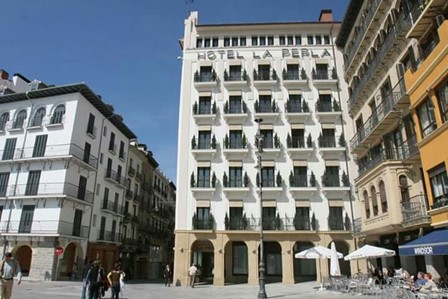 Oldest hotels in the region and town of Pamplona
Originally named Fonda a La Perla with initial owners Miguel and Teresa Graz.
Next, the hotel survived the Cholera pandemic in 1885 as it was the only business to remain open despite numerous citizens dying.
Sadly, the founder Miguel succumbed to the Cholera Pandemic. Which left Teresa to go forward with operations alone.
In addition, The state of the hotel has remained the same until a more recent renovation took place in 2007.
Next, the Hotel La Perla boasts of hosting many famous guests such as Charles Chaplin, Orson Welles, and George Gissing.

Still in service to this very day.
Known as a renowned location in Pamplona due to its rich and compelling history.
Boasts the best views to witness the San Fermin's festival.
Parque de la Taconera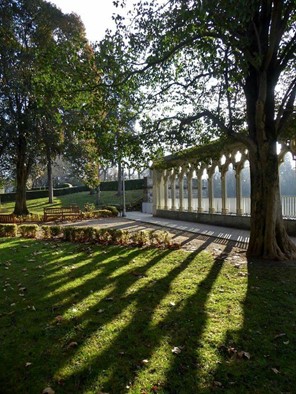 Claims to have one of the oldest gardens in the city.
French-style orchard architecture is present which illustrates a sign of former French rule.
The garden in Parque de la Taconera also features an amazing open-air museum with a variety of sculptures. Next, it becomes positioned high above the normal reach, all to entertain guests.
Moreover, some attractions found in Parque de la Taconera are the Monument to Julian Gayarre, sidewalk mural, and La Mari Blanca.
Host a variety of diverse and compelling trees like Ash, Pruned Yew, and Sophora japonica.
A smaller connected park named Antoniutti provides a skating space with a speed track for local skaters.
Overall the park is a very relaxing, spiritual, and invigorating experience in Pamplona, Navarra.
Monumento de los Fueros (Monument to the Law)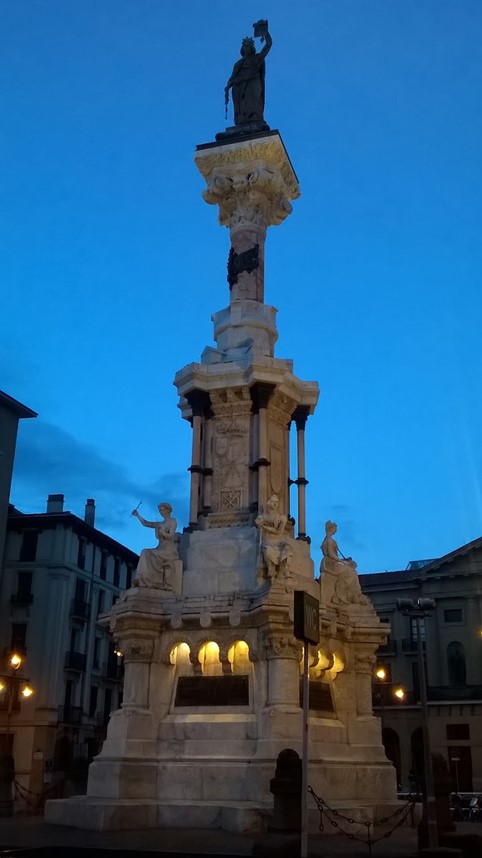 First Opened in 1903.
Symbolic statue representing the identity of the Basque people in Pamplona.
Next, there are encrypted messages in both Basque and Spanish for new generations of Basque to read motivational quotes.
Overall, this serves as a reminder to hold steadfast of the Basque identity despite a constant change of eras and time itself.
Moreover, one message displayed reads "This monument symbolizes the union of Navarre in defense of its liberties, liberties even more worthy of love than life itself" (Lansberg 18).
A real compelling and historical facet to Pamplona, Navarra's history.
Camino de Santiago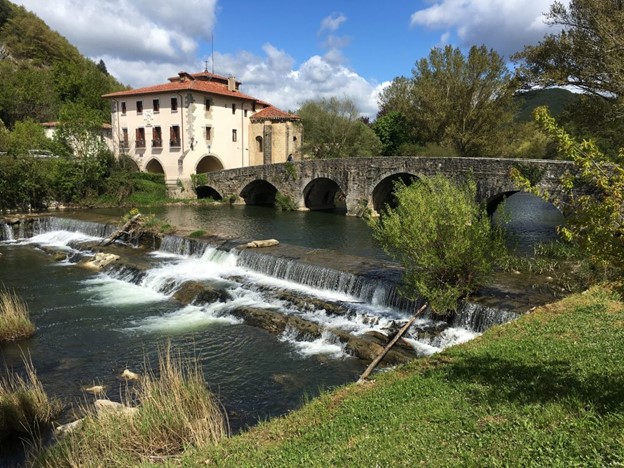 Final thoughts on Pamplona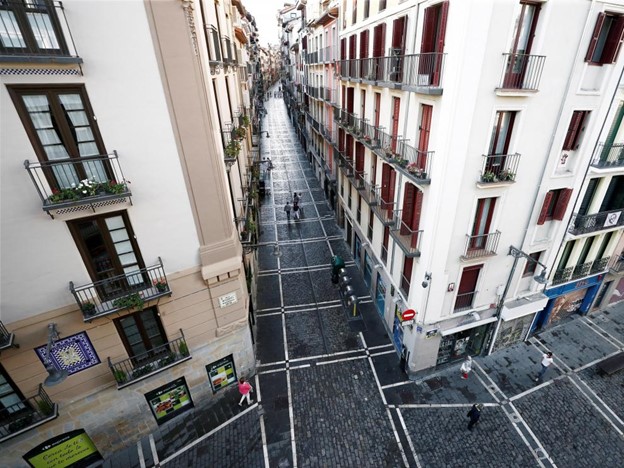 Pamplona has gone under numerous evaluations and progress in its century's long history. Yet the compelling city manages to highlight and celebrate a former glory that continues to shine.
Next, with elements of both old and new, this makes the town a Basque icon for the inhabitants and visitors. In addition, the region of Navarra is special because a certain charm becomes present that bounds to captivate guests' imaginations.
Lastly, there is always something new to learn when exploring the city which makes things memorable and noteworthy when traveling.
Significance of Pamplona as a compelling city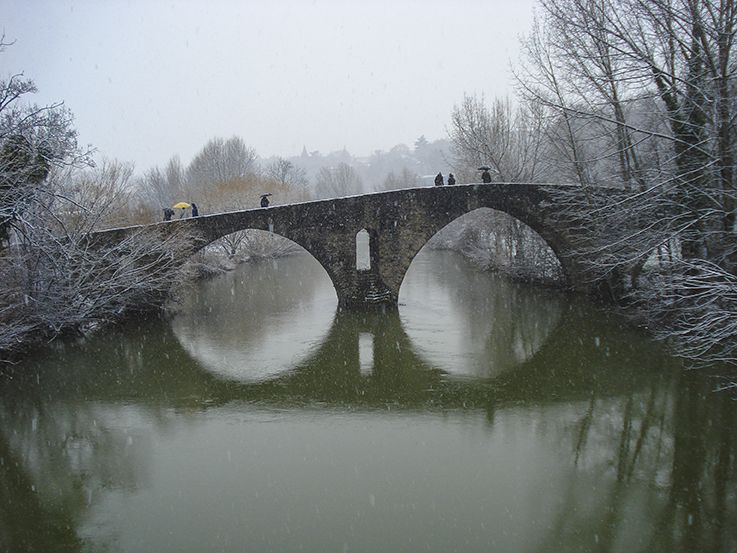 In conclusion, from historical symbolism, evolution, and compelling facts. Pamplona welcomes many as the city boasts a peaceful way of life with low crime rates.
Secondly, followed by a sense of community and unification when it comes to cultural values. Making the town a real gem in the Iberian Peninsula.
There is an abundance of allure present in the city that always brings a surprise to visitors. Followed by pursuing a sense of motivation for others into expressing and manifesting their inner artist.
Works Cited
Koteron, Ibon Airea. 2006
Lucies, Lex Magna Canta. 2004
Miguel, Tomas San El Bertsolari. 1995
Miguel, Tomas San Zaldi Dantza. 1995
The Comparsa of Giants and Bigheads on Sanfermin – Sanfermin.com
Pamplona Festivals (whatpamplona.com)
Historical Monuments in Navarra (minube.net)
THE 10 BEST Sights & Historical Landmarks in Pamplona – Tripadvisor
Top Places to Visit in Navarra (theculturetrip.com)