Darwin is the fascinating capital city of the Australian state of the Northern Territory, as well as the gateway to many of Northern Australia's most beautiful outback scenes. Darwin is a very different city, with residents traveling from all over the world to live there. This is reflected in Darwin's cuisine and culture. Darwin is a fantastic city to visit while in Australia, and you won't be disappointed by its tropical splendor!
From Aboriginal cultures to the luxury lifestyle, from counting butterflies to exhibits of crocodiles, eat your way through the local delicacies or "make a splash" at the Aquapark, from military bunkers to biking trails and tourist attractions to sunset watching spaces. This city has it all! Planning a trip to Darwin but don't know what to do, where to go? For your ease, here is a comprehensive list of the Top 15 things to do in Darwin to help you plan your trip.
Things to do in Darwin, Australia
Feel the fun at Darwin Waterfront precinct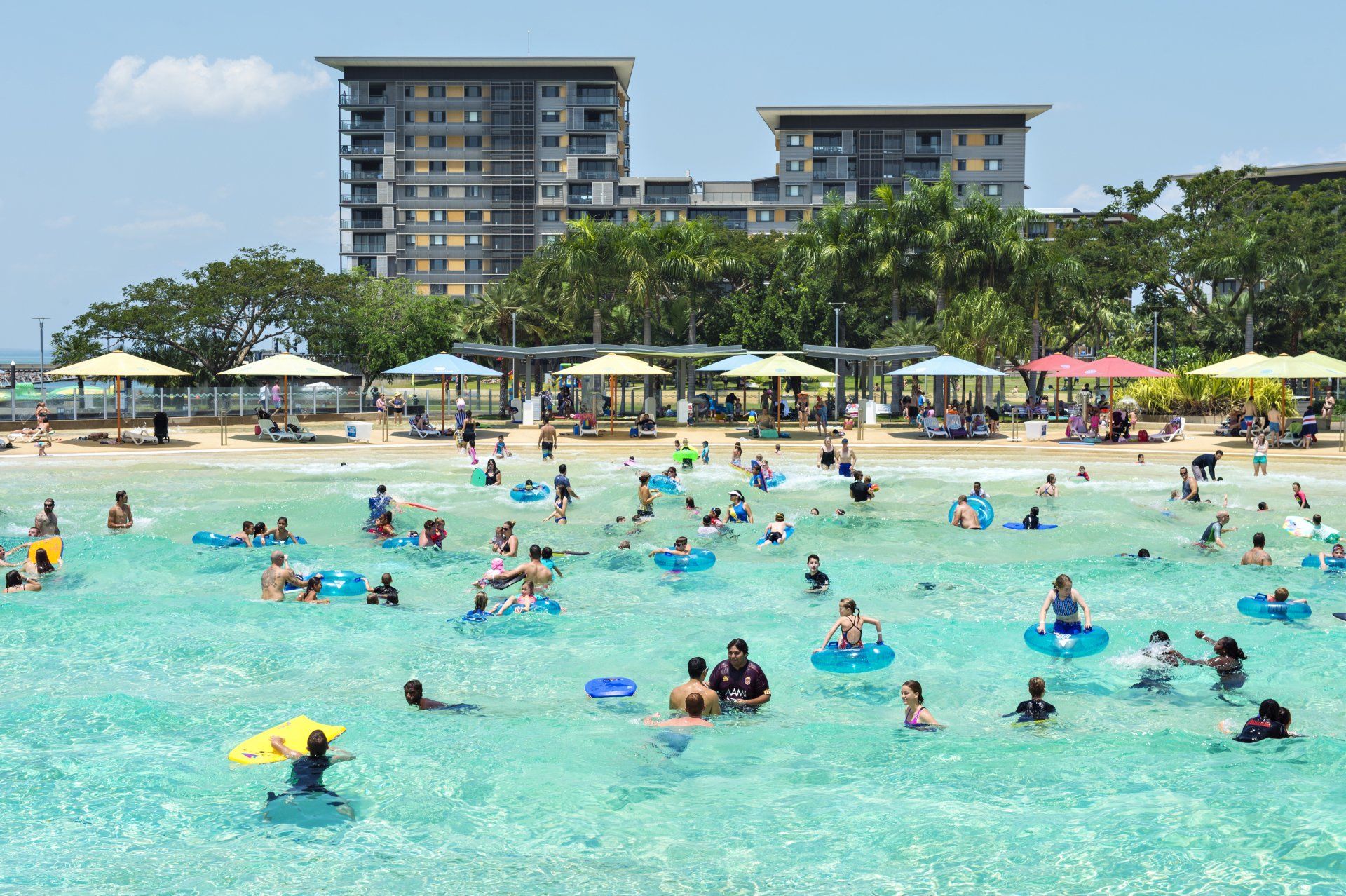 Ride the tides at Wave lagoon; Enjoy 10 patterns of tides with boogie boards and tubes from modest ripples to 1.2m high surges. Smaller kids can play in the shallow waters and the deepest depth is down to 2 meters or lower. Take a dip in Recreation lagoon. Segregated by a sea wall from the Darwin harbor segregated with protective nets to stop the entry of stingers, the recreational lagoon offers free entry for diving in the area. Play around at Aquapark. Best for an outdoor recreational activity with family, have fun playing interesting games on the inflatable Aquapark!
Fun times at Mindil Beach sunset market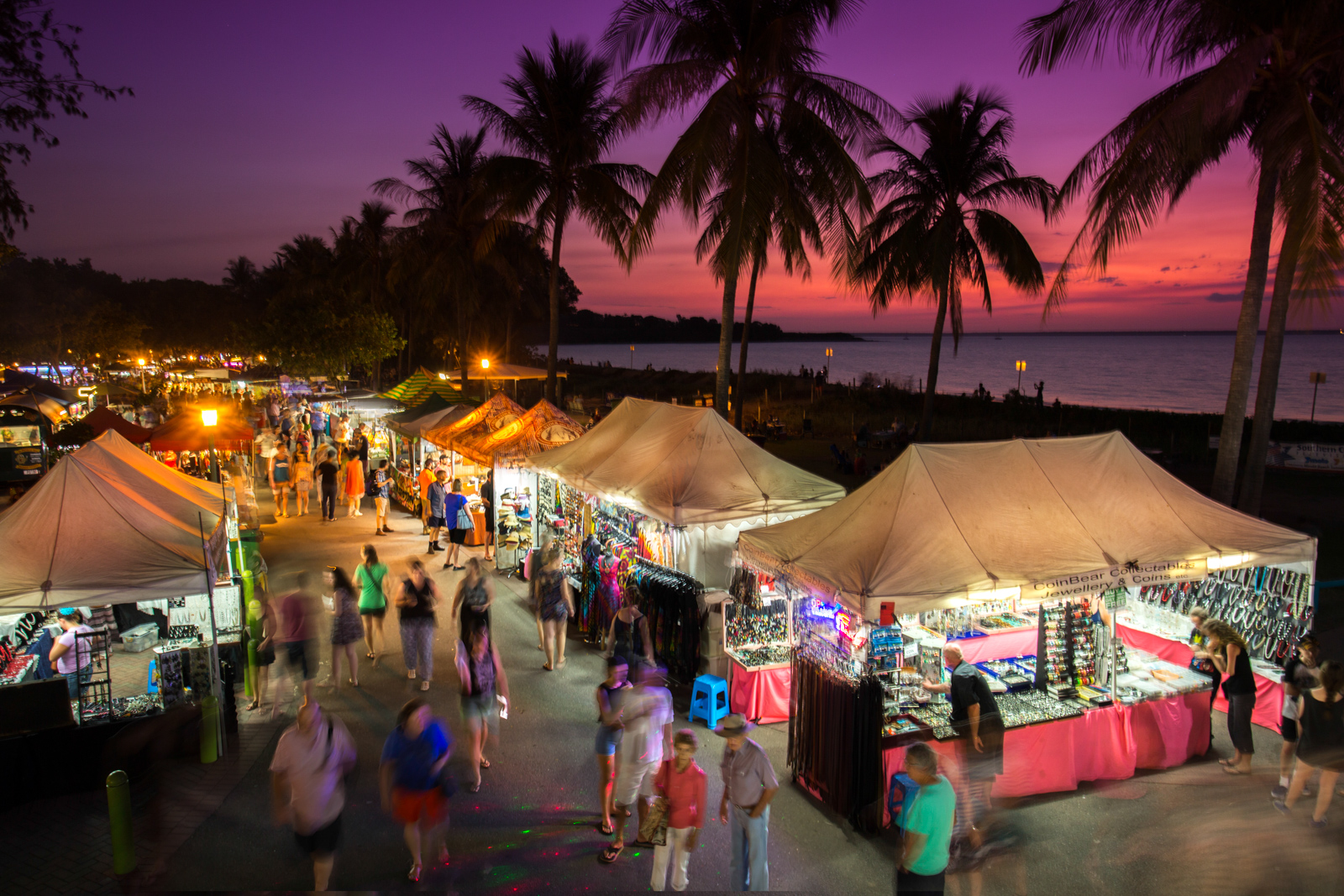 Eat your way through food stalls ranging from local specialties of kangaroo and crocodiles to global delicacies and treats. Browse through the art and craft stalls. Want to buy a souvenir? Have a look through the various indigenous and international arts and crafts stalls. There is always something for everyone! Enjoy a massage or have your fortune read!; There is more to the market than eating and shopping. Enjoy a relaxing massage or have your fortune read or find a tailor, perhaps a leatherworker? There is a myriad of services accessible to be checked out.
Picnic dinner and sensational sunset; grab your group of folks and have a picnic at the beach, or maybe you're more the VIP lounge kind of person. Either way, you get to enjoy a spectacular sunset for free anyway.
Luxury life at Mindil beach casino resort, Darwin Australia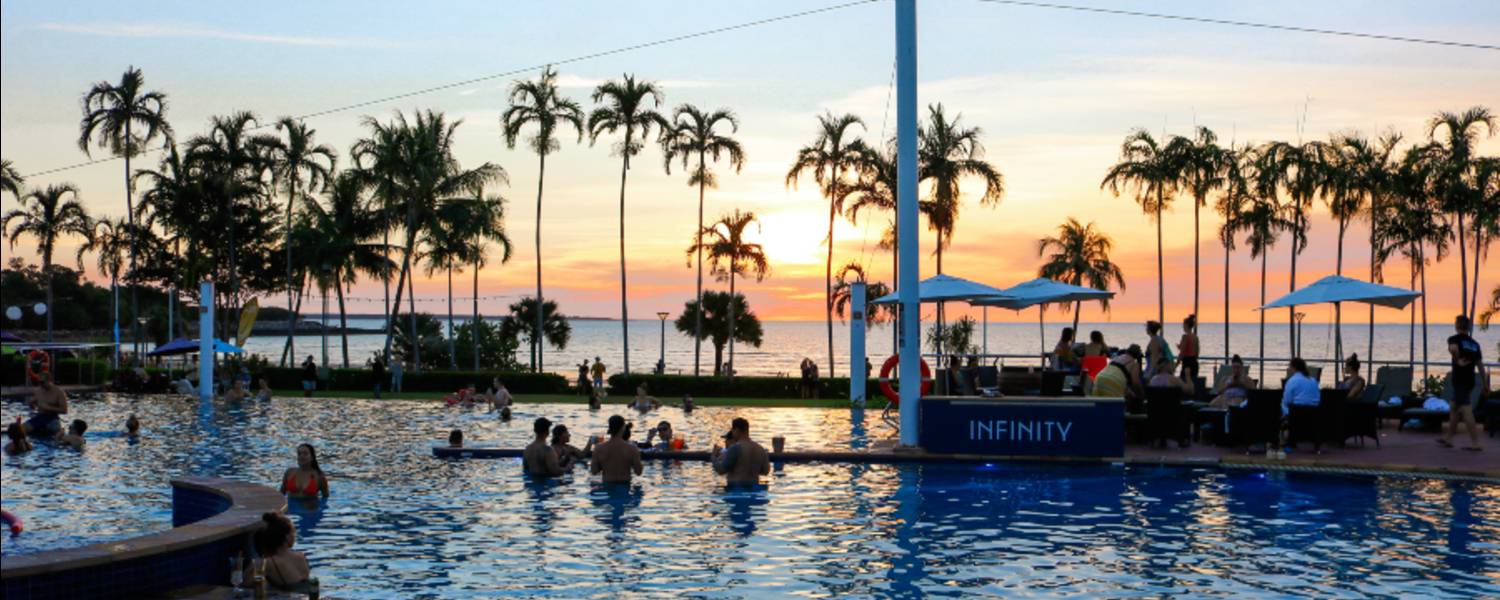 "Luxury living"; experience the luxury of the 5-star casino resort, play to your heart's content. If you want to spend your holidays like royalty, Just. Visit. Once. Have a conference to hold? Worry not!; Just because it's primarily a casino does not mean it lacks other functions. There are super deluxe luxury spaces where you can hold your events and conferences if you wish to. Ultimate casino experience. Ultimately, this place is famed for its casino and the fact that it's at a beach is the icing on the cake! From Monday to Sunday, 10 am to 4 am, more than 600 gaming machines stay open. Whatever game you wish to play, you can bet it's there.
Enjoy the outdoors at Stokes hill wharf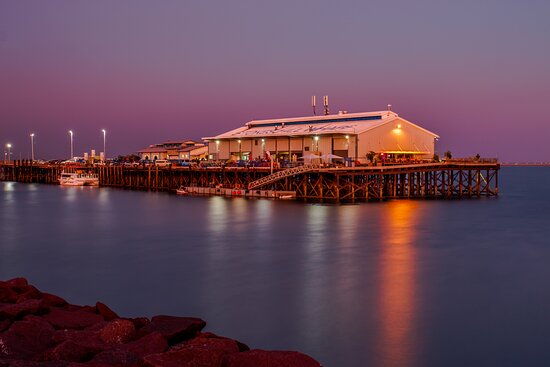 Go on a picnic; the friendly atmosphere at the stone's hill wharf is an ideal destination for a get-together with friends, to spend a holiday on a picnic. Do you like to fish? If fishing is what you have on your mind, then why not? Some recreational activities are fun anywhere in the world. So, grab your tools and get fishing! Tours & Cruises. In Darwin harbor, you can buy tickets to a tour around the area or join a cruise maybe? Enjoy your time as you like, watching the beautiful scenic atmosphere.
A casual wine & dine if you feel yourself getting hungry, grab a bite and perhaps a drink too. There are bars, cafes, restaurants easily available in the area.
Adventure at Crocosaurus Cove, Darwin Australia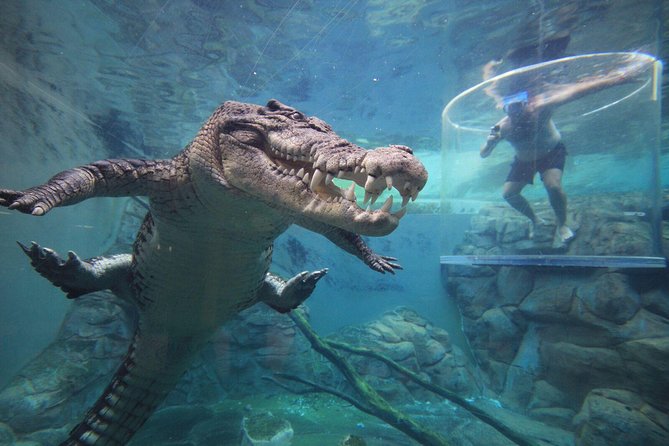 Ever seen a reptile show?; the world's widest exhibit of Australian reptiles, up to 9 shows of reptiles per day, all in the center of Darwin city. Folks here are amazingly enthusiastic about showing off the various varieties of reptiles they have, just consider them Steven Ervin shows, but live! Introduction to the northern territory adventures; the spectacle accessible at the Crocosaurus Cove is in actuality a brief intro to the creatures you are likely to happen upon in the northern territory region.
Freeze your moments forever; let the team at the Cove help you out in capturing the best pose perfect picture with the critters, to show off to your friends!
Savor the sights at Bicentennial Park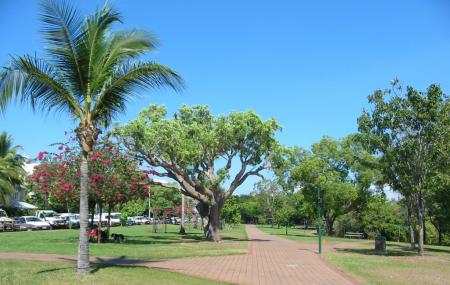 Events and Festivals. If you happen to visit Darwin during 5-22 August, then you must check out the Darwin festival held in the park. You will get to experience the outdoor cabarets to dance, music, drama, comedy, and cultural aspects of northern territory also. Monuments and Memorials; The martyrs of "the bombing of Darwin" have been given a home in this park with memorials and monuments devoted to them. You can learn about Australian history through them. Savor the sights. This is a good place to hang out with your friends in the evening, work out on the exercise equipment, and enjoy the sunset with a beautiful view overlooking Darwin harbor.
Museum and art gallery, Darwin Australia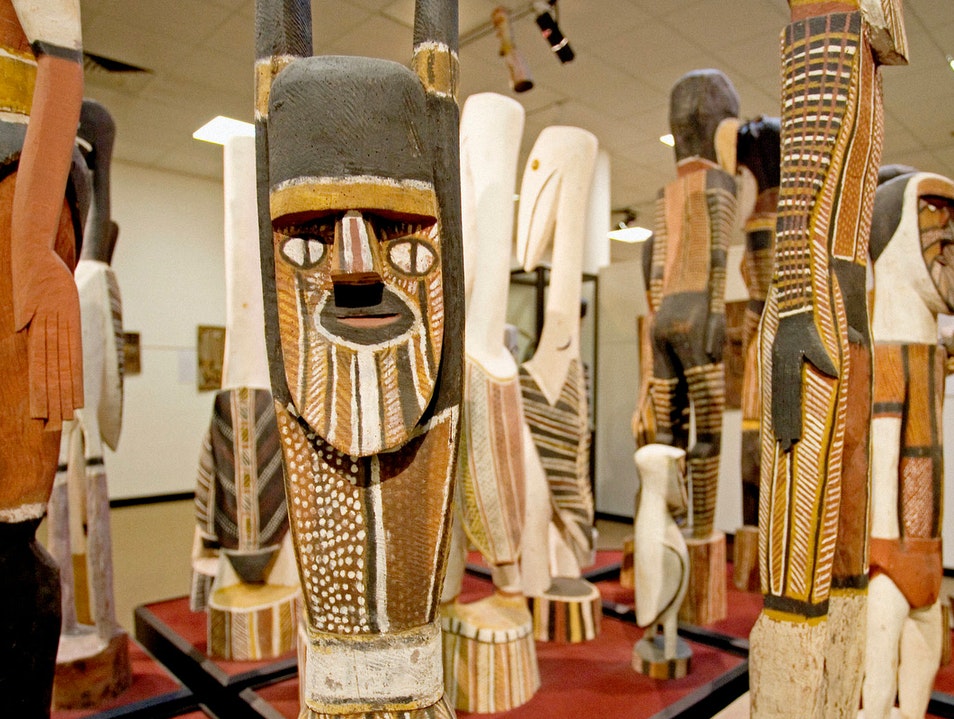 Do you want to know the Aboriginal people of the Northern Territory better? To know the history, culture, and science related to the territory, visiting MAGNT is a perfect choice. Check out the defense of the Darwin experience; It's a multimedia show and retelling of the history of Northern territory related to WW2, focusing around the 'bombing of Darwin'. Interested in art exhibitions?; The MAGNT art exhibition is comprised of more than 30,000 arts and crafts items to be enjoyed. If art is your thing, then this is the place to be!
Explore the Flora at the botanical garden in Darwin, Australia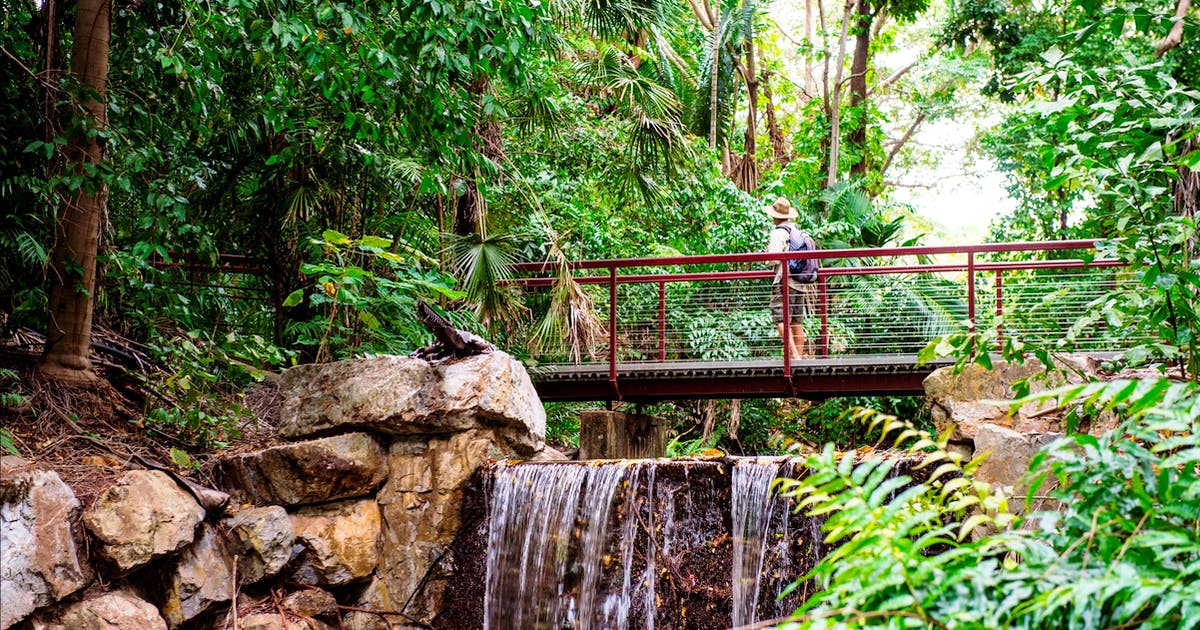 Are you tired of watching reptiles and crocodiles everywhere and would rather prefer spending your time with plants and flowers instead? Then let me introduce you to the George Brown Darwin botanical gardens! Stroll through the rainforest. If you've already checked out the information center of the facility, then take a walk through the rainforest and find that waterfall deep in the forest. It could be your little adventure! Count the Butterflies; do you have a kid with you? Or perhaps you might find your inner kid awakening when you find the various kinds of butterflies in the sensory garden.
Feeling famished?; Worry not, there are options available for you. Either has some coffee and cake at the Eva café or if you want some real food, try out the barbecue next to the lily pond. Alternatively, if you arrive with your folks, why not have a picnic on the lawn?
Local delicacies at Parap Village Market, Darwin, Australia!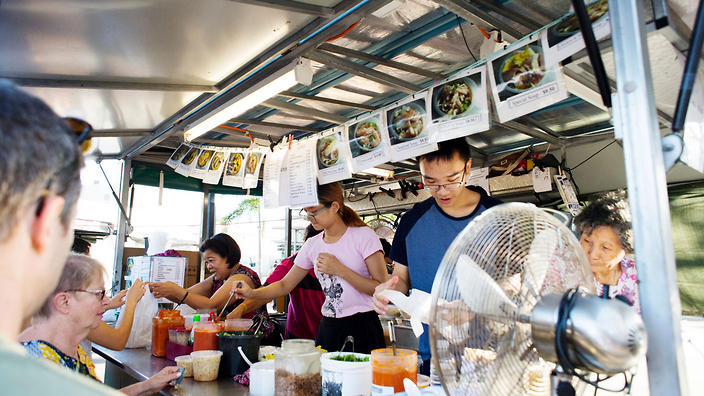 Parks and museums, you'll get to see everywhere you travel., but what it truly means to get to know a place is to mingle among the local communities. Have a fun time here at Parap village market, buying traditional art and craft souvenirs or taste-testing the local cuisine. There are many cool things to do in a place as lively as this! Discover the crafts of NT; Jewellery or clothing, beauty products to potted plants, custom crafts for you too, wander through the market to discover the traditional talents of Northern Territory artists, bring back a souvenir to remember the moment.
Taste-test the delicious dishes. If you get tired after walking around checking out the various crafts and shops, have a taste of the delicious and exotic local specialties. After all, you can't truly get to know a place unless you've checked out their food.
Learn the military history of Darwin, Australia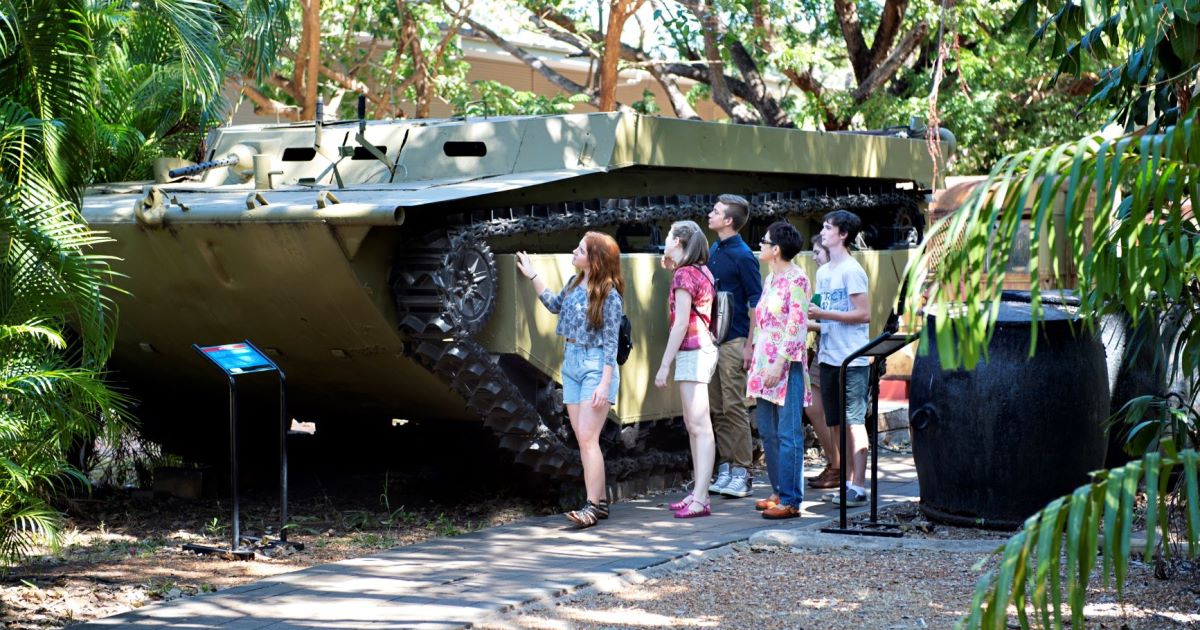 If you are interested in getting to know the military history of Darwin along with having a glance at the cool artifacts from the World War II era, then visiting the Darwin Military Museum should be on your to-do list. Initially meant to be an artillery museum, the collection now comprises items from not only the war but the Australian navy and Air Force, Australian and various combat forces of different nationalities, in the growing Darwin military museum. This museum contains gun turrets used in 1942 and is dedicated to recollecting the artifacts related to events such as "the bombing of Darwin".
Relive your childhood at the Aquarium!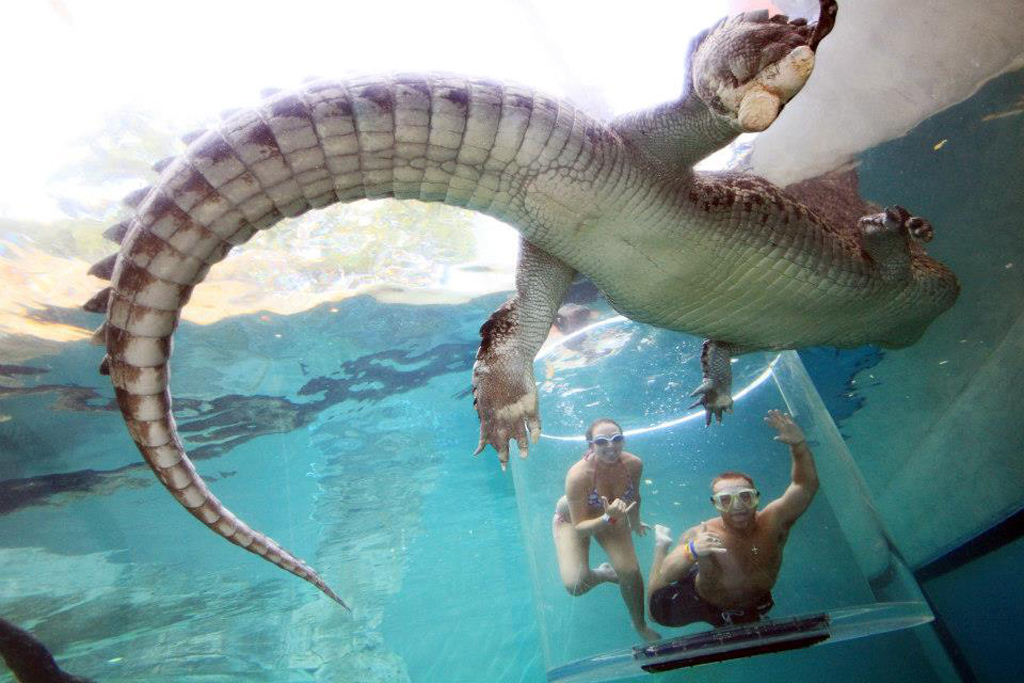 Are you one of those people who always wanted to go to an aquarium but never had the chance to? Well, now is the chance to correct that. Explore the exhibition of Indo Pacific Marine Aquarium and relive your childhood dreams! Coral Reef by Night; Get lost in the show of beautiful bioluminescent marine life, with a tour of the impressive aquarium and a dinner comprised of seafood. Get the immersive experience of the Indo-pacific marine exhibition. Come alone or take a partner. It will be a night worth remembering, all the same.
Do you like aviation crafts and engines?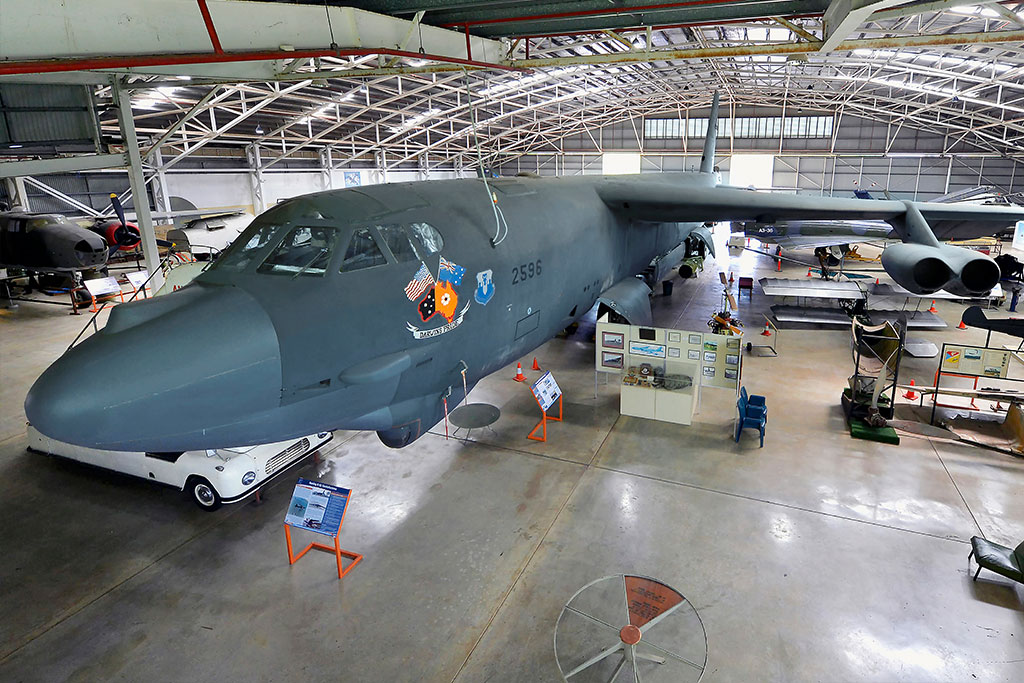 For those that either come from a military background or find themselves fascinated with military equipment and history,  is a well-known site with a wide array of aviation-related items to be displayed. Boeing-52G-Bomber. If you like watching air force craft, this ancient piece of brilliant art might catch your attention. Check out the Bomber from WW2, along with a fragment of a bomb from the "bombing of Darwin".
Aircraft and Aircraft Engines; from Auster J/5P Autocar to Westland Wessex HAS.31B N7-202, from Allison J33 to Wright R-2600-13 Twin Cyclone. The famous Aviation Museum has it all. Feast your eyes on these Aircraft and Aircraft engines related to the Northern Territory military history.
Test your cycling skills at Charles Darwin National Park!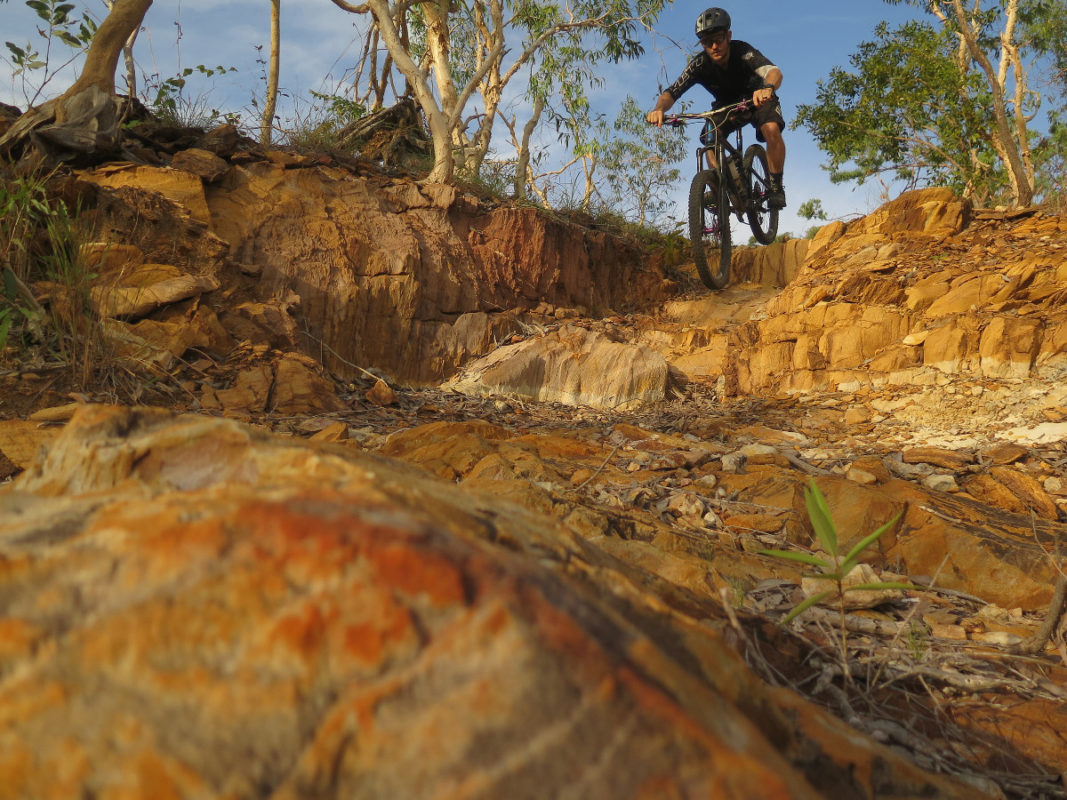 Unlike other sites of similar nature, this NP is famously known for its concrete bunkers dating back to WW2. To make it more exciting for you, one of those is changed into memorabilia, where visitors are allowed to visit. Do your interests lie in mountain biking? Then this is the perfect place to test your skills and challenge the difficult trail known as 'spitfire'. Bike trails in this national park are a major attraction for biking enthusiasts. You can choose to try out a simple biking trail or a difficult one too.
Charles Darwin National Park is not only known for the best network of bike trails in Darwin or various historical sites dating back to WW2 found in the park, but also for its beautiful view of the landscape.
Explore the Majestic Australian coastlines at Darwin, Australia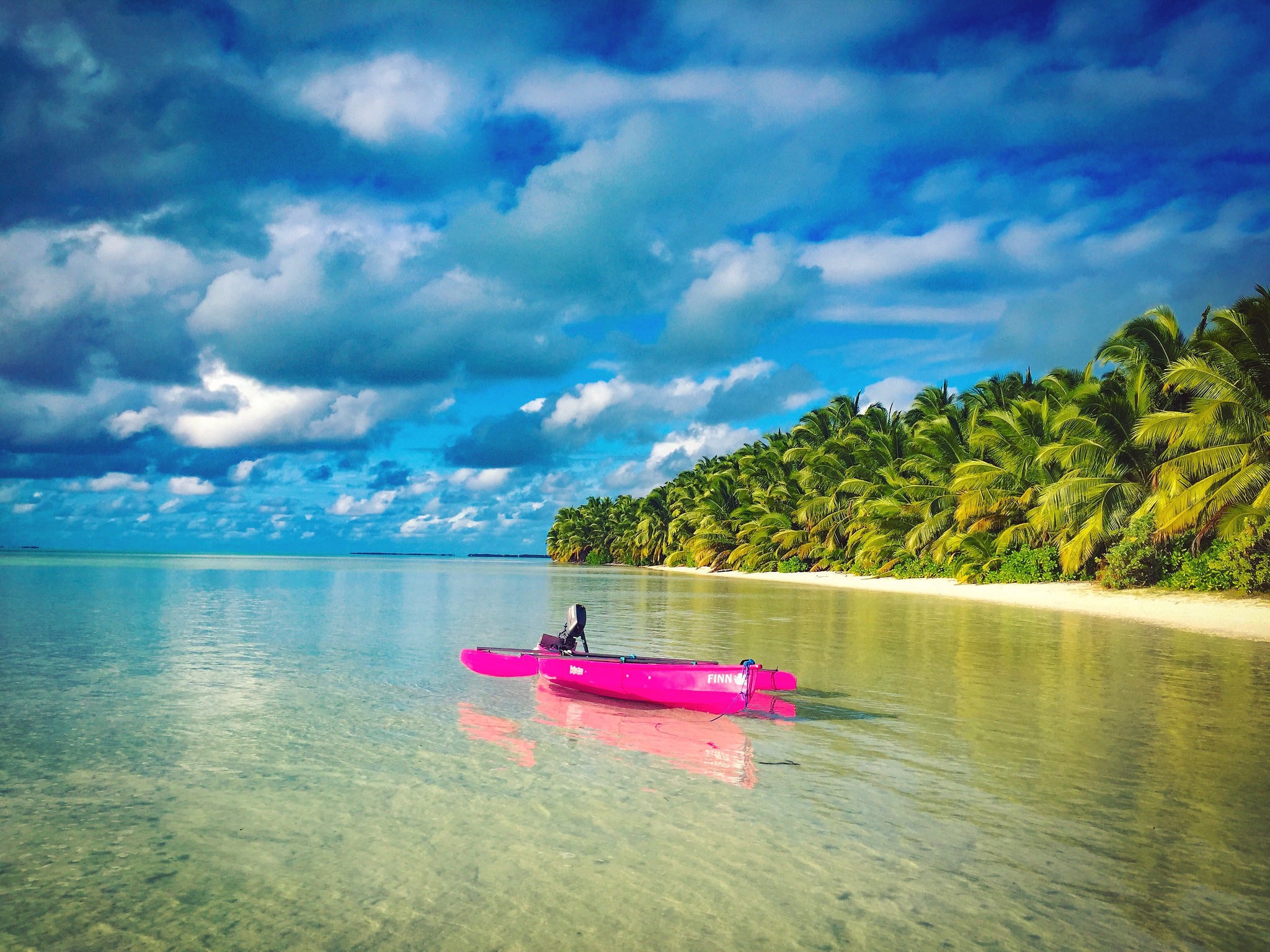 Tours, cruises, and boats. Who wouldn't love to enjoy a trip with your friends on a cruise? The waters surrounding Darwin may be full of deadly jellyfish and crocodiles, but that is why technology is for, right? Enjoy the tour of the coastlines with your gang or alone. There is nothing quite like exploring a possibly dangerous landscape from the safety of your cruise. That is how you define a true traveling adventure after all. Let go of the tension in your shoulders and just have fun sightseeing with other guests, enjoying the dinner and entertainment aboard the cruise in the backdrop of a marvelous sunset.
Is Darwin named after Charles Darwin?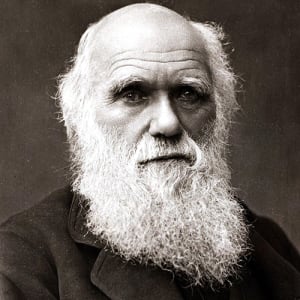 The short answer is yes. However, Charles Darwin never actually visited Darwin, Australia. In 1839, Lt Stokes of the HMS Beagle named the harbor after Charles Darwin. The settlement was named Palmerston in 1869. However, in 1911, it was renamed after Charles Darwin to Darwin as it is today.
Afterword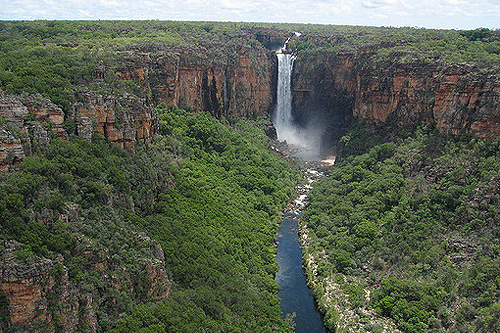 Did you have fun visiting various places, national parks, museums, and aquariums around the city? Now it's time to take a tour of the whole city itself, get a ticket for the double-decker tour bus, at various stops at two places you might have missed to visit, let your legs relax a bit, enjoy the atmosphere of excitement with other tourists.
Comfortable climate
The topographical area of Darwin, Australia, makes for a very muggy environment. The temperature seldom dips under 30 degrees and it is basically hot all the time. Be that as it may, there are two unmistakable seasons, the wet and the dry seasons. During the wet season, it can rain consistently, and that isn't normally the way in which you need to spend your vacation. Subsequently, it is wagered to visit in the months between May and October. This is the point at which the climate is great and intriguing occasions are going on consistently. For example, the Darwin Street Art Festival and the Mindil Beach Sunset Markets.
Ask about the tour guide and make arrangements to stop at places that may be hidden gems, or perhaps someplace that you might enjoy yourself more than the popular ones. Even if you picked a random direction, this city is so overflowing with tourist spots that you might tire before the end of the attractions, but the above listed are some attractions that are a must-visit.
Go on now. Have some fun!