Australia has a wealth of natural wonders to explore, but its island holiday locations are some of the most stunning. So if an island beach vacation is your next ideal trip, Australia is the place to look. The climate in Australia ranges from tropical, sub-tropical to mild and even much colder temperatures. Therefore, whatever island getaway you may be envisioning, chances are Australia has something to offer.
The islands of Australia feature amazing white sand beaches and offer the perfect opportunity to lay back and truly relax. In addition, you will see amazing national parks, coral reefs, and wildlife that you cannot spot anywhere else.
You will also have a chance to dive into the local culture truly. Also, every island offers a unique and essential opportunity to learn about Indigenous culture.
Another upside to the Australian islands is that they are a reliable destination. Despite a short wet or rainy season, primarily in February, the climate is generally dry and warm all year round. This means that just about any time of the year is going to guarantee great weather.
Most of the islands in this list are also easily accessible by ferry or plane from the mainland.
Lord Howe Island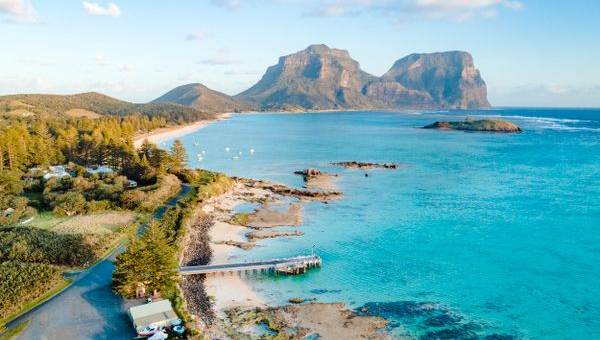 Lord Howe Island is truly paradise. Yet, despite its exceptional beauty, this island is largely untouched. This is in part because it is only accessible by seaplane. Also, the island itself is protected and limits the number of holiday visitors to only 400 at a time.  This tropical paradise is currently home to only 350 germinant residents. 
Lord Howe has become more widely known as the action-thriller film The Shallows was filmed there. The film helped promote the island's stunning beaches and lush, tropical environment.
Lord Howe Island is a tiny Australian island in the Tasman Sea east of Port Macquarie. The island has white sandy beaches, subtropical forests, and clear blue waters. A trail winds up to Mount Gower in the south, with incredible views. Ned's Beach in the north has calm fish- and coral-rich waters.
Lord Howe Island's pristine waters are a unique mix of warm tropical and extraordinary temperate ocean currents. As a result, it is home to over 450 fish species and 90 species of coral, many of which only occur here.
The Lord Howe Island Marine Park is one of the best diving spots globally, with more than 60 dive sites and many that remain undiscovered. The underwater world around Ball's Pyramid, the world's tallest sea stack, is home to a unique coral community with giant fan corals. Additionally, there are rare Spanish dancers and the rare and protected Ballina angelfish.
Fitzroy Island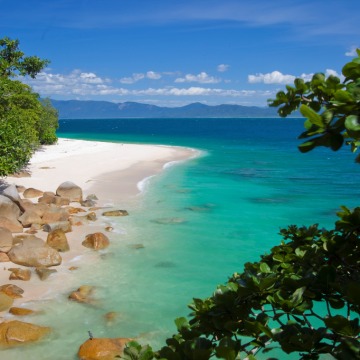 Fitzroy Island is a pristine coral island surrounded by a fringing reef 29 km from Cairns. It is a tropical paradise in Australia's Great Barrier Reef. It takes about 45 minutes to get out there, and as soon as you arrive, it's clear you have found an island paradise. The turquoise waters sparkle, the beach is impossibly white, and the hill rising behind the beach in the island's center is covered in pristine rainforest.
There are not a lot of activities to do in Fitzroy. However, this makes it such a perfectly lazy and relaxing island holiday spot. You will spend most of your time here swimming and snorkeling. The Barrier Reef is globally famous for its fantastic coral. It is also home to an incredibly diverse array of wildlife. As a result, you may see turtles, fish, and even reef sharks and stingrays. Additionally, there are many native birds on the island.
There are also boat tours that will take you on day trips to other islands and beaches. If you are feeling up for an adventure, you can scuba dive or rent a kayak for the day.
Fraser Island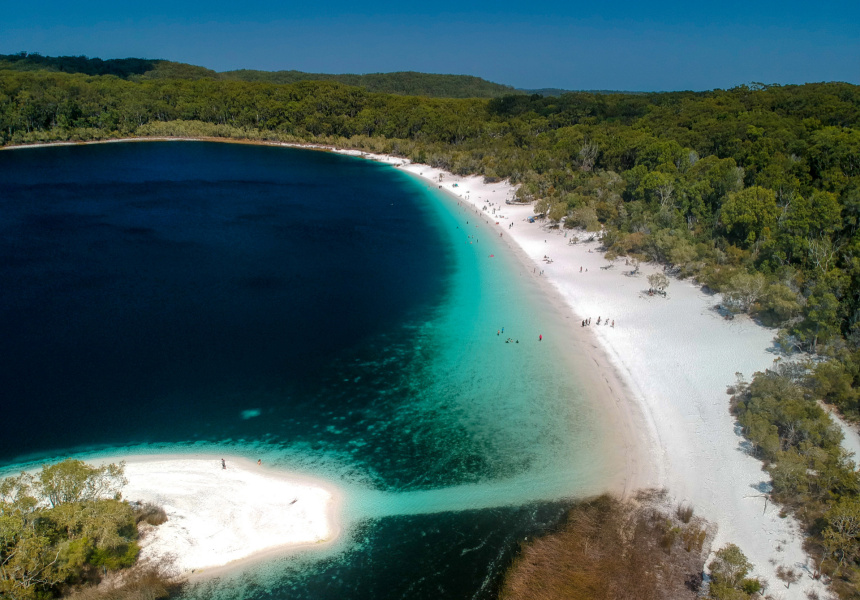 Fraser Island is a World-Heritage-listed island along the south-eastern coast in the Wide Bay–Burnett region, Queensland, Australia. The name K'gari is the Indigenous name in the Butchulla language, while Gari is the Indigenous name in the Badtjala language.
This spot is famous and heritage-listed for being the worlds' largest sand island. It is the only place on Earth where tall rainforests grow on sand dunes at more than 200 meters. Additionally, it also has half the world's perched lakes (lakes formed when depressions in dunes fill permanently with rainwater).
This is the perfect island holiday spot for a blend of relaxation and adventure. You can visit Lake McKenzie, a stunning pristine lake famous for its clarity and dark blue water on white sand. There is also a freshwater creek, Eli Creek. One of the island's top activities is to spend the day floating down Eli creek on an inflatable and enjoying the scenery. Fraser island also boats natural rock pools, surf and the Maheno shipwreck.
What makes the island truly unique is its beautiful wild dingos that roam free. These native Australian wild dog calls Fraser their home, and while it is not advised you get too close, they are also not dangerous. If you go during the right season, you may even see some migrating whales with their calfs.
Heron Island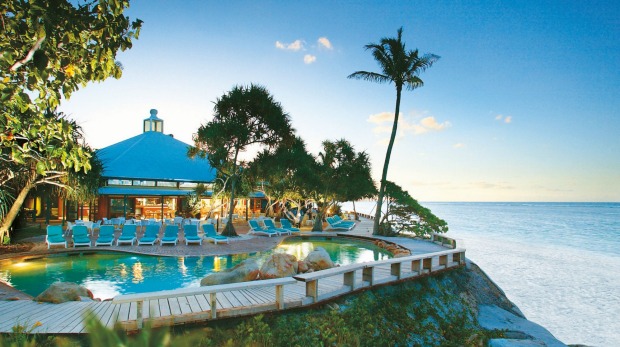 Visit one of Australia's most ecologically diverse and unique islands and is the perfect holiday location for nature lovers. Heron is another island located in the southern part of Australia's Barrier Reef, about 80 kilometers from Gladstone on the mainland.
Around 900 of the 1,500 fish species and 72% of the coral species in the Great Barrier Reef are found on Heron. Heron Island is also home to over 200,000 birds during the summer months, including Noddy Turns and Mutton Birds.
A typical swim just off the white shores of the beach will include stingrays, reef sharks, turtles, and a wide variety of fish. However, the reef sharks on the island are more like large fish as they are so used to people. You may also see turtles coming up to lay their eggs in the sand or even see baby turtles hatch and make their way to the water in the right season.
And of course, you can snorkel, scuba dive, or book a guided island tour with a knowledgeable guide. The guides will take you on reef walks at low tide to point out the wildlife amongst the rocks.
Penguin Island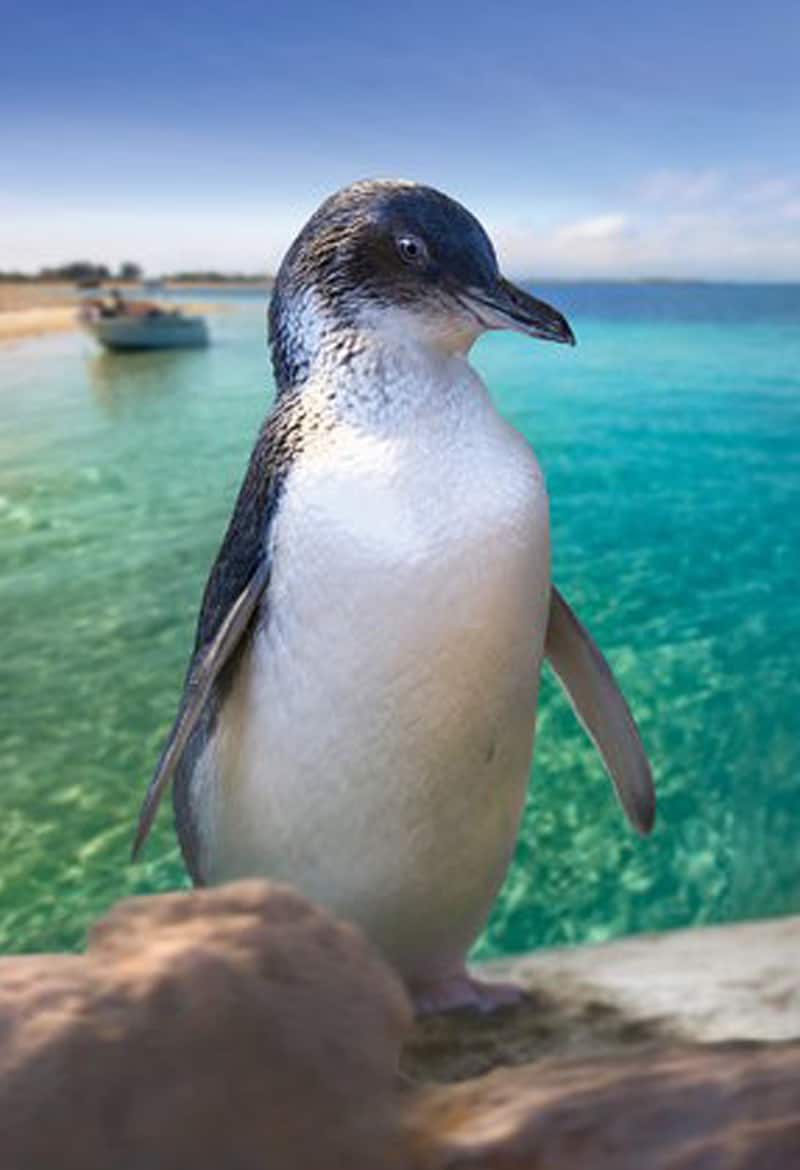 Penguin Island is just 30 minutes south of Perth and lies a five-minute ferry ride away in the heart of the ruggedly spectacular Shoalwater Islands Marine Park. The wildlife is the star attraction.
Here you will see dolphins, sea lions and of course, penguins. The Penguin Island Board Walk Trail is a 1.5km loop that takes you around the island, with a few different lookout points where you'll likely see birds, pelicans, and penguins perched. This unique island getaway is another excellent holiday location for animal and nature lovers.
Kangaroo Island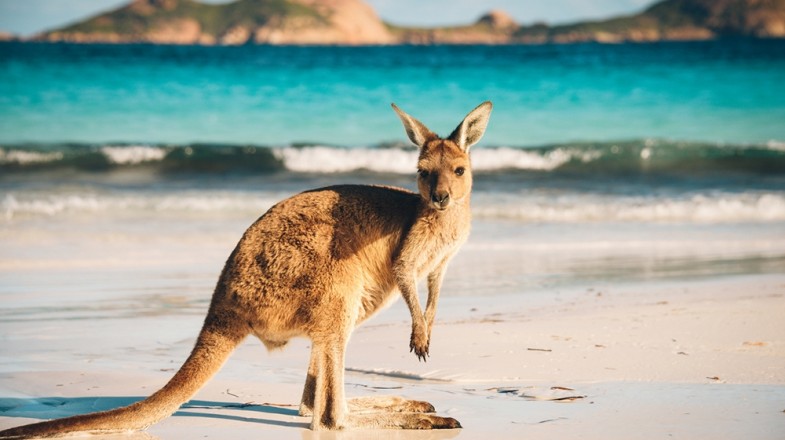 Kangaroo Island is one of South Australia's most popular tourist attractions, attracting over 140,000 visitors each year, with international visitors, primarily from Europe. Located off the coast of South Australia, it is filled with National Parks and beaches. And, of course, roaming these parks are thousands of wild kangaroos. So, not surprisingly, this is a prime location for tourists to come and get as close as possible to Australia's national animals.
Not only is it a great island holiday for kangaroo spotting, but the scenery itself is beautiful and quintessentially South Australian.
Visitors can wander among the sea-lion colony at Seal Bay, go sand-duning at Little Sahara and swim with dolphins on the stunning north coast. Additionally, you may see some koalas if you are lucky and have a good eye.
Kangaroo Island is a destination with equal opportunity for natural beauty, beaches, food, and wine. There are wineries to visit in Kingscote, Cygnet River, and the Dudley Peninsula. There's also an award-winning gin distillery, a brewery, and fabulous dining at cafes and restaurants showcasing fine ingredients made by the island's small-scale producers.
Rottnest Island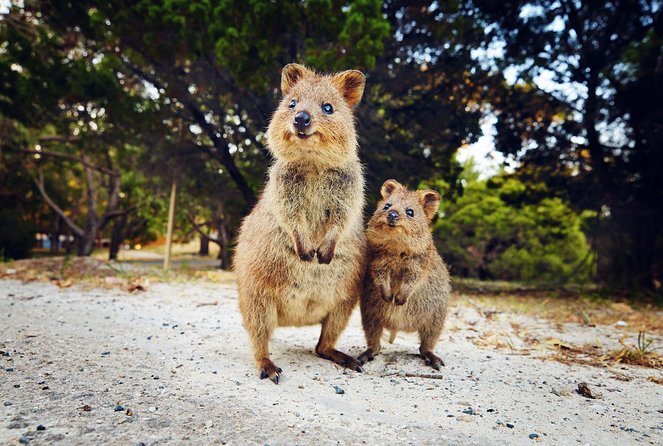 This unique island in West Australia is home to the famous Quokka. This protected nature reserve boasts an abundance of unique flora and fauna, including spectacular marine life. Discover rich cultural heritage, explore numerous beaches and bays, swim and snorkel in pristine waters.
However, perhaps the most popular activity on Rottnest is the opportunity to take a photo with a Quokka. Named the happiest creatures on earth due to their permanent smile, these cute little creatures are very used to humans. As a result, they will often allow you close enough to take a selfie and may even smile into the camera.
Additionally, Western Australia is famous for having some of Australia's most incredible and pristine beaches. Rottnest boasts 63 beaches to choose from, each with crystal clear water. It is an ideal location for snorkeling, surfing, and simply relaxing.
An absolute must when on the island is to attend a talk by one of the Indigenous guides of the area. Known as the Noongar people, they have a rich and long history on the island. Many spots on Rottnest are sacred and significant to them. The best way to take in this fantastic history is through a walking tour.
Whitsunday Islands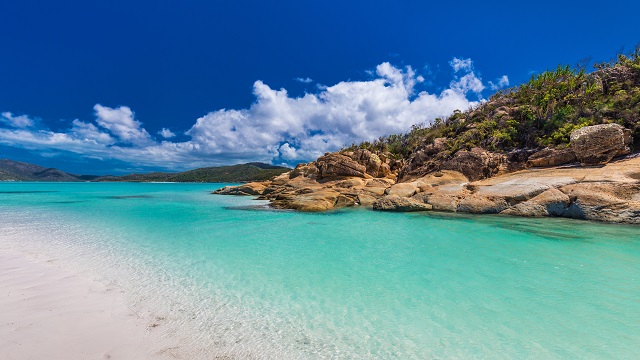 The 74 Whitsunday Islands lie between the northeast coast of Queensland, Australia, and the Great Barrier Reef, a massive stretch of coral teeming with marine life. Most of the islands are uninhabited. They feature dense rainforests, hiking trails, and white sand beaches. The Whitsundays are the most popular and famous island group within the Barrier Reef.
The most popular Whitsunday island group are Hamilton, Daydream, and Hayman Island, which are ideal holiday spots. The islands feature multiple resorts that offer either basic or 5-star accommodation. The Whitsunday islands is where you should go to drink cocktails in a hammock. They feature flat, waveless tropical beaches that are ideal for swimming.
These islands are where you should base yourself if you would like to see iconic Australian tourist destinations. For example, the famous heart-shaped coral reef formation and Whitehaven beach.
The clear, protected waters around the island's secluded beaches and hidden bays are ideal for sailing, snorkeling, diving, and swimming.
Norfolk Island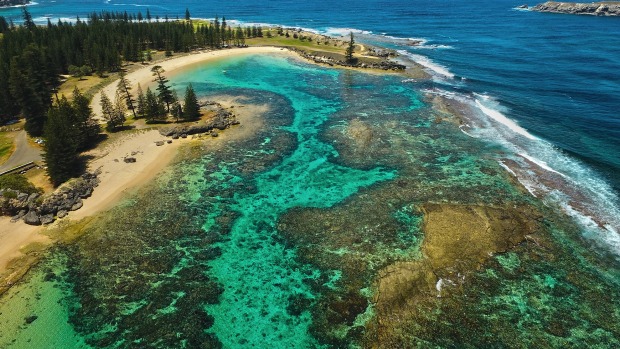 Norfolk Island is not only visually stunning but is also culturally unique. It is officially the Territory of Norfolk Island.
The island's population includes the descendants of mutineers from the HMS Bounty who were transferred from Pitcairn Island in 1856. Additionally, they are descendants of later settlers, mainly from Australia and New Zealand. Nearly half of the present population may claim lineal descent from the Pitcairners. Some one-third of the population was born on the Australian mainland and about one-fifth in New Zealand. A strong blend of Polynesian and European heritage has created a distinctive society characterized by neighborliness, self-help, and barter. Immigration is now strictly controlled.
No trip to the island is complete without visits to the Bounty Folk Museum and the award-winning Fletchers Mutiny Cyclorama. There is also no shortage of museums, galleries, and heritage-listed buildings.
Norfolk Island offers amazing beaches. But what truly makes the island special is its unique history, which makes for a memorable holiday. There are lots of activities, restaurants, and bars to frequent with local food. As Norfolk is a residential island, there is a lot to offer for your holiday, including supermarkets, shops, day spas, tours, and cinemas.
Tangalooma Island
Tangalooma has something extraordinary to offer – the opportunity to swim with hand-feeding-friendly dolphins. For years, the locals and visitors have been feeding fish to the dolphins in the area. However, the dolphins are so comfortable with humans they will swim right up into the shallow water and take a fish directly from your hand. If you are lucky, they will even have a playful swim with you.
However, dolphins are not the only wildlife you can hand fe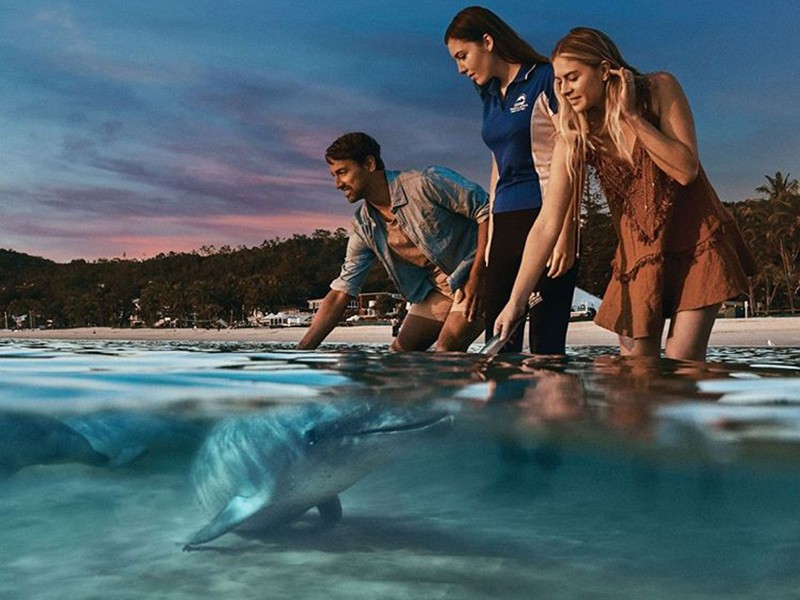 ed. The pelicans and kookaburras are also friendly and can be hand-fed at certain times, especially if you book a nature walk.
There are plenty of different resorts, villas, and accommodation offers. Tangalooma has a relaxed and casual feel that is quintessentially Queensland. Australia's northern states are famous for their slow pace, relaxed attitudes and casualness. The only time you need to keep track of on Tangalooma is when the dolphins are ready for dinner.
Conclusion
Australia is an ecologically and environmentally diverse continent. The advantage of visiting the country's islands is that they act as microcosms of Australian culture and wildlife. It just so happens that the country boasts some of the best beaches in the world and unique coral reefs.
A visit to any island destination will be not only a relaxing tropical or sub-tropical holiday, but also a window into the culture and history of the area.
These islands offer an all-round amazing experience in terms of wildlife, beaches, culture and atmosphere.