Naples is a major Italian city located in the South of the country, in the Province of Caserta.  While it has long been considered a dangerous city, rife with black market activities, theft, and poverty, Naples has a number of notable qualities that should not go unnoticed.  As in any foreign place, tourists should use caution, keep their personal belongings with them at all times, and be aware of their surroundings, but Naples is far from dangerous.  In fact, it is a beautiful city that is worth visiting the next time you plan a trip to Europe.
The coast of Naples.  The entire region of Caserta is stunning, but the Neapolitan coastline is truly breathtaking. https://www.azamara.com/
In the Roman Catholic tradition, the coastline often is depicted in the naivety scene of Jesus Christ of Nazareth.  During Christmas, a major Catholic holiday in which the birth of Christ is celebrated, Italians recreate the nativity scene using model homes and figures that emulate Italian towns and villages like Naples.  https://www.pinterest.ca
Top Places to Visit in Naples and Why
Royal Palace of Naples: Palazzo Reale
The Palace of Naples is a stunning location adorned with some of the finest artistic expressions in architecture, sculpture, and fresco. It was designed by Domenico Fontaine (1543–1607).  For over three centuries, the place was the monarchical centre of the Kingdom of Naples (1282 -1816), ruling over most of Southern Italy.  https://anamericaninrome.com
A wing of the palace with a religious alter.  Notice the ornamental, golden structures.  To the far left is a large nativity scene. https://www.pinterest.com.au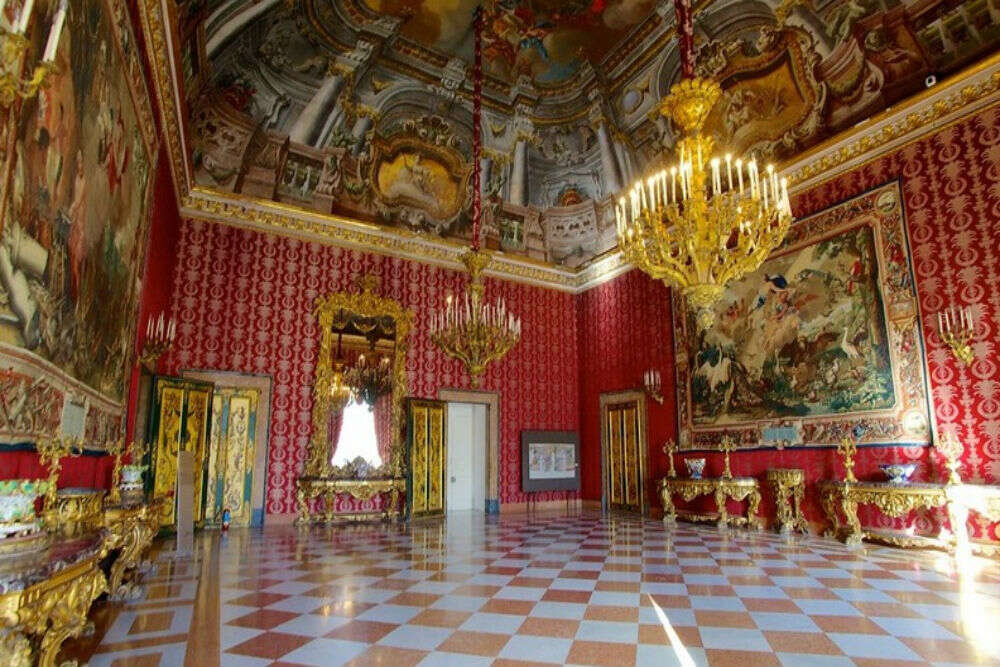 Another room in the palace.  The golden structures represent wealth and prestige.  The rich, red coloured theme is also a symbol of strength and regality.  Notice the detailed ceiling artwork.  Known as s fresco, this type of art is common to Italian indoor architecture and often depicts religious scenes. https://timesofindia.indiatimes.com
Spanish Quarter: Quartieri Spagnoli
The Spanish Quarter is a cultural and residential district in the centre of Naples.  It it known for its narrow streets, where local residents often hang their clothing as depicted in this image.  https://commons.wikimedia.org
Another example of the tight streets in the Spanish Quarter. https://www.pinterest.co.uk
The streets of the Spanish Quarter are lined with artisanal shops, pizzerias, cafes, and sometimes, high-fashion clothing shops. https://www.pinterest.ca
Il Cuoppo Fried Fish and other Goodies
Credit: Tripadvisor

Il Cuoppo is a famous take-out dive in Naples.  Fried food is common in the city, especially fried fish dishes like octopus and squid since the city is so close to the sea. Other fried items include rice balls and fried potato balls.   

https://www.tripadvisor.com
Since the location of Il Cuoppo is so small, the food is prepped and fried upstairs, and the 'cups' are dropped down to the main level via a basket.  Other places serve 'cuoppo' food, but this location is definitely worth visiting. https://restaurantguru.com
Naples is known for its fried food, which actually originated with the Cholera outbreak in Italy 1884.  Locals learned that deep-frying food was the best way to make sure their food was not contaminated.  https://www.napolike.com
Ovo Castle
The castle is located just off of the Neapolitan peninsula on the island formerly known as 'Megaride.'  The castle acted as a fortress and prison throughout history. https://www.napolike.com
Piazza del Plebescito
Piazzas are located in all cities across Italy.  They are essentially town squares where people often come together, have coffee, and relax.  In most major cities, popular piazzas are lined with cafes and restaurants.  These places are usually 'touristy' and expensive.  It is best to venture into the city to discover restaurants serving more authentic and less pricey food. https://www.napolike.com
Located in the centre of Naples, near the Palazzo Reale, this piazza is a stunning architectural site.  If you visit it, make sure to try walking from one end of the piazza to another with your eyes closed.  Chances are, you will not be able to do so in a straight line because of the illusion created by the square space, but spherical  buildings around it. https://grancaffegambrinus.com
Veiled Christ Marble sculpture: Cappella Sansevero
The sculpture of veiled Jesus was completed in 1753 by Giuseppe Sanmartino.  It is a true masterpiece.  Even the 'sheet' placed over Jesus' body is made of marble.  The delicate and detailed work is truly a must-see. https://www.theartpostblog.com
A close-up photo of the remarkable detailed marble work. https://www.italianways.com
The chapel in which the sculpture is located is also stunning.  The ceiling frescos, marble arched doorways, and sculptures of cherubs lining the walls are breathtaking.  https://www.tripadvisor.ca
Another view of the chapel, with the sculpture of a veiled Jesus in the centre. https://www.museosansevero.it
Fun fact: make sure you venture into the basement of the chapel.  You will find these two 'anatomical machines.'  They are remarkable reproductions of the human circulatory system.  The bones are real, but all the other veins and arteries are hand-constructed.  The creator of the work is not known, nor are historians sure whose bones are on display.  Yet, the accuracy depicted is noteworthy, especially since these models date to sometime in the 1700s. https://www.amusingplanet.com
Crypta Neopolitana, Posillipo: Gulf of Naples
The Crypta is a famous series of underground tunnels leading to huge villa remains in Posillipos, which is an island on the Gulf of Naples.  The tunnels are so long that you can travel from mainland Naples to the island through them.  According to historians, during times of war and conflict, emperors and other elites would flee to the island and hideout in their lavish villas until the unrest ended and they could return to Naples in safety.  https://en.wikipedia.org
An image from inside the tunnel.  If you visit, be sure to bring a sweater.  Even in the 40 degree celsius Italian summers, these entrenched tunnels are so well-insulated that very little heat penetrates their walls. http://solis.darkpassage.com
Ischia: Gulf of Naples
Ischia is a stunning island on the Gulf of Naples.  It is a common vacation spot for locals and is definitely worth visiting. https://www.fodors.com
Aside from its beautiful beaches, Ischia also has many geothermal baths and spas.  https://www.forbes.com
Umberto Galleria: Shopping Mall
The Galleria is a shopping mall with trendy, high-end fashion shops.  It is known for its stunning indoor architecture and dome-like glass ceiling. https://www.booking.com
A close-up image of the dome, glass ceiling of the Galleria.  On a sunny day, the light shines through the ceiling and casts shadows across the entire space. https://www.italymagazine.com
A photo of the Galleria at night, during the holiday season. https://www.flickr.com/photos
The exterior of the Galleria.  Once again, the architecture and details are absolutely breathtaking. https://www.booking.com
Capri: Gulf of Naples
Like Ischia, Capri is an island off the coast of Naples.  It is an idyllic town with colourful homes and resort-style chalets. https://www.luxurytraveladvisor.com
Capri is famous for its boat tours of 'grottos,' or underwater caves.  Be sure to do your research before booking a boat tour.  Capri is notoriously expensive and very 'touristy,' though it is still worth visiting.  https://www.viator.com
Food you must try in Naples
Neopolitan Pizza
Neapolitan pizza is unique for its simplicity.  You can always try different toppings, but a classic order is a simple Margherita. It consists of a thin crust, a sweet tomato sauce, authentic buffalo mozarella, and some basil.  The dough is typically just a mixture of kneaded water, flour, yeast, and salt.  The pizzas are traditionally cooked in wood-fired ovens and only take about two minutes before they are served fresh.  Be sure to come with an appetite because these pizzas are served whole, not in slices! https://www.italiarail.com
Neapolitan pizzas can also be served with fior di latte cheese.  Definitely opt for this if you like am extra gooey and creamy cheese.  Mozzarella is a classic, but you will not regret trying this. https://www.reddit.com
Sfogliatelle
There is not much more to ask for than flaky layers of dough stuffed with ricotta, custard, or Nutella.  Sfogliatelle are a traditional breakfast food or dessert.  They are best served hot and with a dusting of icing sugar overtop. https://www.italianways.com
Sfogliatelle with custard.  Typically, Italian custard is made by brining boil milk to a boil, then adding egg yolks, sugar, and lemon or vanilla for flavouring.  https://www.this-is-italy.com
Sfogliatelle with ricotta, which is a cheese commonly used in sweet and savoury Italian dishes.  https://stock.adobe.com
Sfogliatelle with Nutella.  Anything with chocolate is bound to taste delicious, but these are especially tasty for those who have an extra potent sweet tooth! https://lucacavaninapoli.wordpress.com
Friarelli
Friarelli, also known as 'rapini' are greens similar to broccoli, but which are more bitter and tender.  They are delicious on pizza, pasta, or simply fried with garlic and olive oil. https://trentaremi.it
Friarelli with orecchiette pasta and sausage.  This is a simple, but amazing dish.  https://www.topsmarkets.com
Buffalo Mozarella
Buffalo mozarella is made throughout the Campagna region.  When cut open, authentic buffalo cheese has a gooey texture and sweet taste.  https://www.italianmade.com
Buffalo mozarella is best served on hard, toasted bread with tomatoes, basil, and olive oil. https://www.godairyfree.org
Pastiera
Credit: https://www.greatitalianfoodtrade.it/
Pastiera is a traditional dessert from Naples.  It is often served around Easter, which is a major Catholic holiday.  https://cookidoo.ca
The filling of pastiera is 'grano,' a raw wheat mixture that is cooked with milk.  Grano can also be mixed with ricotta if you want an extra rich pie flavour. https://honestcooking.com
Rum Babà
Babà is another famous Neapolitan dessert. It consists of small sponge cakes soaked in rum. https://food52.com
Babà can also be cut in half and stuffed with whipped custard or ricotta cream. https://www.italian-traditions.com
Interesting facts about Naples
Location
Naples is located in the Campagna region of Italy, in the province of Caserta.  It is one of the southernmost regions in Italy, known for hot summers, beautiful architecture, and amazing gelato.
A photo of the streets of Naples. https://handluggageonly.co.uk
Mount Vesuvius and Pompeii
Naples is adjacent to Mount Vesuvius, which famously erupted on the 24th of August, 79 AD and destroyed the ancient city of Pompeii.  Pompeii is a short drive from the main city of Naples.  You can visit the ruins, which display remnants of home, shops, streets, and even graffiti.
A sketch of what Pompeii would have looked like before the eruption. https://www.bbc.com
Pompeii ruins depicting a street that was probably lined with homes and shops. https://www.britannica.com/place/Pompeii
Another image from the ruins of Pompeii.  Historical evidence suggests that the city was a typical Italian town before it was destroyed.  Many residents were poor and lived in crowded apartment-style homes.  Since plumbing systems were only afforded to the rich, most locals only had public restroom access.  As a result, there were serious issues with contamination. https://www.businessinsider.com
An example of the writings and graffiti scattered throughout Pompeii. https://www.smithsonianmag.com
Credit: Berthold Werner
One of Pompeii's secret treasures is the Mosaic of Alexander.  It is dated sometime between 120 BC and 100 BC  Alexander The Great was a famous Macedonian king who conquered Greece, Egypt, and attempted to capture areas in Italy before his sudden death in 323 BC.  http://arthistoryresources.net
Another one of Pompeii's secret treasures if the Villa of the Mysteries, which contains the Dionysiac Frieze.  Dionysus is the mythological Greek god of wine, fertility, madness, theatre, and religious ecstasy.  Most Greek gods had Roman equivalents.  In this case, Italians referred to Dionysus as 'Bacchus.'  The frieze is an detailed piece of wall art that depicts a women being initiated into the cult of Dionysus.  Dionysus had many cults dedicated to him, in which participants often danced, sang, and drank wine.  https://www.archaeology.org
A wider view of the room containing the frieze in the Villa of the Mysteries. https://www.planetpompeii.com
World Heritage Site
The center of Naples has been one of UNESCO's World Heritage Sites since 1995.  From its castles, ancient ruins, cathedrals, palaces, and stunning coast, the city has seen numerous conservation efforts.
An aerial image of the stunning city of Naples at dusk. https://www.italymagazine.com
History of Crime in Naples
Naples has long had a reputation as being dangerous.  It is no secret that part of the Italian Mafia operates here.  Yet, the trope that Naples is a place to be wary of is simply a falsity.  Like any city, be sure to watch for pickpocketers and behave respectfully toward locals, but do not be afraid to visit this city!  In fact, rates of violent crime among tourists are extremely rare.
A photo of a bustling Neapolitan street.  https://www.this-is-italy.com
Significance in Anthropology and Cultural Value
Naples has a cultural flare, history, and anthropological value that will leave you with a lasting impression and nostalgia. From Pompei and the remnants of it's ancient history, its beautiful architecture, and its delicious mouth-watering food, Naples will leave you with a great sense of culture. You will want to visit the city and its coast time and time again.