Australia is an incredible travel destination that boasts world-famous locations like Sydney or the Great Barrier Reef. However, some of Australia's most pristine and unique spots are its lesser-known corners. As the country is an entire continent, there is a vast range of different environments, from rainforests, deserts, coral reefs, and bushland.
Australia is mainly known for its beautiful beaches, and, of course, Uluru in the Central Desert. And while places such as Bondi Beach are stunning, many beautiful destinations are more off the beaten path. If you can, take the time to make it to any of the lesser-known spots below. You will have the advantage of seeing fewer tourist-focussed Australia and more untouched environments.
Despite how large the country is, it is not densely populated. The current population sits at just 25 million. This is a small number considering the country is only slightly smaller than the USA. For this reason, Australia has the unique challenge of each of its cities being very far apart. Usually, the quickest way to travel between states and cities is by plane.
However, with some planning, they are also accessible. These destinations will allow you to see landscapes and scenery that are unique to Australia and you will not regret it.
Lucky Bay and Wharton Beach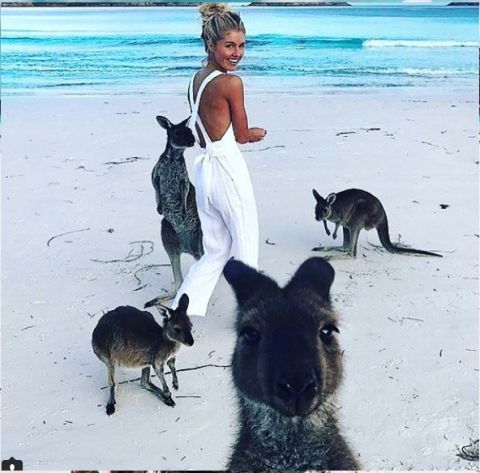 The only way to make a white, sand, and blue water beach even more quintessentially Australian is to add kangaroos to the mix. Lucky Bay is 60 kilometers from Esperance in West Australia. It has the bright white sand and crystal clear water that WA is famous for.
Additionally, it is a fantastic place for kangaroo spotting. So, while you have a beach holiday and a swim, you can interact with the wildlife. Thankfully, the kangaroos at Lucky Bay are used to visitors and are not shy with people. So, while it is not ideal that you interfere too much with any wildlife, you can certainly get close to them.
The coastline of the beach also has many wildflowers and native plants that are unique to the region. Lucky Bay also has the advantage of somehow always being virtually empty. In addition, there are several campgrounds surrounding the area, and it is a safe place to swim. This is an ideal location to get away from the hustle and bustle and experience the outdoors.
Coober Pedy – The Quirkiest Place in Australia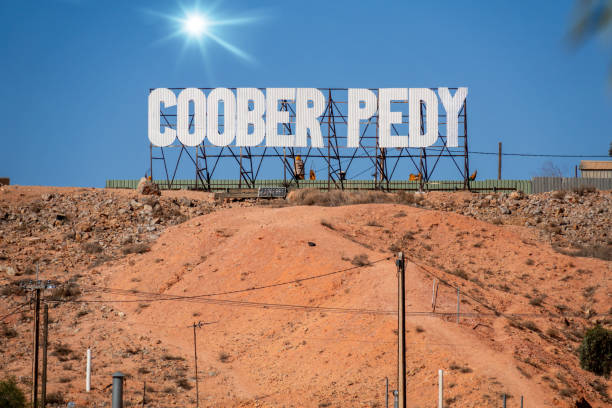 Coober Pedy has to be one of Australia's most unique and exciting spots. This small city has a landscape that looks like the surface of Mars and a climate quite similar too. For this reason, the town has a remarkable history and lifestyle. Its inhabitants mostly live in underground rock homes. Many of the city's shops, eateries, and hotels are also underground. The city has a population of only 1762 people.
Moreover, Coober Pedy is the 'opal mining capital of the world.' The name "Coober Pedy" is thought to derive from the Indigenous word kupa-piti, which means "whitefellas' hole.' However, in 1975, the local Indigenous Australians adopted the name Umoona. This word means "long life" and is also their name for the mulga tree.
Coober Pedy supplies most of the world's gem-quality opal. It has over 70 opal fields and is the largest opal mining area globally. Not only can you visit the opal mines, but you can also have a hand at mining some yourself. 
It is in South Australia and is 846 kilometers from Adelaide, the state's capital. This is quite a drive; the best way to reach Coober Pedy is by car. However, renting a camper van or getting your camping gear together and planning a road trip is an amazing experience as well. 
Kakadu National Park – A World Heritage Site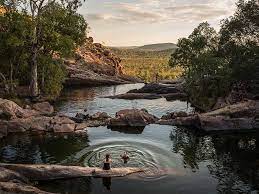 Kakadu National Park in the Northern Territory has to be one of the top places to see true Australia. The region is far north and features lush rainforests and red landscapes. Here you can also see waterholes, waterfalls, and some of the world's oldest rock art. Some of the rock art at Kakadu is up to 20,000 years old. Moreover, it is ideal for learning about Indigenous culture from traditional owners (First Nations), the Bininj/Mungguy people.
The Bininj/Mungguy people have occupied the Kakadu area continuously for at least 40,000 years. Kakadu National Park is renowned for the rich cultural history of these people. The park is full of many culturally sacred sites for Indigenous people. For this reason, it is a UNESCO world heritage listed site.
Kakadu is an incredibly ecologically diverse place with a wealth of wildlife. It is a hot monsoon climate. This means there is a dry and wet season around which the ecosystem and animals thrive.
The landscape is unlike anywhere else in the world, as is the rich culture and history of the park. Visiting Kakadu is a truly impacting experience.
Hut Lagoon or the Pink Lake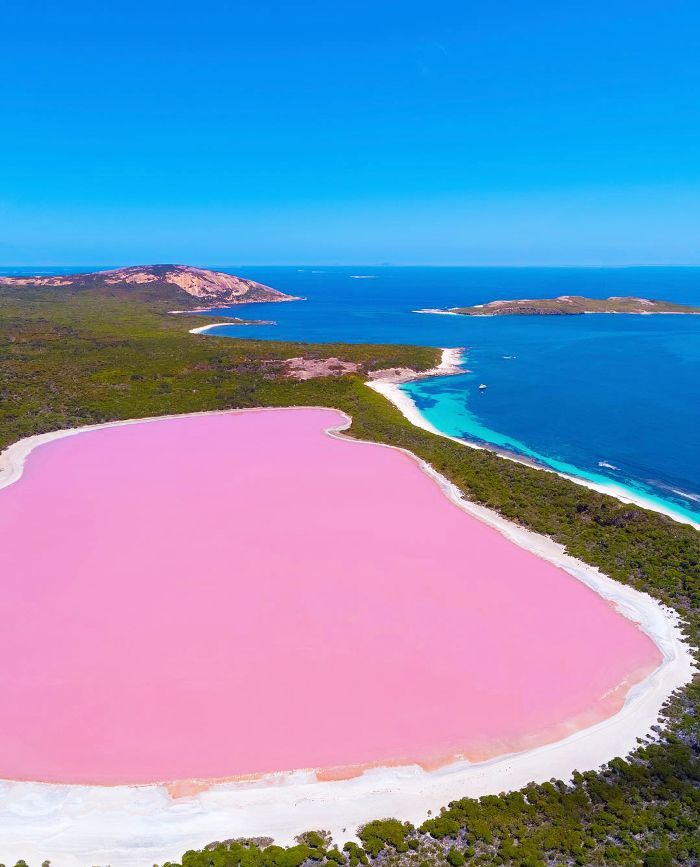 Hutt Lagoon, also known as Pink Lake, is a once-in-a-lifetime photo opportunity and destination. It is aptly named for its pink water, resulting from algae that bloom in the saline lake.
The best time to visit the pink lake is between 10 am – 2 pm on a sunny day. The lake is at its most vivid level of 'pinkness' at these times. Another critical thing to note is that the lake's water levels are lowest in peak summer. However, you can ensure you make it there at an ideal time to enjoy its beauty with a bit of research.
The lake is located about 5 hours from Perth and halfway between Perth and Exmouth. Most travelers will rent a car or, better yet, a camper van, in order to see places like this one. If you visit Western Australia, then Pink Lake is a definite must-see.
Umpherston Sinkhole – A Hidden Oasis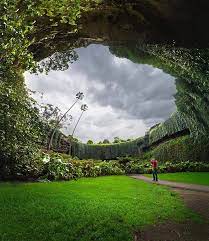 Umpherston Sinkhole is a peculiar park in Mount Gambier. It is also called the Sunken Garden and has a beautiful fairy-land quality. Landscapers initially built the garden inside a cave. Eventually, the ceiling collapsed due to limestone corrosion and created a sinkhole. James Umpherston beautified the sinkhole in 1886 to create a 'pleasant resort in the heat of summer' for the people of Mount Gambier in South Australia.
Once inside the Sunken Garden, the tall walls of the sink hall will tower above you. The walls are covered with lush green vines, making this garden feel like a secret oasis. Needless to say, it is a unique spot for a picnic.
If you stay till dusk, you will see the friendly resident possums. Additionally, the park has a kiosk for coffee and drinks if you don't pack your own. This spot is one that isn't even well-known to many Australians and is a true local spot. This makes it a wonderful place to relax for a few hours and see how the locals in South Australia spend their time.
Tasmania – A Hidden Gem in Australia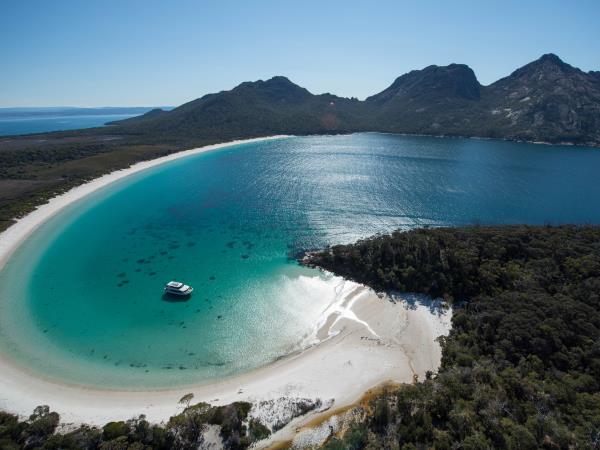 Tasmania does not often make it onto everyone's Australia bucket list. However, it is one of the most visually stunning places in the southern part of the country and rich with history. Tasmania is an island in the nation's southeast; however, it is also a state.
Tasmania offers the MONA art gallery, a world glass gallery of new and modern art, and great food and wine culture. The MONA is a privately owned gallery with an incredible collection and impressive grounds. The building itself is also a work of art. Established in 2011, it already has a world-class reputation.
Tasmania is very different in climate and landscape from the rest of Australia. It is often declared the closest to 'British' feeling than anywhere else. Hobart is the capital, and here, you will find beautiful architecture and excellent restaurants famed for their seafood and fresh produce.
Hobart also has a fascinating history, and there are many sites to see. For example, the Tasmanian Museum and Art Gallery and the famous Salamanca markets. Hobart is a small city but has a lively nightlife with quaint bars to savor local wines.
In addition, the Tasmanian countryside is stunning. Should you make it to the island, you must visit the famous Wine Glass Bay. Mountain peaks surround the lovely blue bay, and it sits at the edge of Freycinet National Park. The national park features beaches, mountain walks, amazing scenery, and wildlife. It is also the only place in the country where you can spot one of its unique national animals – the Tasmanian Devil. But don't worry, these creatures are only named for their feisty attitude and are actually small bear-like marsupials.
Christmas Island – A Natural Wonder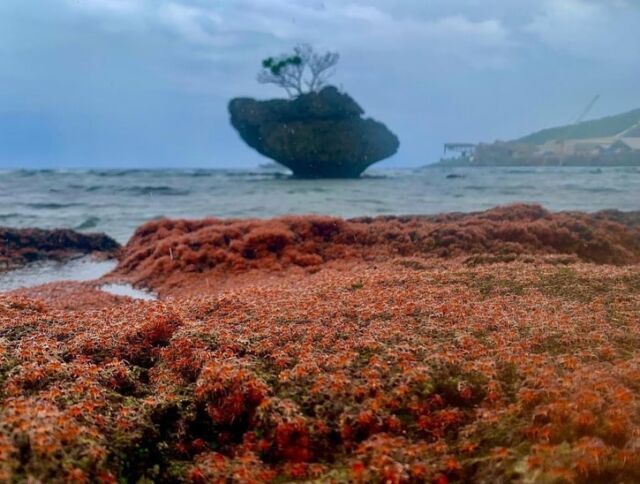 Christmas Island, located closest to Perth, is truly a strange place to take an island holiday. Nicknamed the 'Galapagos of the Indian Ocean,' the island is famous for its red crabs, sea birds, whale sharks, and spectacular coral reefs. Closer to Asia than mainland Australia, it's home to a captivating mix of cultures and some of the world's most spectacular natural wonders.
Christmas Island is unique for its crab migration, which is truly a sight. Sir David Attenborough said this migration is one of the greatest natural wonders on the planet. The annual crab migration sees 60 million red land crabs travel from the forests to the coast. Yes, this means that if you visit in the migratory season, you will see these crabs everywhere.
Christmas Island also has some of the most beautiful coral reefs globally and is fantastic for snorkeling or diving. Almost two-thirds of the island is National Park, which features lush rainforests. Additionally, the beaches are phenomenal, and this is truly a beautiful and unique spot.
Darwin – The Far North of Australia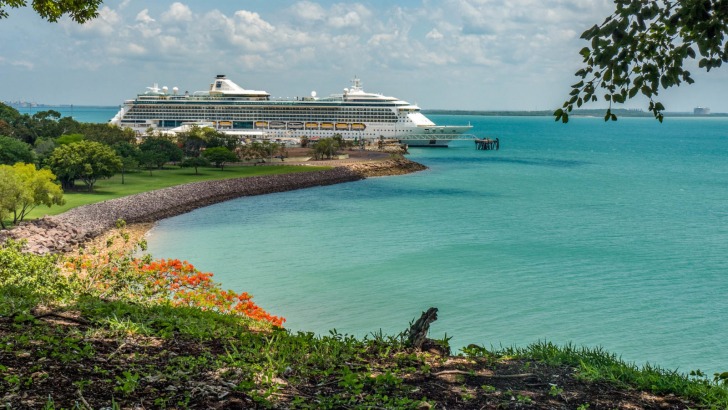 Darwin is typically a stopover point for most travelers to get to Kakadu or elsewhere. It is not usually the travel destination itself, and for that reason, it is perfect for this list. However, Darwin does have a lot of charm to it, and there is plenty to do if you can handle the heat. Darwin is located in the tropical north of the Northern Territory.
Darwin has a vibrant and amazing nightlife. The Mindil Beach Sunset Market, taking place every Sunday from 4 PM to 9 PM in April to October, is well worth a visit. In addition, there will be lots of food trucks and market stalls to visit between the palm trees on the beach promenade.
Darwin has a lot of international cuisines. The city is very close to South-East Asia, and the influence is definitely present in the city's food scene. In fact, Darwin prides itself on having the finest Laksa in Australia.
The Kimberly – A Culturally Significant Site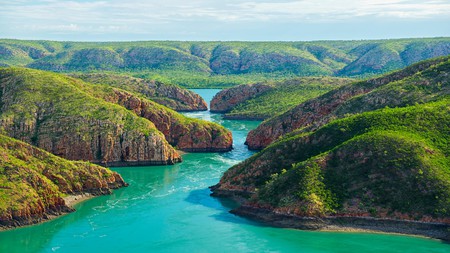 The Kimberley's is another destination that, much like Kakadu, is unlike any other part of the world. A mixture of lush outback oasis, waterfalls, rainforests, desert, and beaches. The Kimberleys are located in the northern part of Western Australia.
The Kimberleys is one of the most geologically, ecologically, and biologically diverse regions on our planet. Dominated by mountain ranges, plateaus, and savannas, it is truly remarkable. The Kimberley is an area of 423,517 kilometers (163,521 sq mi), which is about three times the size of England. This also means it is only slightly smaller than California.
The Kimberley was one of the earliest settled parts of Australia, with the first humans landing about 65,000 years ago. They created a complex culture that developed over thousands of years. Additionally, they invented Yam agriculture, and rock art suggests that this was where some of the earliest boomerangs were invented.
The Region is believed to be one of the first areas on the Australian mainland to have experienced human occupation. For this reason, it is rich with Indigenous history and meaning.
Rock art in the Kimberley is some of the oldest in Australia and could date back 40,000 years. For example, rock art from Wandjina and Gwion Gwion. Some of Australia's best-known indigenous artists come from the Kimberley. These artists painted in a unique style that became known as the Kimberley Art Movement. These artists include Rover Thomas, Paddy Bedford, and Queenie McKenzie. So, this is an amazing place to take in Indigenous Australian art and history.
Why You Should Travel to Australia
Australia is a diverse and fascinating travel destination. It has many incredible natural wonders, wildlife, and unique cultures specific to the continent and that is unlike anywhere else in the world. Unfortunately, places like Sydney or Melbourne often overshadow these off-the-beaten-path destinations. However, if you get the chance to travel to Australia, it is well worth it to make the trek out there.
Australia offers an opportunity to visit incredible beaches and relax and learn about the oldest surviving Indigenous peoples in the world. Not only that, but if you are the kind of traveler who appreciates going to less populated and tourist-focused destinations, Australia has plenty to offer.