One of the top reasons that so many people visit Thailand is to visit the abundance of beautiful temples throughout the country. These temples are an important part of Thai history and everyday life. There are over 40,000 temples in Thailand, dating back to centuries ago, and while most of them are still active, there are a lot that are in ruins. While there are countless beautiful temples to visit during your trip to Thailand, below is a list of some of the most gorgeous ones that you should add to your travel itinerary. 
Wat Arun
Wat Arun Ratchawararam Ratchawaramahawihan, otherwise known as Wat Arun, is a Buddhist temple that is located in Bangkok on the west bank of the Chao Phraya River Chao Phraya River. The famous temple is named after the Hindu god Aruna, who is said to be the abstraction of the red glow from the rising sun. The giant pillars that characterize this temple are encrusted with colorful porcelain. The temple itself has been around since the 17th century and the pillars were added more recently in the early 19th century during the reigns of King Rama II and King Rama III. The temple is open every day from 8:30am – 5:30pm. It is highly recommended to visit the beautiful temple during sunrise or sunset, in which the light perfectly reflects off the surface. 
Wat Rong Khun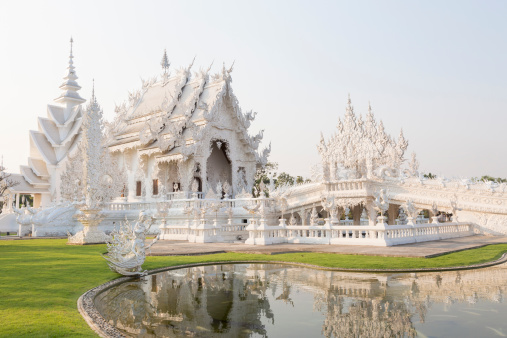 Wat Rong Khun, which is more commonly known as the White Temple. This temple was built in 1997 by a famous Thai artist named Chalermchai Kositpipat. Located in the Chiang Rai Province in Thailand, this temple is part of a larger project to restore the original temple and build an additional learning and meditation center as well as an art gallery on the compound. The White Temple is said to be all white to reflect the purity of Buddha and the mosaic glass incorporated into the architecture is supposed to represent the wisdom of Buddha. While building is still in process, it is still possible to visit the beautiful temple and art gallery. 
Wat Phra Kaew
The Wat Phra Kaew Temple is located on the grounds of the Grand Palace, which used to house the Thai Royal Family. These two sites, located in the center of Bangkok, are said to be the top tourist destinations in Thailand. Wat Phra Kaew is originally titled Wat Phra Si Rattana Satsadaram, or Temple of the Emerald Buddha. This temple is exceptionally beautiful and the exterior is covered with delicate gemstones and painted mosaic tiles that reflect the sunlight. The walls of the interior are filled with murals of Buddha's life and there is a giant throne upon which the emerald buddha sits. Visiting this temple and the Grand Palace in Bangkok should definitely be at the top of your list!
Wat Pho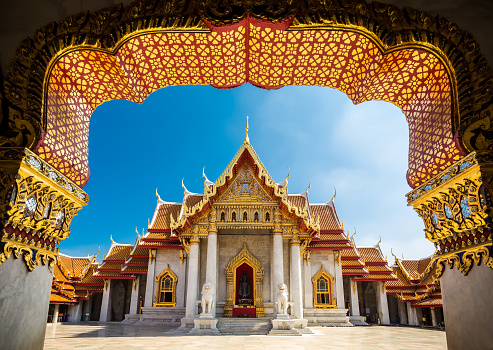 Wat Pho is known as the Temple of the Reclining Buddha. In fact, it is actually home to the largest reclining buddha in Thailand, which is measured at 151 feet long and 50 meters tall. In addition, this temple houses the most buddha's in all of Thailand, a total of 394. Wat Pho is believed to have been founded during the 16th century and is known among Thai's as the nation's first public university. The temple is filled with marble inscriptions of medical, anatomy and orthopedic information that together make up the origins of traditional Thai massage principles. You can still get a massage at this beautiful temple, which is something you might want to add to your travel itinerary.
If you are traveling to another Southeast Asian country and would like to visit some more beautiful temples, then a great destination would be Vietnam. Vietnam is a beautiful country and you can check out some of the most picturesque destinations of Vietnam, some of which are temples, monuments and cathedrals. 
Wat Suthat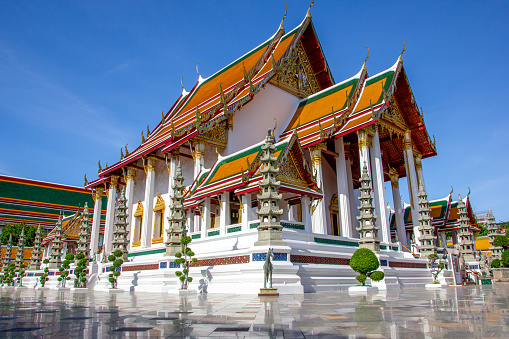 Wat Suthat Thepphawararam, or Wat Suthat is another Buddhist temple in Bangkok and is one the oldest and most important in Bangkok. This temple is one of the 10 royal temples of the first grade that are located in Bangkok, and is also one of the largest temples in Bangkok, covering 10 acres. During the Rattanakosin period, Rama I ordered construction of Was Suthat in 1782, and it was finally completed decades later. This temple is also referred to as the Temple of the Giant Swing, for the giant red swing standing over 21 meters tall that is located in front of the temple. The swing was traditionally used during the Brahman festival but has been cancelled since the 1930's. 
Inside Wat Suthat, you can find a bronze Buddha sculpture from the 13th century in addition to beautiful paintings of buddha all over the walls of the main prayer room. There are also Chinese stone sculptures located on the exterior of the temple in addition to intricately designed hand-carvings on the main entry gates. This temple has a significant place in Thai history and is an important place to see during your trip to Thailand. 
Wat Tham Sua

Wat Tham Sua, also known as The Tiger Cave Temple, is located in Kanchanaburi, about 2-3 hours from Bangkok. The area is absolutely stunning and is home to mountains, forests, rivers, caves, rice fields and waterfalls. The temple was named after the story of a family of tigers that lived in a nearby cave, which now hosts a tiger shrine. The temple is home to a massive 18 metre golden Buddha statue named Chin Prathanporn, and is said to be the largest outdoor figure of Buddha. Was Tham Sua, along with other temples, is sitting on a raised platform that requires you to climb up 157 stairs, or take an inexpensive tram ride to the top. From the top there is a gorgeous view of the mountains, rice fields and the city below. This location is highly recommended and one you should consider visiting during your trip to Thailand. 
If you are flying to Thailand from Australia or New Zealand and would like to reduce costs on your trip to Thailand, then check out Flyparks. Flyparks is an online comparison site for airport parking in Australia and New Zealand. If you want to save money and time you can book ahead and save on Auckland, Brisbane, Melbourne, Sydney and even Perth Airport Parking. 
As you can see, Thailand has some beautiful temples that are definitely worth visiting. Not only do they have these wonderful historical treasures, but they also have beautiful beaches, mountains and an excellent cuisine. So if you are looking to take an amazing trip, then make Thailand you next holiday destination.