Traveling and being able to experience a different culture is one of the most amazing experiences you can have. However, many take for granted that being able to feel safe from gender-based or queer-based discrimination in many parts of the world is an immense privilege. Unfortunately, for LGBTQIA+ plus travelers, choosing somewhere to travel involves considering your safety in ways others cannot imagine.
However, there are many incredible cities to visit around the world that are safe, accepting, open and warm to the queer community. Below is a list of some of the safest – and most fun – cities for gay men, women, and trans people to visit. The list is based on the LGBTQ+ Danger Index. The Index was created by ranking the 150 most-visited countries using eight factors, including legalized same-sex marriage and worker protection.
These factors were used to determine the overall quality of life for LGBTQIA+ plus people in these places. The places that come out on top are also considered the safest for queer holidaymakers and travelers. And while adoption rights and worker protection are not something that directly impacts travelers, they indicate social attitudes and treatment of the LGBTQIA+ community.
Everyone human, regardless of their gender and sexuality, should be free to move safely around the world and have the same experiences. In the cities below, you can, regardless of who you are.
Stockholm, Sweden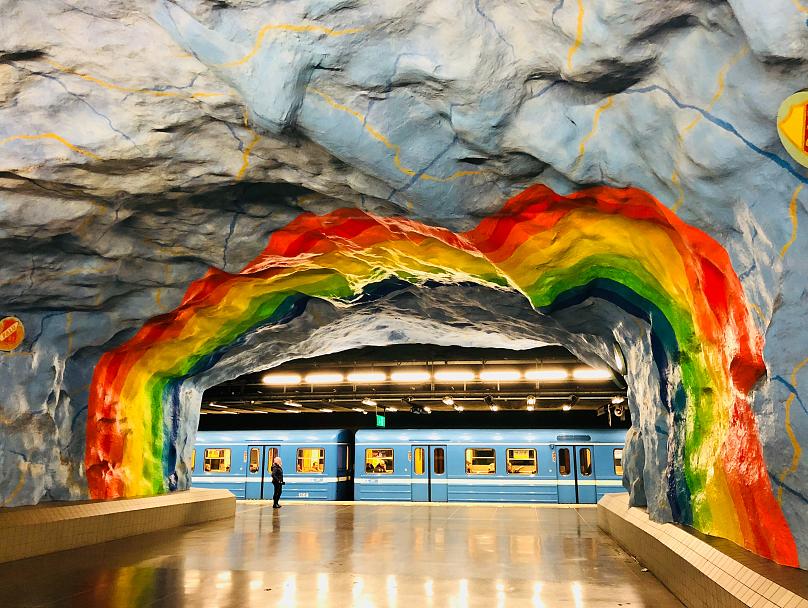 Coming in hot at number one as possibly the safest city globally for LGBTQIA+ travelers is Stockholm. Gay and lesbian life is like the locals in Sweden's capital city: easily accessible, fun, diverse, warm, and welcoming. Over the years, Stockholm has emerged as one of the world's favorite gay and lesbian destinations, winning awards.
Sweden has a long and impressive history of progressive laws and attitudes towards the gay community. For example, homosexuality was first legalized in 1944. Further, in 1979, Sweden legally ruled that homosexuality is not a mental disorder. And in 1972, they declared it was legal to change one's assigned gender. Laws protecting the rights and safety of the LGBTQIA+ community have existed since the 1980s, making them leaps and bounds ahead of many other countries. This means that Sweden has a welcoming and safe society due to social attitudes and laws protecting them.
Stockholm is an incredibly safe place for the queer community, and therefore, there has never been a need for 'gay neighborhoods.' However, there are many queer clubs, bars, restaurants, and safe spaces for the queer community to go to and connect.
Cafes such as Chokladoppen, in the Gamla Stan area, is one such place. This institution prides itself on being one of the first queer-friendly establishments in the city.
When it is nighttime, head to bar Mälarpaviljongen for some drinks. This beautiful bar is located on the pier in the Norr Mälarstrand area. They serve food and often have live music. If you feel a little more adventurous, you can later head to one of Stockholm's amazing queer nightclubs. Patricia and Side Track are some of the most popular. However, there are numerous queer-friendly clubs, bars, and restaurants in the city that will match anyone's particular tastes.
Toronto, Canada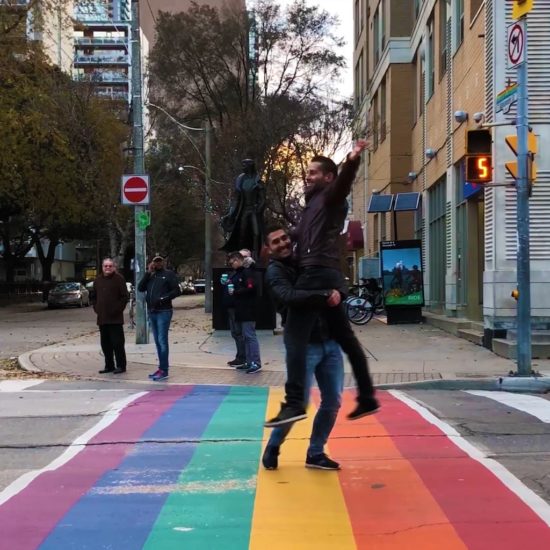 Toronto is one of the most politically active cities in the world when it comes to gay rights. Additionally, Canada has some of the world's strictest laws to protect the LGBT community against violence and discrimination. For this reason, Toronto also has the largest community of LGBTQIA+ people in Canada, making it ideal for travelers.
The atmosphere and attitude in Toronto are open-minded and nonjudgmental. Additionally, it is safe and has incredibly low reports of hate crime or queer or gender-based violence.
Toronto has a lively queer-friendly neighborhood, despite being safe in any area. This is around the Church and Wellesley area. The district has deep historical roots in the city, reaching back to the 1970s when the area emerged as the city's gay subculture hub.
In June, when the city is also at its warmest, you will also experience the city's month-long Pride celebrations. First, there is a Dyke March, a Trans March, and a massive Pride March. Pride Toronto has been called one of the largest cultural festivals in North America, closing off 22 city blocks to traffic and attracting hundreds of thousands of visitors per year.
In Toronto, you will also be able to visit the famous gay bar, Woody's, in the gay district. This bar is a cultural institution and has an important place in Toronto's queer history.
Amsterdam, The Netherlands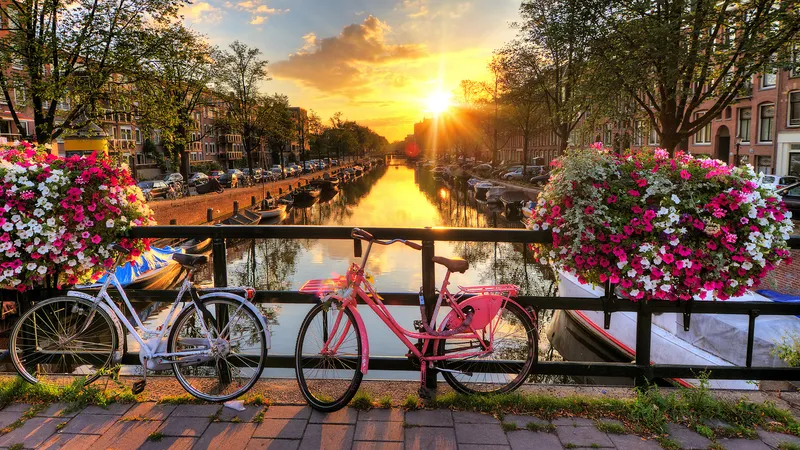 Amsterdam has a global reputation for being one of the world's most liberal cities, which makes it unsurprisingly safe for LGBTQIA+ travelers. There is no designated gay neighborhood or area like Stockholm – the entire city is packed with queer-friendly bars and restaurants.
In Amsterdam, queer travelers are safe and comfortable being themselves in public without any kind of censorship. Same-sex activity was legalized in the country in 1811, which means the country has a long history of open-mindedness. During the late 20th century, awareness surrounding homosexuality grew, and society became more tolerant of gay and bisexual people, eventually leading to its declassification as a mental illness in 1973. Moreover, soon after that, the state passed many laws to ensure no discrimination or violence against the queer community.
Amsterdam has some of the most lively nightlife in the world. There is no shortage of queer nightclubs and bars such as Spijker or The Queens Head. Amsterdam is also known for its famous red-light district, and its cafes. Plus, you will get to enjoy its stunning architecture and canals, either by bike or by foot.
Brussels, Belgium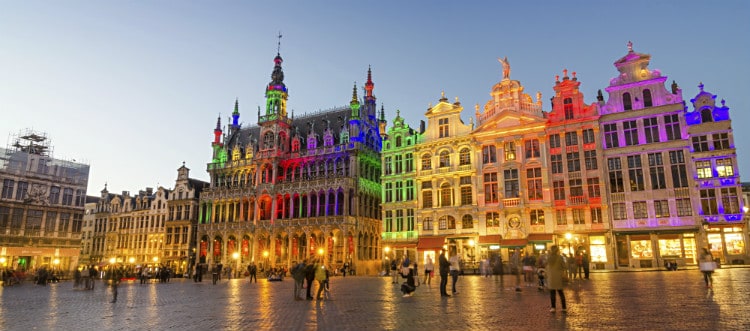 Brussels is not only safe for LGBTQIA+ plus travelers, but it is also one of the most beautiful cities in the region. In addition, the city has a reputation for being one of the most open-minded and liberal places in the world.
Brussels has an extensive gay village, packed bars, gay events every night of the week and not to mention the legendary La Demence monthly gay dance parties. However, suppose you want more than just the diverse gay nightlife. In that case, the Brussels gay scene also offers a variety of cultural events, the biggest of which is the annual Belgian Lesbian and Gay Pride in May and then the Brussels Gay and Lesbian Film Festival in January.
The city also has an amazing food scene and is famed worldwide for its waffles. Even if you do not wish to take in the nightlife, there are plenty of amazing daytime activities. Brussels is also a great walking city.
Apart from the amazing gay nightlife and culture, the queer community is safe to freely enjoy the galleries, art shows, and culture that exists in Brussels. Additionally, there are no areas in Brussels considered unsafe or an area of concern for queer travelers. This means when you are planning your accommodation, this isn't another thing you have to consider.
Madrid, Spain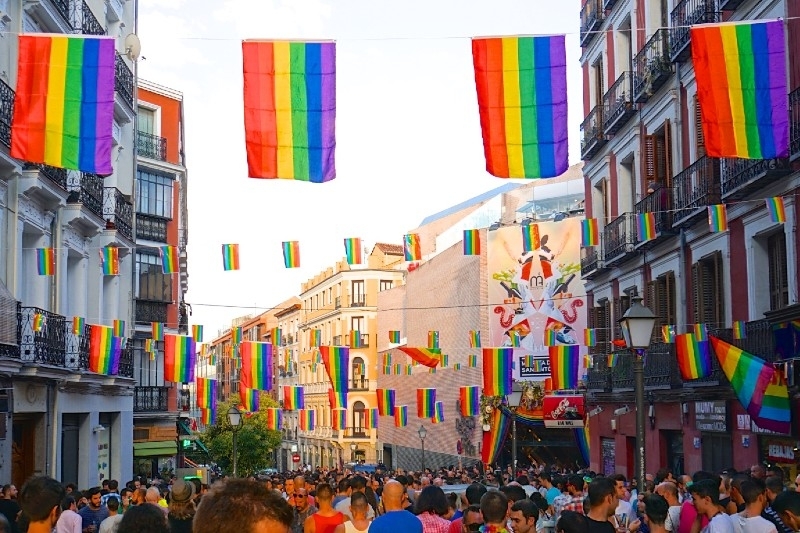 Madrid is a creative, open, and progressive city that is perfect for LGBTQIA+ travelers. It is a stunning city with a long history of campaigning for gay rights and having a fantastic party scene.
Spain was the third country in the world to legalize gay marriage in 2005, and while in other countries like Germany, gay couples still struggle to adapt, it has been legal in Spain for over a decade. If a baby is conceived via IVF, the mother's same-sex partner can legally be named alongside the birth mother on the birth certificate. While this is not a factor that directly impacts travelers, it indicates Spain's progressive attitudes and protection of queer people.
Travelers in Spain need not think twice about holding hands with their partner in public or worry about how they outwardly present. The suburb of Chueca is one of Madrid's hippest districts. This is mainly thanks to the LGBTQIA+ community, who have adopted it as their own. There are endless bars, restaurants, clubs, and shops and an incredible all-around atmosphere in the community here. It's a great place to shop, bar-hop, and visit the refurbished San Antón market, home to food stalls and a hip rooftop bar.
Paris, France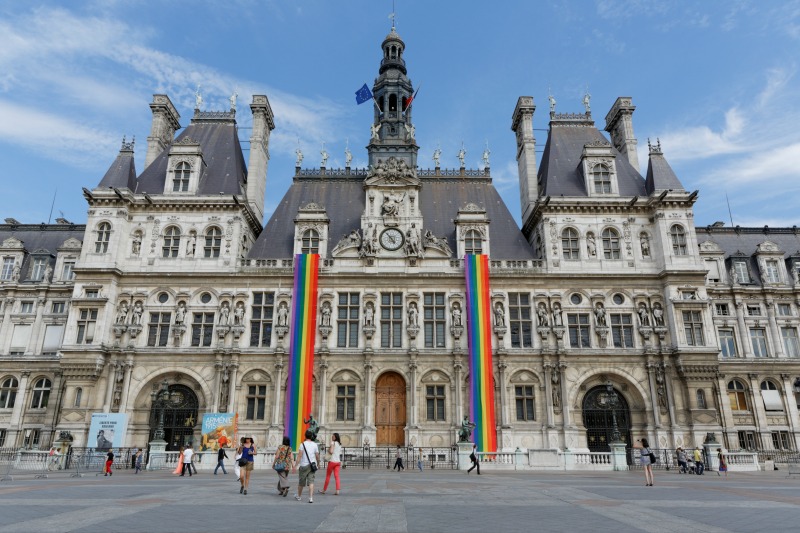 Paris is the city of love. However, its acceptance and friendliness to the LGBTQIA+ community take this to a new level for travelers.
The center of gay Paris is the Marais, an old district in the 4th Arrondissement of Paris with lovely, narrow streets breathing centuries-old history. You'll find a good number of gay bars, cafés, and shops here and plenty of gay-friendly eateries. The Marais is right in the heart of Paris, where you'll find plenty of activities and things to do, within walking distance of some of Paris' best museums and culture. In addition, the close-knit community of the Marais makes it a lively and happening place to explore both at night and during the day.
And while Paris has an amazing queer scene, it also has some of the most famous architecture and museums in the world. Thankfully, this is something LGBTQIA+ travelers do not have to miss out on for fear of their safety.
Reykjavik, Iceland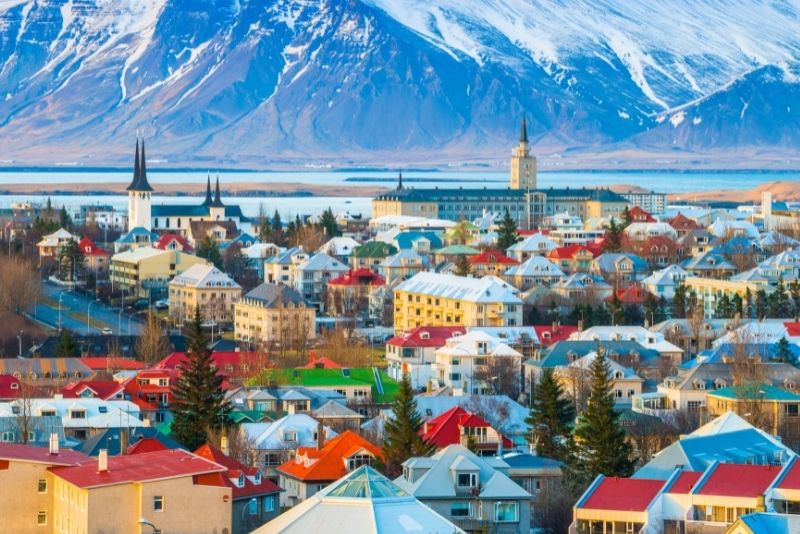 Iceland is an amazing location for LGBTQIA+ travelers. The Reykjavik Gay Pride is the most famous festival in the country; almost one-third of the nation comes to celebrate Pride. Rainbow Reykjavik is a four-day LGBTQIA+ winter festival in January and February every year. The Bears on Ice festival is also in September each year and is a long weekend. Bears from all over the world come together, enjoy the best of Iceland, and party together.
The government legalized same-sex marriage in Iceland in June 2010, and the country is already taking legal steps to ensure the rights of transgender people. In fact, the Prime Minister of the country, Jóhanna Sigurðardóttir, is a legally married lesbian! In addition, the public's open-mindedness has caused Iceland to become a popular destination for LGBTQIA+ weddings for natives and tourists alike. Since 2006, same-sex couples have had equal access to adoption and IVF.
Additionally, Reykjavik is one of Europe's coolest and trendiest cities. Famed for its fashion, nightlife, and fantastic art and alternative scene, the queer community need not miss out on anything. However, Iceland is a very small country, and Reykjavik a tiny place. For this reason, it can be harder to find gay nightclubs or queer bars. However, that does not mean that the atmosphere and environment aren't completely safe and accepting of queer residents and travelers.
Helsinki, Finland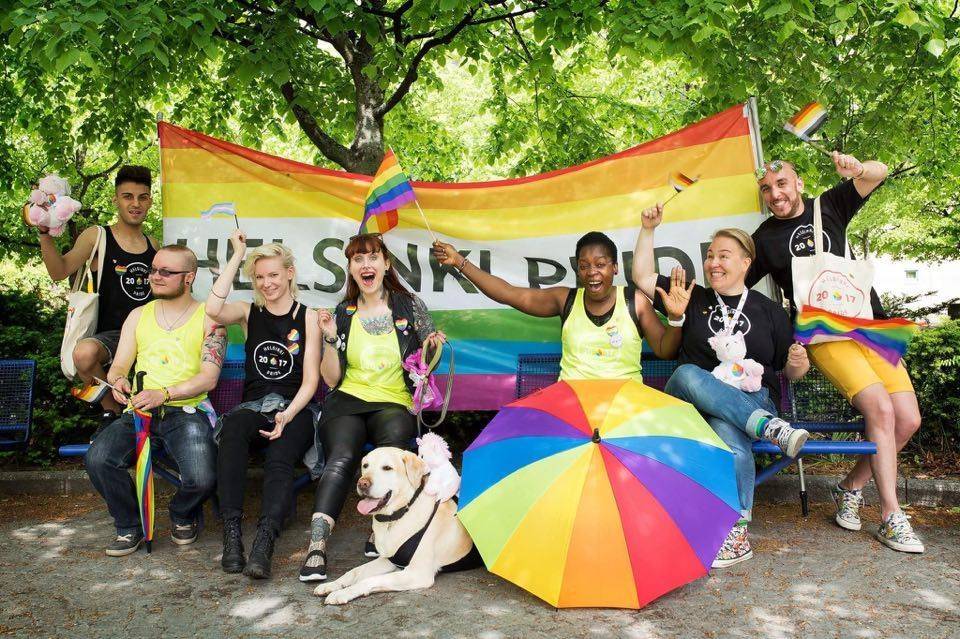 Helsinki is the beautiful capital of Finland and one of the most gay-friendly cities in the world. Helsinki has a safe and liberal atmosphere, which means LGBTQIA+ travelers will feel at ease here. The city is also known for its design, architecture, and technology.
Same-sex marriage has been legal in Finland since 2017. In this peaceful and open-minded Nordic Capital, queer travelers are welcome everywhere with small rainbow flags on almost every store, club, and restaurant window. In Helsinki, you can also experience a famous Finish sauna. Saunas have been a big part of Finish culture for many years, and they are safe for everyone.
Finish culture is also unique and amazing. Finnish people are known to be very shy and withdrawn. However, they are warm, welcoming, and have a wonderful sense of humor underneath this. If you can add Helsinki to your list, you will be sure to have a great time and feel safe.
Conclusion
Some of the best cities in the world for LGBTQIA+ travelers seem to be where it is also safest for people to live. This makes a lot of sense, as you can certainly tell how a city will treat its visitors by how they already treat their locals. Cities where queer people enjoy the highest quality of life are where it is generally best to travel to.
This also indicates the importance of having laws and legislation that ensure rights and protection. These laws have an enormous cultural impact over time and affect a culture's attitude to society when they are in place.
The benefit of many of these cities treating their LGBTQIA+ community so well is that it becomes a welcoming place for travelers from other parts of the world. Further, it creates safe spaces for ex-pats who may wish to come to start a life in a city where they have more opportunities and feel safer.
You may not wish to visit the above cities specifically for their queer culture and nightlife. However, these cities being so queer-friendly means you are truly free to enjoy these places' architecture, art galleries, food scene, and music comfortably and safely.