WHO WAS GEORGE BALANCHINE?
Modernism is a long historical and cultural period. It began in roughly 1900, but really took off after World War I (1914-18). Many artists and intellectuals were disturbed by the violence and death of the war. They looked to art as an outlet for navigating their feeling of isolation and worry.  Some of the earliest modern artists were from the avant-garde movement. They introduced more abstract representations and started using new, unconventional mediums like photography and collage together with the traditional medium of paint.
WHAT WERE THE KEY FEATURES OF MODERNISM?
Questioning the meaning of art: rise in the notion of art for art's sakehttps://enlightngo.org/language/en/post/3759
Rejecting the idea that artists had to be trained professionals. Many artists refused to submit work to Paris Salons, where famous artists would usually go present their paintings. They also refused to attend academic painting schools, which taught classical painting techniques.Marcel Duchamp's (1887-1968) 'Fountain' (1917).  His work is an example of how modernism completed rejected traditional artistic techniques. Using a urinal as an art piece had never been done before. Many conservative art critics saw the work as disgusting and inappropriate. Others saw it as a sign of changing times. https://www.museumtv.art/artnews/oeuvre/zoom-sur-fontaine-de-m-duchamp-1917-1964/
Reaction first to WWI, and eventually to WWII: feelings of malaise, isolation, and horror
A piece of Dada Art. Dadaism was a version of avant-garde that emerged after WWI as artists became dissatisfied with romantic, traditional paintings and instead wanted to create work that reflected the painful realities of life after the war.  http://www.arthistoryarchive.com/arthistory/dada/arthistory_dada.html
Balanchine claimed that ballet was not evolving.  He rejected how it usually showed love stories and instead wanted it  to represent the real world.   Although he still used elements of classical ballet, he also promoted a new technique.  For example, he encouraged his dancers thrust their hips, create crooked (as opposed to straight) lines with their bodies, and turn their feet inward (rather than outward).  Eventually, he founded the New York City Ballet and changed the face of ballet by placing it within a modern context.
WHAT MADE BALANCHINE'S WORK SO SPECIAL?
Instead of making high-scale productions or using flashy costumes and props, Balanchine shifted the focus on his dancers.  They  wore simple, tight costumes that accentuated their movements.  Balanchine also prioritized the connection between music and movement.   He did not believe music should correspond to a romantic story made, but that movements had to be directly connected to the music.  
WHAT INSPIRED BALANCHINE?
Balanchine was trained in classical ballet at the Russian Imperial Ballet.  He was inspired by the ballet artists who were more willing to test the boundaries than others.  For instance, he admired Marius Petipa (1818-1910) of France and Mikhail Fokine (1880-1942).  Both artists were still linked to classical ballets, but they pushed the boundaries of dance in new ways.  They encouraged male dancers to take on solo roles, promoted more female duos (as opposed to male-female duos), and started to introduce less traditional movements.  In fact, by the 1930s, figures like Petipa and Fokine were being inspired by modern dance moves.  Modern dance was an emerging style that combined many different forms, like ballet and folk dancing.  Isadora (1877-1942) Duncan was an American who toured Europe to spread the influence of modern dance.  Martha Graham (1894-1991) created her own modern style, known as the 'Graham Technique.'  She is by far the most popular modern dance artist of the 1900s.  
Anna Pavlova (1881-1931) of the Russian Imperial Ballet.  Her delicate, feminine posture and costume are perfect examples of the traditions associated with classical ballet traditions.  The Imperial Ballet was founded in the 1700s.  It was designed to perform shows for the King and aristocrats of the Imperial Court.  Eventually, as the middle class started to become more wealthy, ballet became an event like going to the movie theatre today.  https://www.losteagle.co.uk/imperial-russian-ballet.html
Current dancers for the Imperial Ballet performing a classical ballet, 'Sawn Lake.'  The Russian Imperial Ballet still exists today.  It performs traditional ballets and is known for its strict teaching style.  http://hutchisonentertainmentgroup.com/shows/imperial-russian-ballet/
Marius Petipa. https://www.britannica.com/biography/Marius-Petipa
Mikhail Fokine. https://dancetabs.com/2014/07/the-work-of-mikhail-fokine-qa-with-isabelle-fokine/
Mikhail and Vera Fokine dancing.  Notice their Asian-inspired costumes and postures.  Also note that these Oriental references are considered problematic today for appropriating 'foreign' cultures, but at the time, they were considered 'out-of-the-box.' https://www.pinterest.dk/pin/746612444446065970/
Isadora Duncan.  Notice the funky arm position and her bent legs.  These are classical modern features.https://www.romecentral.com/en/isadora-duncan-madre-della-danza-moderna-e-pioniera-del-femminismo/
Martha Graham Dancing.  Notice that her foot if flexed and her posture is not straight.  She often wore long dresses, which she used as a type of prop.  https://www.thoughtco.com/martha-graham-quotes-3525392
WERE THERE OTHER ARTISTS LIKE BALANCHINE?
Like so many modern artists of the 20th century, from Jackson Pollack (1912-56) to Georgia O'Keefe (1887-1986), Balanchine challenged conformity and the status quo.  If there was one thing that artists had learned from the horrors of war, economic struggle, and genocide, it was that the world was anything but fair or structured.  They saw a scary and confusing world, which they tried to represent in their art.  For Balanchine in particular, ballet was not about telling a specific story or conveying a moral message, but about encouraging the audience to to develop their own meanings and interpretations of art.
After WWII, the United States had global economic domination, but other issues existed.  For example, many former colonies gained independence, but struggled to develop.  There was also the issue of the Cold War between the US and Soviet Union. It was for these reasons that modernism was a new and important means of self-expression.  For modernists, art had no boundaries, rules, or judgements.  Instead, it conveyed reality as it was: obscure, unsteady, and changing.
WHAT MADE THE POST-WAR ERA SCARY?
5.  President Roosevelt' New Deal promised economic development.  Roosevelt wanted to strengthen job security and create  financial stability for the first time since the Great Depression (1929). https://www.thebalance.com/fdr-and-the-new-deal-programs-timeline-did-it-work-3305599
Significance in Culture and Anthropology
Balanchine changed the face of classical ballet. His work is influential not only for its newness, but also because it broke the boundaries of social norms. In fact, Balanchine's legacy continues to inspire dancers worldwide.  The New York City Ballet still operates, teaching is radical, modernist style. Especially in these difficult times we are currently living in, it is inspiring to look back in history to see that even in the darkest and most uncertain of times, diversity, creativity, and artistic expression were powerful avenues for social change.  
New York City Ballet dancers.  https://www.nycballet.com/about-us/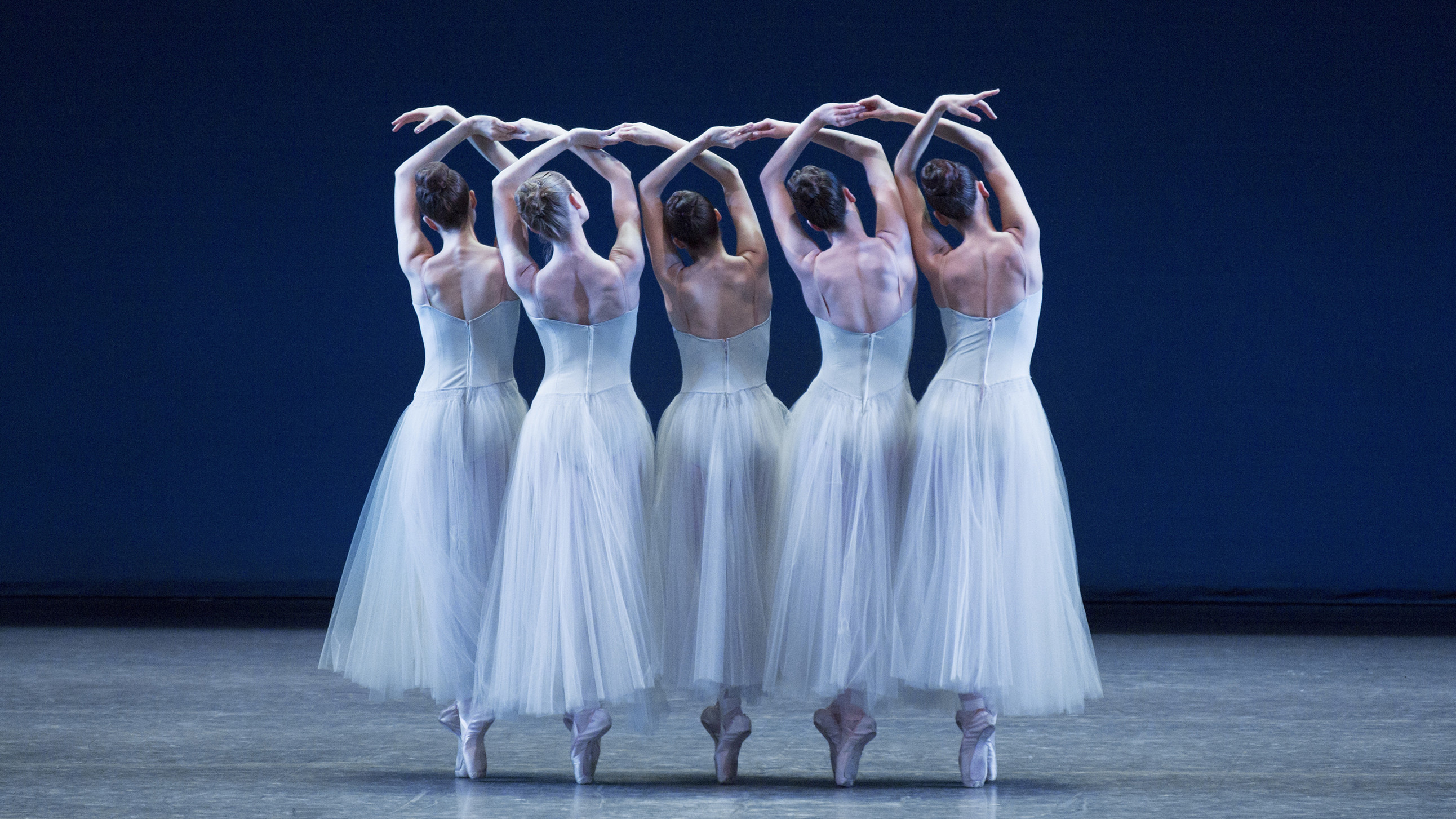 New York City Ballet Dancer at the Lincoln Centre. https://www.lincolncenter.org/organization/new-york-city-ballet
New York City dancers.  This work was part of the digital shows they have been performing due to Covid-19. https://www.danceinforma.com/2020/09/11/new-york-city-ballet-announces-digital-fall-season/
ORIGINAL BALANCHINE WORKS WORTH LOOKING INTO 
 'Firebird,' composed by Igor Stravinsky (1949)https://www.nycballet.com/discover/ballet-repertory/firebird/
 'Bourrée Fantasque,' composed by Emmanuel Charbrier (1949)https://www.nycballet.com/discover/ballet-repertory/bourree-fantasque/
 'The Seven Deadly Sins,' composed by  Kurt Weil (original in 1933)https://www.art.com/products/p14016449-sa-i2848187/gordon-parks-george-balanchine-s-ballet-the-seven-deadly-sins.htm
 'Allegro Brilliante,' composed by Pyotr Illyich Tchaikovsky (1956)https://kcballet.org/repertory/allegro-brillante/
  'Agon,' composed by Igor Stravinsky (1957)https://www.kennedy-center.org/education/resources-for-educators/classroom-resources/media-and-interactives/media/dance/george-balanchine–agon/
  'Episodes,' choreographed with Martha Graham and composed by Anton von Weber (1959)

https://www.nycballet.com/discover/ballet-repertory/episodes/

  'Jewels,' composed by Igor Stravinsky and Gabriel Faure (1967)
'Jewels,.'  Although Balanchine did not want his works to convey specific meanings or moral messages, this show was one of the only ones that had no storyline whatsoever.  Known as a 'plotless' production, it is one of Balanchine's most popular and beautiful show. https://www.nytimes.com/2016/09/28/arts/dance/understanding-george-balanchine-jewels-new-york-city-ballet.html
SIGNIFICANCE IN ART AND ANTHROPOLOGY
Ballet, like painting or musical productions, is a source of creative expression.  It has survived centuries of wars, politics, and cultural evolutions.  What makes ballet so special is that it requires intense athleticism, but also creativity.  Being a ballet dancer means working your body in truly challenging ways.  In fact, most ballet dancers retire by the age of 30 because of the great pressures they put on their bodies.  Even so, ballet is a beautiful art form.  It is a sport, an art form, and a means of expression all at the same time.  From evolutions in modern dance and the rise of hip hop, ballet has remained an important cultural symbol in the art world.  
One of the oldest and most famous classical ballets, 'Swan Lake.'  It is still performed today, with both modern adaptations and traditional versions.  It first premiered in 1887 and was composed by Pyotr Ilyich Tchaikovsky and Giscard Rasquin.  Balanchine himself had his own adaptation of the show, which premiered in 1951. https://www.pbt.org/learn-and-engage/resources-audience-members/ballet-101/what-is-ballet/